Several people are labeling Joe Rogan an "idiot" after the podcaster declared he is treating his COVID-19 with ivermectin—a horse de-wormer.
The host of the Joe Rogan Experience confirmed to fans this week that he has come down with a bout of coronavirus and is self-medicating by "throwing the kitchen sink" at his infection.
The 54-year-old told his 13.1 million Instagram followers that he is recovering but would have to postpone his next show as a result.
"I got back from the road Saturday night feeling very weary," Rogan said in an Instagram video on Wednesday.
"I had a headache, and I just felt just run down. Just to be cautious, I separated from my family, slept in a different part of the house and throughout the night I got fevers and sweats and I knew what was going on."
Rogan has already courted much controversy surrounding COVID after previously suggesting that young, healthy people did not need to get the vaccine—his podcast reaches an estimated 11 million people per episode.
At present, anyone over the age of 12 in the United States is eligible for a vaccine and nearly 62 percent of the population have had at least one dose.
In his video on Wednesday, Rogan said that among the drugs he used to treat his bout of coronavirus was ivermectin—a livestock de-worming drug that has become prevalent as a treatment in some conservative circles.
"We immediately threw the kitchen sink at it: all kinds of meds. Monoclonal antibodies, ivermectin, Z-pack, prednisone—everything," Rogan said in the video, adding: "Crazy times we're living in, but a wonderful, heartfelt thank you to modern medicine for pulling us out so quickly and easily."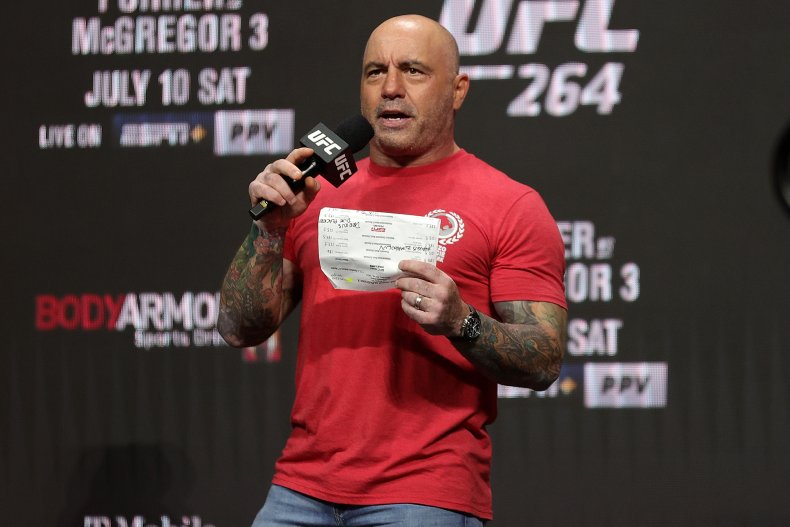 The FDA has urged people not to take ivermectin to treat COVID and said that taking large doses of this medicine is dangerous and can cause serious harm.
News of Rogan's COVID infection and methods of self-medication is being widely discussed on social media, where many critics are not holding back on calling him an "idiot."
"I wish Joe Rogan a speedy and full recovery. But he is a major league idiot and an unfortunate sign of the times," tweeted Bryan Bender of Politico. "Yes, rely on a deworming drug for barnyard animals recommended by other idiots instead of listening to global health authorities."
Podcaster Jeff Cannata tweeted: "God it is so infuriating so many smart people listen to Joe Rogan. It turns out he's just an idiot who would rather take veterinary horse meds than actual proven vaccines."
Gavin Sheridan of Vizlegal added: "Ladies and gentlemen: Joe Rogan is an idiot, I think we can all agree."
Another critic, writer Akilah Hughes, tweeted: "Joe Rogan takes pony goo cause he's scared of a vaccine, but not the virus he very well could die from. Don't tell me he's good. He sucks lol."
Rogan ended his video with: "A wonderful heartfelt thank you to modern medicine for pulling me out of this so quickly and easily."
He has not confirmed whether he has received the vaccine or not.