Joe Rogan's Roe v. Wade Stance a 'Pleasant Surprise' For Fans
Often the holder of controversial opinions, Joe Rogan's take on the Roe v. Wade debate is a "pleasant surprise" for some fans as he stated that he is "100 percent in favor of a woman's right to choose."
On Wednesday's episode of the wildly popular podcast The Joe Rogan Experience (JRE), the host discussed the leaked document that alleges that the Supreme Court is planning to overturn abortion rights. If the court proceeds to pass any such motion, it could see abortion banned in many states across the United States.
Rogan has seemingly upset many people on the internet in recent times with his stance on vaccines, and resurfaced clips of him using the N word. However, when it comes to abortion rights and the abolition of the Roe v. Wade precedent, he was noted to be surprisingly liberal according to listeners of his podcast.
On the May 4 episode of JRE, Rogan brought up the topic with his guest comedian Doug Stanhope.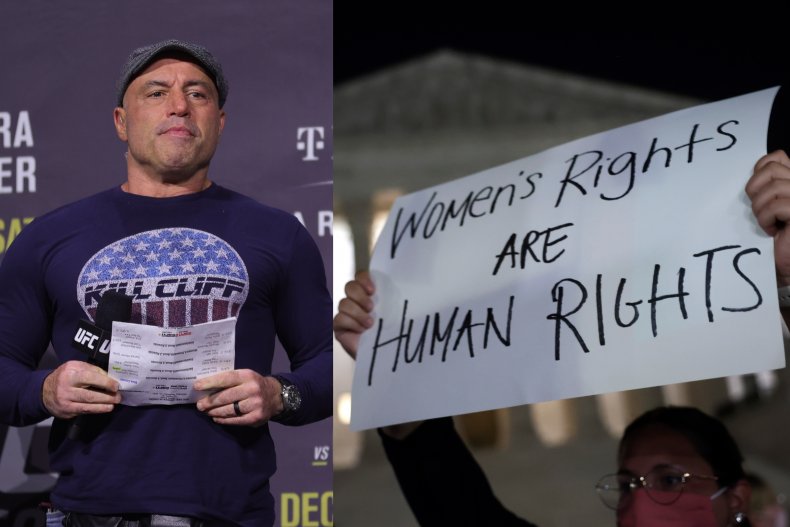 "What if you get raped? What if, anything like that. Some, like a family member, molests you," Rogan asked. "I don't like people telling other people what they can and can't do."
He acknowledged that it's a complicated issue in some instances and talked about the cut off period for when a woman can and can't have an abortion.
"It gets weird when the baby gets like six months old," Rogan said. "I know that some states have late-term abortions and sometimes you need one for medical reasons, right? The woman could die if she gives birth. Like it's a decision that people have to make.
"I am 100% for a woman's right to choose. But as a human being, just a person observing things, there's a big difference between a little clump of cells and a fetus with the eyeball and the beating heart. And for anybody to pretend there's not," Rogan mused.
"Where do you draw the line?" his guest Stanhope asked.
"Right. Where do you draw the line? Yeah, that's the question. It's what I call a human issue. It's a very complicated issue. It's so fraught with emotion. And it's so political," Rogan said.
His delicate take on the issue impressed listeners who discussed the segment on a thread on Reddit.
"We've gotten to the point with the JRE where I just sorta expect Joe to have the worst takes imaginable. This was a pleasant surprise," wrote @neS-, who received hundreds of upvotes for their reaction.
Another Reddit user @Cassak5111 called it a "totally reasonable take" and that Rogan "reflects the majority opinion amongst most Americans broadly—abortion should not be banned but there are of course lines most moral people would agree should be drawn."
@Polce24 defended Rogan from other people's surprise, implying that people don't always have to have an opinion on one side of the political divide. They continued, "This just in: you can own guns and be pro-life folks."
Others refuted some of Rogan's claims made in the show, like @Nucklbone. "Nobody, and I f*****g mean nobody, was having a god damned 6 month abortion unless the mother's life was at risk (comprises a whopping total of 1.3 percent of all abortions)." In 2019, health policy site KFF found 1.2 percent of abortions are performed at or after 21 weeks.
Meanwhile @MrBones112 congratulated Rogan for his take on the issue. "Make no mistake this is a radical ruling from religious fundamentalists. Good on Joe for speaking up and calling the Texas law terrible," they said.
Former anti-abortion campaigner, Frank Schaeffer, who has been critical of his past views, spoke to Newsweek about what he believes are the risks of Roe vs. Wade being struck down. He said if the Supreme Court's motion passes then things like the "rights to gay marriage" or to "contraceptives" may be next.