Joe Rogan's GOP, COVID Comments Lead to Renewed Calls for Spotify Boycott
Spotify is facing calls for a boycott once again after Joe Rogan recently voiced support for the Republican Party in the upcoming midterm elections.
The controversial podcast host recently said he felt business owners who were forced to close during the coronavirus pandemic should vote for GOP candidates in the fall. His comments came during a Saturday episode of Spotify's The Joe Rogan Experience, which featured NFL quarterback Aaron Rodgers as a guest.
Occupy Democrats, a liberal political organization and media outlet urged people to boycott Spotify following Rogan's remarks. The streaming giant has faced boycotts in the past over Rogan's COVID-related content, including from prominent musicians such as Neil Young and Joni Mitchell.
"We had never had this before," Rogan said about COVID-19 during the episode. "No one that was alive today had ever experienced a true pandemic, and I'm hoping that now that this is over, people are going to recognize that some serious errors were made and not repeat those."
He added, "As far as compensation for all of those people that were forced to close their businesses and keep their doors shuttered and lost everything they had worked for decades to build—no, they're just going to be angry."
Rodgers, who has endured his own share of COVID-19 controversies, asked what should those people do who closed their businesses.
"Vote Republican," Rogan answered.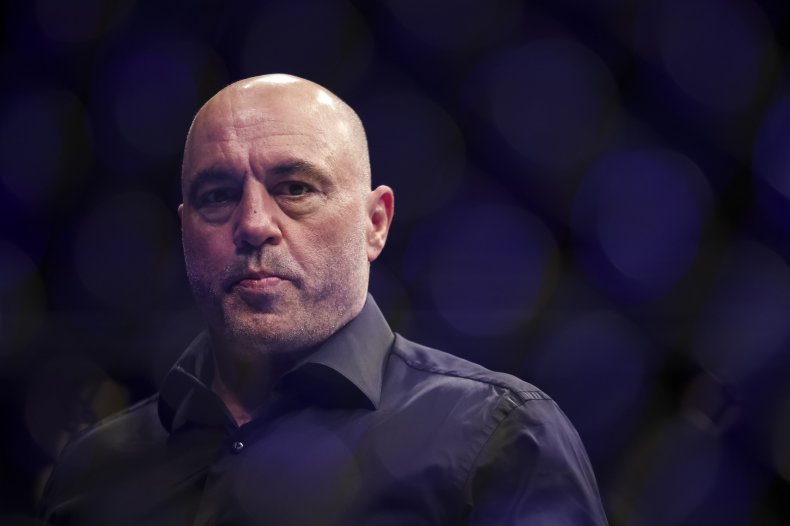 Rogan's remarks resulted in an immediate and widespread reaction. Conservatives praised the endorsement on social media, while other people called his statements irresponsible in light of the mandatory shutdowns for safety precautions during the pandemic.
The Twitter account for Occupy Democrats wrote, "Influential podcaster Joe Rogan ignorantly urges Americans to 'vote Republican' as a form of supposed payback for businesses closing down due to the pandemic—dangerous rhetoric as the GOP embraces full fascism."
The group urged its nearly 500,000 Twitter followers to retweet its message to show support of a boycott of Spotify until the company drops Rogan's podcast.
"Boycott Spotify until they drop toxic misogynist Rogan!!" wrote one of the people who shared Occupy Democrats' tweet.
Elsewhere on Twitter, writer Scott Santens attempted to debunk Rogan's claims that Republican leaders are better equipped for handling the response to a pandemic.
"Joe Rogan: Vote Republican because of how they handled the pandemic compared to Democrats," Santens wrote in a tweet that included a Los Angeles Times report on findings from Johns Hopkins University research.
He continued, "The data: After Delta hit, the states with the worst hospitalization rates all had GOP governors, and COVID has killed more Americans per capita in GOP-led states."
Some Republican candidates praised Rogan and posted video clips of his comments on Twitter.
"Joe Rogan says vote Republican...And he's right," Wesley Hunt, a Republican congressional candidate in Texas, wrote.
GOP congressional nominee Derrick Van Orden of Wisconsin shared Hunt's post and added that the "sun is setting over the Democratic Party."
Despite his seeming endorsement of Republican candidates for the fall, Rogan recently said he would never become a member of the GOP.
During a July episode of his podcast, Rogan called himself a "bleeding heart liberal" when it comes to a number of social issues.
"It's not just abortion rights, but now they're going after gay marriage too, which is so strange to me," Rogan said. "Gay marriage is not silly. It's marriage—it's marriage from people that are homosexual and it's, for them, it's important. They want it."
He added, "The fact that they're going after that now like that's the kind of s**t keeps me from being a Republican. It's only one of the kind of—there's a bunch of s**t that keeps you from being a Republican."
The media personality also said during the July episode that he's turned down multiple opportunities to have former President Donald Trump on his show.
Newsweek reached out to Spotify and Occupy Democrats for comment.