Joe Scarborough Says Trump Has 'Gutted' GOP's Suburb Support: 'Trump Republicanism is Toxic and Is Killing the GOP'
MSNBC host Joe Scarborough said President Donald Trump has "gutted" support for Republicans and claimed he was "killing the GOP" after the party lost state elections on Tuesday.
The Morning Joe co-anchor also called Trump's brand of Republicanism "toxic" on social media as he drew attention to the loss of votes in the Cincinnati suburbs in the Kentucky gubernatorial election.
Incumbent Republican Governor Matt Bevin lost his post to Kentucky Democrat challenger Andy Beshear by 5,150 votes, according to The New York Times, but is refusing to concede until there has been a recount.
Beshear's victory in the Kentucky governor race was in part thanks to upsets in two Cincinnati suburbs in Kentucky that previously supported Trump in 2016.
Railing against Bevin, an incumbent widely considered to be unpopular in the state, Campbell County voted almost 52 percent for Beshear while neighboring Kenton County elected the Democrat with 49 percent of the vote to Bevin's 48 percent.
The votes in the two counties have drawn considerable attention, given that just under 60 percent of Kenton and 59 percent of Campbell voted for Trump in 2016.
Responding to the results, Scarborough tweeted: "Donald Trump has gutted Republican support in suburbs. The bleeding in Cincinnati's suburbs tonight compared to the 2016 election is extraordinary. Trump Republicanism is toxic and is killing the GOP."
Asked for his takeaway from the election night on Morning Joe, NBC national political correspondent Steve Kornacki said: "My question was what can you look at in Kentucky which you can potentially extrapolate nationally? That's why I thought those suburbs of Cincinnati just jumped out at me, because you can think of places like that in a lot of different.
"When you look at those three counties, where Bevin was running way behind where Donald Trump ran in 2016, if you replicate that in other states, huge, huge trouble for Trump."
After acknowledging that other Republicans in Kentucky had won on Tuesday night, he added: "If it's truly Bevin-specific, then [for] Republicans maybe it's not as dire as it seems this morning."
Trump did not see the Kentucky vote the same way this morning, tweeting: "Based on the Kentucky results, Mitch McConnell @senatemajldr will win BIG in Kentucky next year!"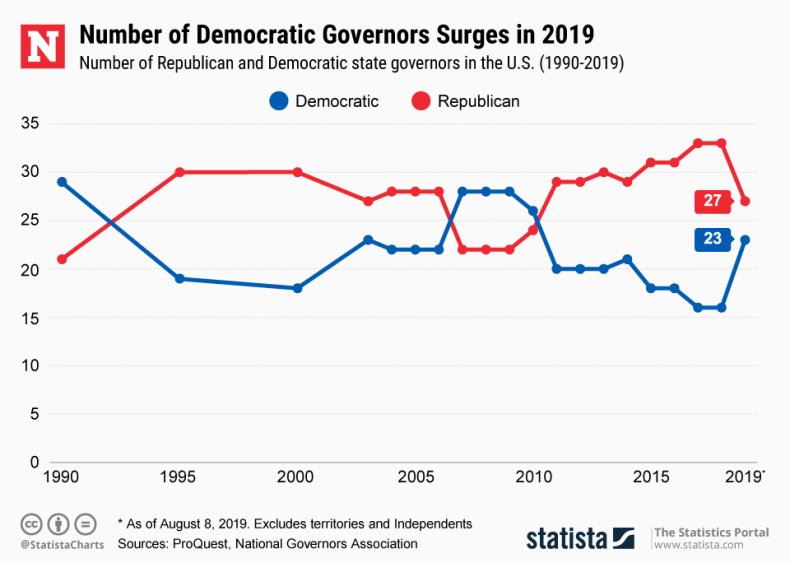 There were positive results in the state for Republicans, such as their state attorney general candidate David Cameron winning with just under 58 percent of the vote.
Vox reported that Cameron also won big in the Cincinnati suburbs of Kentucky, suggesting the outcome of the governor race may be local backlash against Bevin rather than Trump and the GOP.
But the Republican Party did not enjoy similar success in Virginia on Tuesday, with Democrats flipping both the state's House and Senate from 20 years of GOP control.
But unlike Kentucky, the state of Virginia did not opt for Donald Trump in the 2016 presidential election. Hillary Clinton won the race in the state with 49 percent of the vote.
Joe Scarborough Says Trump Has 'Gutted' GOP's Suburb Support: 'Trump Republicanism is Toxic and Is Killing the GOP' | U.S.