Joe Scarborough—co-host of MSNBC'S Morning Joe—didn't explicitly compare President Donald Trump's treatment of immigrants to the Nazis but he sure did seem to imply it on Wednesday.
The host seemed to liken Trump's rhetoric to how the Nazis treated Jewish people and gypsies.
Here's what Scarborough said about Trump, via a clip posted to Mediaite:
"Let's just be really blunt about it. It's why Republicans are really scared of him right now. It's been race. He's been playing the racist card. He said, 'I'm a nationalist.' David Duke comes out the next day saying, 'Thank you, thank you so much for finally admitting you're a white nationalist.' Then you even have some Republican backbenchers that are linking George Soros and these anti-Semitic threads to the [migrant] caravan. You've got Fox News talking about smallpox and leprosy coming up. It is... I'm sorry—I won't say specifically what regime this is out of—but go back and read your history books and look at some of the most abhorrent regimes of the 20th century. Might as well be certain countries talking about gypsies. It lines up, historically, exactly with what certain countries were talking about when they were talking about gypsies and Jews."
Gypsies, Jews and many other minority groups were persecuted by the Nazis. By the end of World War II the Nazis had killed millions of Jews in concentration camps and, according to the BBC, 85 percent of Germany's gypsy population.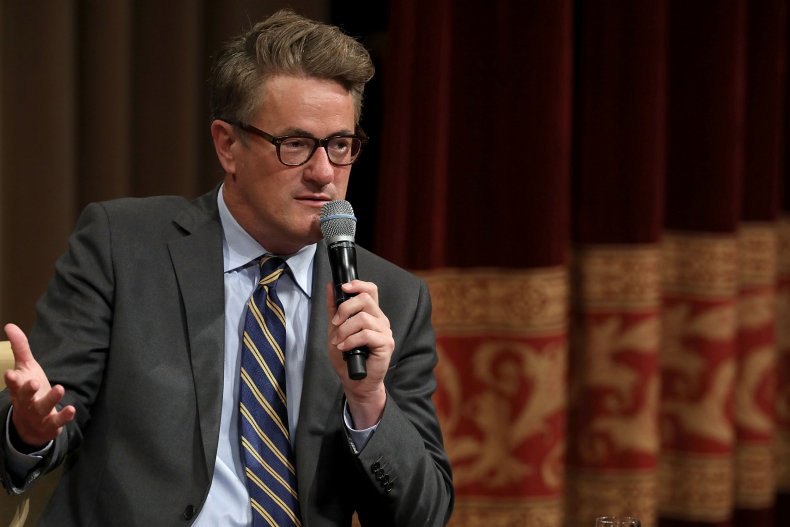 To be clear, it didn't seem like Scarborough was comparing Trump's treatment of migrants to the Nazis killing millions of people. He did, however, seem to compare the way Trump (and supporters) talk about migrants—notably the caravan attempting to make its way to the southern border of the U.S.—to how Nazi-era Germany talked about Jews and gypsies.
Scarborough has skirted around comparing Trump to Nazi Germany before. Earlier this month, for instance, he brought up Adolph Hitler's long history of lying and seemed to imply it was similar to how Trump has acted.