John Barrasso Repeats Ted Cruz Claim Stimulus Checks Will Go to Illegal Immigrants
Wyoming Republican Senator John Barrasso reiterated claims that undocumented people living in the United States will receive direct payments through the latest coronavirus relief package on Sunday, echoing a similar suggestion from Texas GOP Senator Ted Cruz over the weekend.
The Senate passed a $1.9 trillion coronavirus relief bill on Saturday in a 50-49 vote along party lines. The bill will return to the U.S. House, where it initially passed one week earlier, for a second vote on Tuesday that is expected to see representatives approve the proposed legislation with amendments from the Senate. President Joe Biden could then sign the bill into law before the end of the upcoming week.
In addition to extending increased unemployment benefits and distributing aid to state governments, the bill aims to dispense another round of economic stimulus payments to eligible Americans. Those who qualify can receive up to $1,400 per individual.
Barrasso, like all of his Republican colleagues in the House and Senate, voted against the bill's passage. The Wyoming senator discussed his rationale for opposing the relief package, and its intent to distribute economic impact payments, during an appearance on NBC News' Meet the Press on Sunday.
He claimed that different groups of people are due to receive checks under the terms of the current package than under those passed last year, which is not true.
"I voted for the $600 checks that were in the bill that President Trump approved right around Christmas time," he said. "With this bill, they're going to people in prison, they're going to people who are illegal immigrants, people who make much more money than you would expect people to actually need relief or help at this point. So, I think this is a mistake, what's happening in the bill that just passed in the Senate."
Incarcerated people who meet income requirements stipulated in the relief bill are eligible for direct payments, as they were last year. Numerous reports from outlets such as CNET detailed the challenging process that many incarcerated individuals faced in their attempts to actually secure checks, for which they were eligible, during past payment distributions.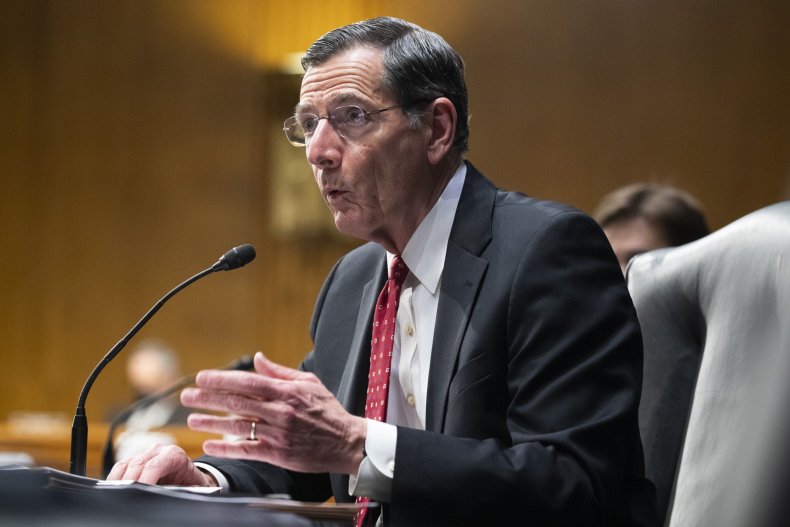 Americans who are undocumented do not qualify for stimulus checks, regardless of economic status. As Senate Majority Whip Dick Durbin, a Democrat from Illinois, pointed out during Saturday's congressional session, undocumented people are excluded from payment distributions because individuals must possess traditional social security numbers in order to receive checks.
Durbin explained this provision in the bill's eligibility criteria in response to an amendment that Cruz introduced, which needlessly sought to ban the distribution of stimulus checks to undocumented individuals.
Newsweek reached out to Barrasso's office for further comment but did not receive a reply in time for publication.