John Boehner Says America First Caucus 'Has No Place in the Republican Party'
Former GOP House Speaker John Boehner strongly criticized the so-called 'America First Caucus,' saying it "has no place in the Republican Party."
Punchbowl News first reported on Friday that some GOP lawmakers were circulating a document regarding policy positions for a potential "America First Caucus" within Congress. The document, which was quickly condemned by many Republican lawmakers, called for promoting a "common respect for uniquely Anglo-Saxon political traditions" as well as a return to architectural styles that "befits the progeny of European architecture."
"This so-called America First Caucus is one of the nuttiest things I've ever seen. Listen, America is a land of immigration. We've been the world's giant melting pot for 250 years," Boehner, who previously represented Ohio and served as Speaker of the House from 2011 to 2015, told NBC News' Meet the Press on Sunday.
"And we ought to celebrate the fact that we are this giant melting pot. And to see some members of Congress go off and start this America First Caucus, it's the silliest thing I've ever seen. And Republicans need to denounce it," he said.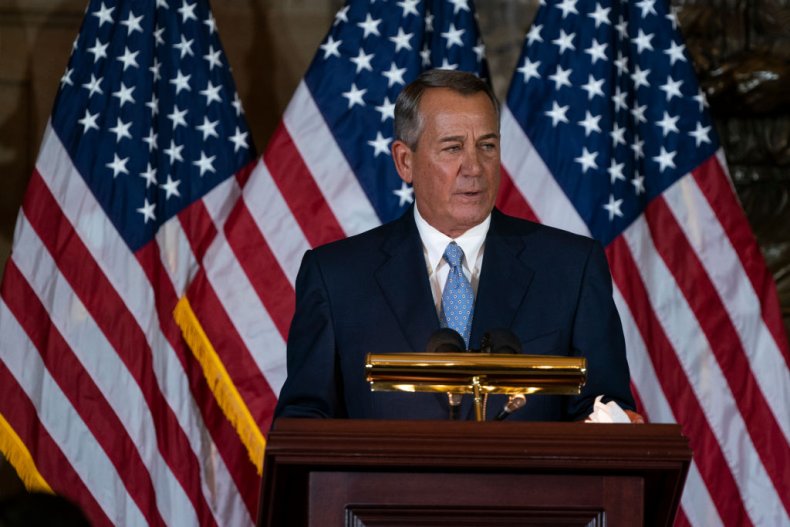 Boehner went on to call policies promoted by the America First document "awfully cruel," asserting that "frankly it has no place in the Republican Party."
According to Punchbowl News, the document was linked to GOP Representatives Marjorie Taylor Greene of Georgia and Paul Gosar of Arizona. Both lawmakers are staunch supporters of former President Donald Trump and have promoted the baseless conspiracy theory that Democrats and President Joe Biden "stole" or "rigged" the 2020 presidential election.
But Gosar and Greene have both come out against the document. Gosar said that he had never heard of the document prior to it being reported in the media. Greene said it had been written by an outside group and that she'd never read it.
"On Friday, sick and evil POS in the media attacked me with phrases I never said or wrote. They released a staff level draft proposal from an outside group that I hadn't read. The scum and liars in the media are calling me a racist by taking something out of context," Greene tweeted on Saturday.
"Let me be perfectly clear, I did not author this paper. In fact, I first became aware of it by reading about it in the news yesterday, like everyone else," Gosar said in a Saturday statement.
"Imagine my surprise to read I 'wrote it.' I will continue to work on America First issues in the House Freedom Caucus. Once again, I am the subject of a false media story. I will not let the lying media deter me from the America First work I have been championing for years in the House Freedom Caucus and with President Trump," he added.
Greene's spokesperson Nick Dyer also distanced the congresswoman from the document in a statement to CNN.
"The Congresswoman wants to make clear that she is not launching anything. This was an early planning proposal and nothing was agreed to or approved," he said. "She didn't approve that language and has no plans to launch anything."
Newsweek reached out to Greene's and Gosar's press secretaries for further comment.
Many Republicans quickly denounced the reported plan for an America First caucus based off of the document.
"America is built on the idea that we are all created equal and success is earned through honest, hard work. It isn't built on identity, race, or religion. The Republican Party is the party of Lincoln & the party of more opportunity for all Americans—not nativist dog whistles," House Minority Leader Representative Kevin McCarthy, a California Republican, tweeted on Friday.
Representative Adam Kinzinger, an Illinois Republican and consistent critic of the pro-Trump faction of the GOP, demanded consequences for lawmakers supporting the America First document.
"I believe anyone that joins this caucus should have their committees stripped, and the Republican conference should expel them from conference participation. While we can't prevent someone from calling themselves Republican, we can loudly say they don't belong to us," Kinzinger wrote in a Friday Twitter post.