Pompeo Compares John Bolton to Edward Snowden, Who He Wanted Executed
U.S. Secretary of State Mike Pompeo has compared John Bolton's book about his time in the White House to the leaking of classified details by Edward Snowden, whom he once said should face the death penalty.
In an interview with Fox News, Pompeo said that the book The Room Where it Happened released on Tuesday, contained "lies and falsehoods" and criticized Bolton's lack of discretion.
"It's both sad and dangerous," Pompeo told host Sean Hannity. "Indeed the cover itself that said he was in the room isn't even completely true. The president and others, myself included, had to cut him out of meetings because he was leaking or he'd twist things or he'd lie."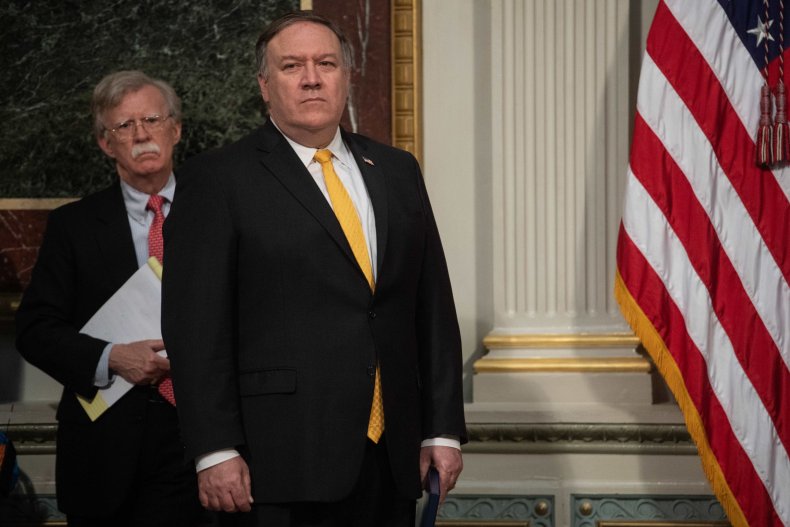 Pompeo took issue with the claims by Bolton that President Donald Trump's foreign policy was shaped by his moves to get re-elected, pointing to the killing of Iran's Major General Qassem Solemeini and opposing China's ruling Communist Party.
"This president's foreign policy should have been something that John Bolton would be proud of. Frankly the information he has released puts criminal liability squarely on him.
"We all saw what's happened when people leak classified information like Edward Snowden," Pompeo said, referring to the former government contractor who leaked classified details on the National Security Agency's surveillance practices.
Snowden, currently in exile in Russia, has been charged in the U.S. with espionage and theft of state secrets.
In 2013, when a contributor to Fox News, Bolton said: "My view is that Snowden committed treason, he ought to be convicted of that, and then he ought to swing from a tall oak tree."
In 2016, Pompeo believed Snowden should face the death penalty, telling C-Span: "He should be brought back from Russia and given due process, and I think the proper outcome would be that he would be given a death sentence."
On Monday, Pompeo compared the two, telling Fox: "What John Bolton did here is not dissimilar from that, and while we'll leave open for the Justice Department to take its action, this kind of information getting out, it presents real risk and real harm to the United States of America."
U.S. District Judge Royce Lamberth rejected the Trump administration's attempt to block the formal publication of the book, which it claimed had not gone through the required declassification process.
In ruling, Lamberth suggested that if Bolton is wrong in his claim the book does not contain classified information, "he stands to lose his profits from the book deal, exposes himself to criminal liability, and imperils national security."
"Defendant Bolton has gambled with the national security of the United States. He has exposed his country to harm and himself to civil (and potentially criminal) liability," the ruling said, adding, however, that "the government has failed to establish that an injunction will prevent irreparable harm."
In an interview with NPR, Bolton said that his book was "about how not to be president," adding that "decisions were made without ultimate objectives and strategies in mind."