John Bolton Compares Donald Trump's Putin Summit to FDR Meeting Stalin During World War II
Trump White House National Security Adviser John Bolton defended President Donald Trump's upcoming meeting with Russian President Vladimir Putin by comparing it to Franklin Delano Roosevelt's World War II meetings with Joseph Stalin.
Speaking with ABC News' Jonathan Karl on Sunday, Bolton side-stepped an explanation on why the Trump administration canceled his CNN "State of the Union" appearance over what White House press secretary Sarah Huckabee Sanders deemed "bad behavior" by the network. Bolton shook off the suggestion that Trump's combative behavior with U.S. news organizations mimics the behavior of Russia and other authoritarian government efforts to undermine a free press. Bolton, who met with Putin in Moscow earlier this month, compared President Trump's Monday meeting with Putin in Helsinki, Finland, to the series of talks held between FDR, Winston Churchill and Soviet Union leader Joseph Stalin as the allies waged war against Nazi Germany during World War II.
"Vladimir Putin and his government have jailed journalists, [there] have been accusations they have carried out murders of journalists critical of the Russian state," Karl said to Bolton Sunday. "And we hear President Trump, doesn't he kind of contribute to that authoritarian effort to undermine a free press when we hear him brand legitimate news organizations as fake, legitimate news stories as fake?"
"No, I don't think that has anything to do with it." Bolton responded. "Franklin Roosevelt met with Joseph Stalin at a time when activity in Russia was a lot worse than it is today. I'm not excusing present conduct, but it didn't seem to bother Franklin Roosevelt and liberal Democrats weren't bothered at the time when he met with Stalin so let's try and have some historical perspective here and not act like we have the attention span of fruit flies."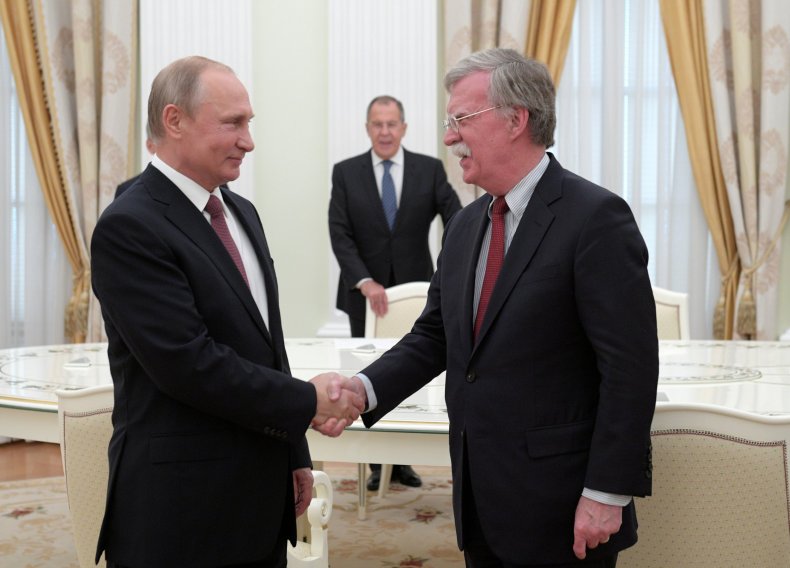 Karl shot back that he was not questioning the legitimacy or appropriateness of Trump's meeting with Putin, but instead asked if Trump's attacks on U.S. news outlets seeks to undermine a free press.
"I think the question is silly," Bolton responded. "Don't say I'm attacking freedom of the press! I just characterized your question. In reality, I don't seek out the press I don't talk to them, I appear when I'm asked to and if I'm not asked to appear I don't do it and I don't communicate with them either, which you would find out if you consulted with your friends in the Washington press corps who I don't communicate with," Bolton said with a slight laugh.
Bolton dismissed calls for Trump to directly confront Putin about meddling in the 2016 presidential election following special counsel Robert Mueller's Friday indictment of 12 Russian military intelligence officers charged with hacking the Democratic National Committee.
"I can tell you when I met with President Putin a few weeks ago to prepare for the Helsinki meeting, he made it plain that he said the Russian state was not involved, and he was very clear with his translator that that's the word that he wanted," Bolton said Sunday. "Now we'll have to see, given that these are allegations concerning GRU agents, obviously part of the Russian state, what he says about it now."
Trump tweeted a series of attacks calling the news media "the enemy of the people" Sunday as a preface to his Monday meeting: "Heading to Helsinki, Finland – looking forward to meeting with President Putin tomorrow. Unfortunately, no matter how well I do at the Summit, if I was given the great city of Moscow as retribution for all of the sins and evils committed by Russia.....over the years, I would return to criticism that it wasn't good enough – that I should have gotten Saint Petersburg in addition! Much of our news media is indeed the enemy of the people and all the Dems......know how to do is resist and obstruct! This is why there is such hatred and dissension in our country – but at some point, it will heal!