Ex-CIA Director: Russia Will Have Recorded Trump's Meeting With Putin and Will Use It Against Him
John Brennan, former CIA director in the Obama administration, said Russian President Vladimir Putin likely recorded Monday's meeting with President Donald Trump and will be able to use it against him in the future.
"I would find it unbelievable if they didn't [record it] in some manner," Brennan said Tuesday morning on MSNBC's Morning Joe. "I think whatever Mr. Trump said in that meeting with Mr. Putin is now memorialized on Russian tape and it will be used as necessary by Mr. Putin against Mr. Trump."
Brennan added that the president was almost certainly told by members of the U.S. intelligence community prior to the meeting of the possibility that Russia would be recording their one-on-one meeting in Helsinki, Finland.
"Whether he accepts what he is told by the men and women of the CIA and intelligence community, I don't know," Brennan said.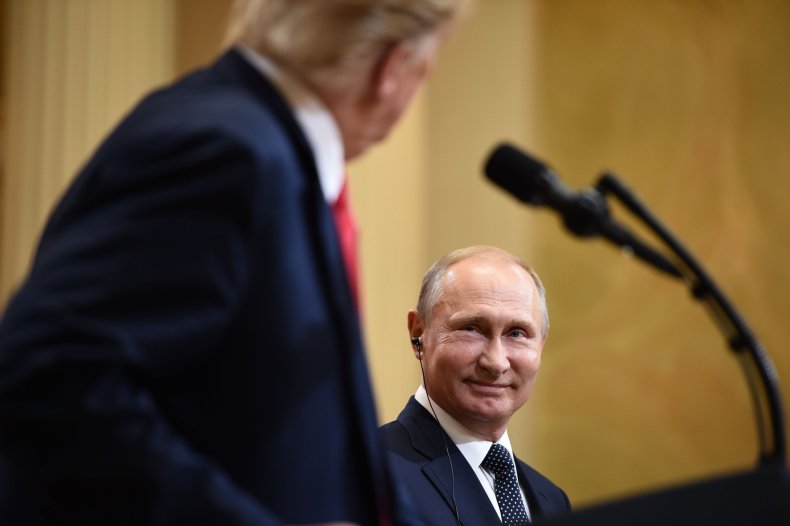 Brennan, who worked as CIA director from 2013 to 2017, called Trump's comments in a joint press conference alongside Putin, in which the president refused to acknowledge Russian meddling in the 2016 election, "nothing short of treasonous."
"Donald Trump's press conference performance in Helsinki rises to & exceeds the threshold of 'high crimes & misdemeanors.' It was nothing short of treasonous," Brennan tweeted on Monday. "Not only were Trump's comments imbecilic, he is wholly in the pocket of Putin. Republican Patriots: Where are you???"
Representative Adam Schiff, the top Democrat on the House Intelligence Committee, called Trump's refusal to condemn Putin's actions the "Kremlin's dream come true."
When asked if Trump would raise election meddling concerns with Putin prior to the meeting, the president had said the only thing he could do was tell Putin, "don't do it again." On Monday, following the meeting, Trump seemed to take the Russian president at his word, despite his own intelligence community saying otherwise.
"[Putin] just said it's not Russia. I will say this: I don't see any reason why it would be," Trump said. "I have great confidence in my intelligence people, but I will tell you president Putin was extremely strong and powerful in his denial today."
The same day Trump met with Putin and suggested that he believed Russia's claim that it did not interfere in the 2016 election, the Justice Department indicted another Russian for conspiracy to act as an agent of the Russian government in the U.S.
Numerous Republicans issued scathing rebukes of the president's remarks. Their comments ranged from "disgraceful" and "shameful" to categorizing it as "throwing the intelligence community under the bus."
Just days before the Trump-Putin summit, 12 Russian intelligence officers were indicted for interference in the 2016 election by the Department of Justice as part of special counsel Robert Mueller's investigation. Despite prior knowledge of those indictments, the president continued to call the investigation a "witch hunt" and to downplay Russian interference.