John Cleese Says That No One at Fox News Has Ever Seen 'Monty Python and the Holy Grail' and It Shows
It appears that thorough knowledge of Monty Pythonis not a prerequisite for anyone applying for a job at Fox News. John Cleese, the cofounder of the Monty Python comedy troupe, mocked the conservative cable network on Twitter on Monday, after a Fox News host quoted a Reddit post on the air, not realizing that it was actually just a joke from the 1975 film Monty Python and the Holy Grail.
"BREAKING: No one at Fox News has ever seen Monty Python & The Holy Grail," the 80-year-old actor tweeted with a laughing emoji. He cheekily added the hashtags "run it," "good journalism" and "fact checking." Cleese shared the segment from Fox News which included the quote.
On June 12, The Story host Martha MacCallum was covering Seattle's Capitol Hill Autonomous Zone, also known as CHAZ. During the news segment, MacCallum reported that there were scuffles going on among protestors who have been occupying the area for weeks. Among the crowd was hip-hop artist Raz Simone, who is the unofficial leader of the protest collective.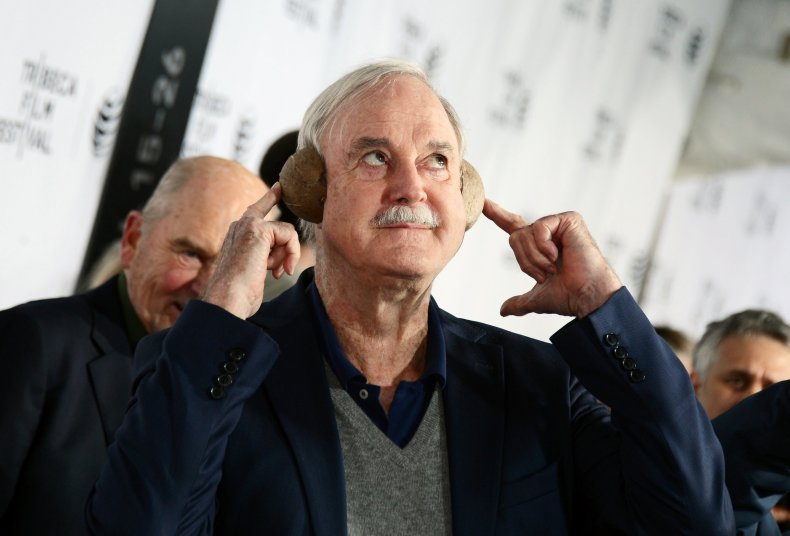 Part of her story included a since-deleted Reddit thread that alluded to Simone's designation and claimed it was evidence of chaos among the protesters. As extreme as the post, titled "I Didn't Vote for Raz" may have seemed, MacCallum failed to realize that the Reddit thread quoted the classic comedy film.
"I thought we had an anonymous collective," the Reddit post said, which MacCallum read during her report without realizing its origin. "An anarcho-syndicalist commune at the least, we should take it in turns to act as a sort of executive officer for the week."
"But of course all the decisions of that officer would have to be ratified at a special bi-weekly meeting by a simple majority in the case of internal affairs, or a 2/3 majority in the case of more major issues," the post continued. "Raz can't simply expect to wield supreme executive power just because someone threw a sword at him."
These quotes are paraphrased from a scene in which King Arthur, portrayed by Graham Chapman, declares that he is king to a group of peasants who are mud-farming. In response, the two peasants, played by Terry Jones and Michael Palin, say they are members of "an autonomous collective" and push back with an argument almost identical to the Reddit thread.
Monty Python stans headed to the reply button and quoted the classic comedy. "We fart in their general direction," one user wrote. "Strange women lying in ponds distributing swords is no basis for a system of government!" another chimed in.
Other people online were just happy to see Cleese mock Fox News on Twitter, and grateful for a moment of levity. "This is the funniest thing I've seen in a long while! Thank you Mr. Cleese," one fan wrote.
Newsweek did not receive comment from Cleese by the time of publication.