John Cox, Kevin Faulconer Lack Arnold Schwarzenegger Muscle to Topple Gavin Newsom
Of the more than 50 people who have said they plan to challenge California Governor Gavin Newsom in a recall election this fall, no one has galvanized the kind of excitement that Arnold Schwarzenegger brought to the state's last gubernatorial recall in 2003.
Polling has been sparse thus far, but what there is shows a majority of Californians don't want Newsom recalled.
Those who do support his removal from office rank former Newsom gubernatorial challenger John Cox and former San Diego Mayor Kevin Faulconer as among the top candidates. But each politician received less than a third of voter support among respondents in April polls. conducted by the Berkeley Institute of Governmental Studies (Berkeley IGS) and SurveyUSA.
Garry South, the Democratic strategist who oversaw former California Governor Gray Davis' successful gubernatorial runs in 1998 and 2002, said it is unlikely a last-minute candidate will emerge to lead the Republican opposition as Schwarzenegger once did.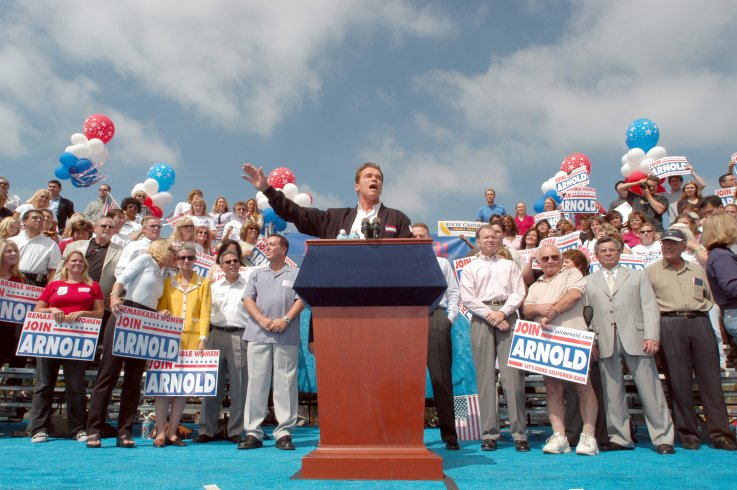 ""There just isn't an Arnold in the race, and there's not going to be," Democratic strategist Garry South said of the Republicans challenging California Governor Gavin Newsom. Arnold Schwarzenegger is photographed above speaking at a rally during the first day of his campaign bus tour throughout California in 2003.
Orjan F. Ellingvag/Corbis via Getty Images
"That's one of the things that saves Newsom, in addition to his own relatively good job ratings," South said during a recent conversation with Newsweek.
"There just isn't an Arnold in the race," he said, "and there's not going to be."
A total of 135 candidates qualified for the 2003 recall election. After Schwarzenegger announced his candidacy that August, he won nearly 49% of the vote two months later, with the rest of voters split amongst his competitors.
Schwarzenegger became "kind of the only one who mattered" once he entered the race, South said.
"Once Arnold got into it, you had significant Republican candidates bowing out," he added.
In a recent article South wrote for The Hill, he weighed in on whether a high-profile celebrity entrant would matter in 2021 the way it did 18 years ago. After former Olympian and reality television personality Caitlyn Jenner announced her gubernatorial campaign this spring, some political pundits wondered whether she could generate the kind of public excitement that Schwarzenegger did. But as South pointed out in his article, recent polling suggests that will not be the case.
"When Caitlyn Jenner announced her candidacy, some of the over-hyped coverage suggested she might be the Arnold of this recall," South wrote. "But her stumbling start and unforced errors pretty quickly deflated that notion."
South doesn't think any celebrity candidacy announcements that may come in the months ahead will be successful either.
"There's going to be none of these candidates who are going to be able to consolidate the vote the way Arnold Schwarzenegger did—nobody," he said.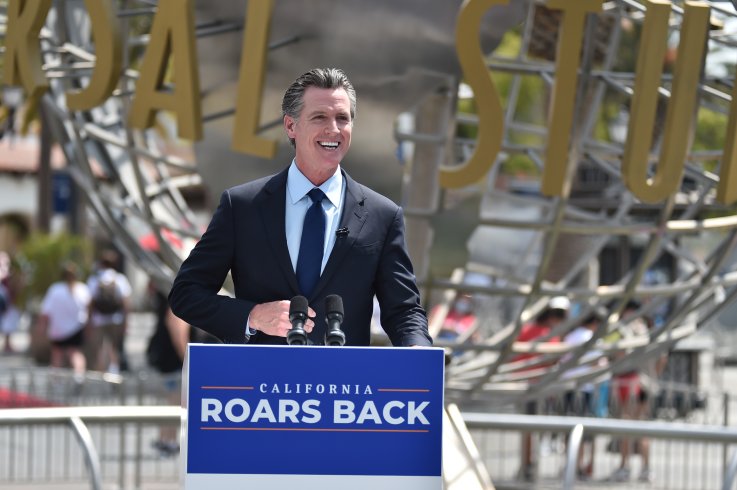 California Governor Gavin Newsom holds a press conference for the official reopening of the state of California at Universal Studios Hollywood on June 15, 2021 in Universal City, California.
Alberto E. Rodriguez/Getty Images
Outside of the debate on Jenner's supporter-gathering potential, Cox and Faulconer have emerged as the most widely-known potential candidates in the field, which Ballotpedia estimated to consist of 51 candidates by early June. Cox, a Southern California businessman, ran against Newsom in 2018 as the Republican Party's top candidate. Cox won 38.1% of the vote, losing to Newsom's 61.9%.
In recent weeks, Cox has been traveling throughout the state to rally supporters, often with a live Kodiak bear named Tag in tow. Cox's use of the bear at his campaign events was concerning to the San Diego Humane Society, which local media outlets reported initiated an investigation into Cox's use of the animal.
Controversial animal appearances aside, recent polls have identified Cox as the early leader among recall challengers, with voter support ranging from 22% in a Berkeley Institute of Governmental Studies (Berkeley IGS) poll to 9% in a SurveyUSA poll. In contrast, voter support for Jenner was at 6% and 5% in the Berkeley IGS and SurveyUSA polls, respectively.
The Berkeley poll found Faulconer matched Cox with 22% of voter support in late April, but the SurveyUSA poll estimated his support among voters was closer to 7%. As South pointed out in an article he wrote for The Sacramento Bee in January, it can be tough for the mayor of a California city to ascend to the state's highest elected office, especially when the politician leaves their earlier post amid criticisms from their city's top media outlets, as Faulconer did in San Diego.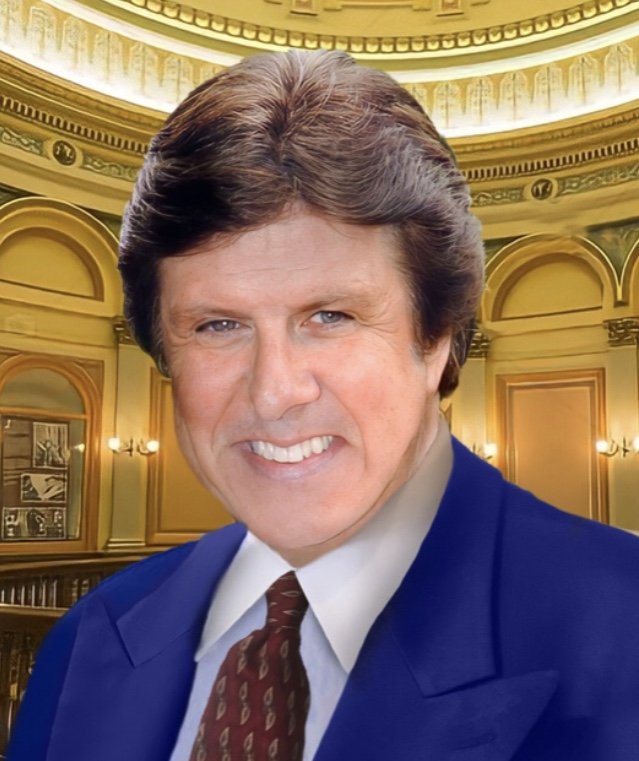 Democratic strategist Garry South managed former California Governor Gray Davis' successful 1998 and 2002 campaigns for governor ahead of Davis' eventual recall in 2003.
Photo provided
Faulconer's support for former President Donald Trump, for whom Faulconer told KPBS he voted in the 2020 presidential election, is another potential weakness, South said, albeit one he is likely to share with other candidates in a Newsom recall election.
Several prominent members of the Democratic Party, including President Joe Biden, have voiced support for Newsom. But among Newsom's competitors, the division between Trump Republicans and conservatives who have distanced themselves from the former president poses another difficulty for consolidating recall votes, South said.
"It's not going to happen because the Republican Party itself is split," South said. "This is not a big happy family on the pro-recall side."
While the Recall Gavin Newsom campaign lists a range of reasons for their efforts that include Newsom's positions on immigration and gun safety legislation, recall organizers have told Newsweek the lockdowns Newsom ordered in response to the coronavirus pandemic helped usher support for their recall petition.
After California's official reopening on June 15 and the speed with which economists predict the state's economy will rebound, South said it looks like "all the stars are aligning" for Newsom.
The governor's nearly $80 billion budget surplus also works in his favor, South said, adding that Davis entered his recall year with a $35 billion budget deficit.
"There's no factor here that I can see that suggests to me that Newsom is in trouble," South said.
With the number of recall candidates likely to increase in the months remaining before a recall election takes place, South said assessments over who is most likely to dominate the field are beside the point.
"It doesn't matter who the candidates are, because Newsom is going to beat it on the first line anyway," he said.