John Fetterman's Health Is Becoming a Major Headache for Joe Biden
U.S. Senator John Fetterman's health and his continued absence from the Senate could prove a headache for President Joe Biden because of the slim Democratic majority in the chamber.
Vice President Kamala Harris has had to use her power as president of the Senate to break ties three times this week in order to confirm two of Biden's judicial picks and as the Senate continues to consider Biden nominees, her tie-breaking vote may be crucial.
The situation in the Senate is complex as Fetterman's midterms victory in Pennsylvania handed Democrats a 51-49 majority but Senator Kyrsten Sinema of Arizona left the party shortly after the elections, and Senator Joe Manchin of West Virginia, who has been described as a moderate or conservative Democrat, has voted with Republicans in the past.
Fetterman checked himself into a hospital to receive treatment for clinical depression on February 16 and while there is no firm timeline for his return, Fetterman's communications director, Joe Calvello, said on Monday that the senator was "on a path to recovery."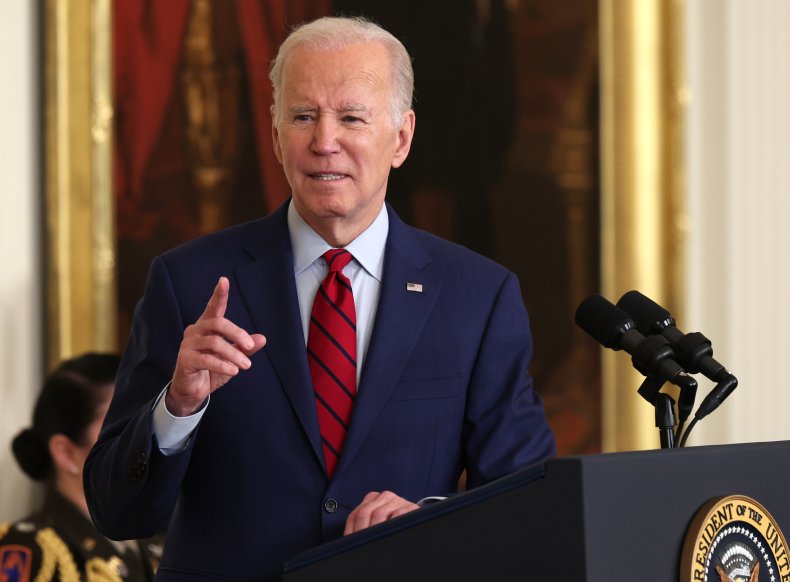 Harris' tie-breaking votes come as Democratic Senator Dianne Feinstein of California is also absent from the Senate. She was admitted to hospital in San Francisco after being diagnosed last month with a case of shingles but the senator said that she hoped "to return to the Senate later this month" and she is expected to make a full recovery.
There may also be concerns that the tie in the Senate could affect the confirmation process of Biden's nominee to be the next head of the Labor Department, Julie Su.
Some have pointed to the Senate's expected decision to vote in favor of a House of Representatives' resolution to override a new criminal code in the District of Columbia (D.C.) and how Fetterman's absence might affect the outcome.
While Biden has said he will sign the resolution if the Senate passes it, several Democrats have blasted Biden and the Senate for supporting the override of a decision by the D.C. Council.
Political scientists who spoke to Newsweek suggested the situation could be difficult for the Democrats but there were few good options.
Embarrassing Biden
With tight margins in the Senate, the longer an evenly divided chamber goes on, the more potential risk there will be for Biden and the Democrats, according to Mark Shanahan, an associate professor at the University of Surrey in the U.K, and co-editor of The Trump Presidency: From Campaign Trail to World Stage.
"With the Senate Democrats unable to rely on the support of Joe Manchin or the newly-independent Kyrsten Sinema in Congress, John Fetterman's vote is essential in shoring up a small Democrat majority," Shanahan told Newsweek.
"The longer his absence goes on, the more likely Republicans are to bring votes to the floor on issues where a GOP victory will embarrass the president. The Senate Bill to override the recent changes to the D.C. criminal code is just one issue and doubtless Republican strategists will be trawling bill proposals and draft legislation in committee to find more headline-grabbers," he said.
Robert Singh, a professor of politics at Birkbeck, University of London, U.K, told Newsweek that he wasn't sure "that Fetterman's presence would have been key on the D.C. issue, but it may well be important on other, close votes."
"Moreover, it may well influence the decision of the Democratic leadership to delay, or even drop, bringing pieces of legislation to the floor for a final vote. In that sense, it matters," he said.
"It also, of course, offers political mileage to Republicans to highlight what appears to be a negligent party in terms of scrutiny of its candidates—though the GOP has a few cases of its own on that score," Singh added.
Republican Priorities
While the GOP holds the majority in the House, Democrats pulled off a surprise upset in the midterms and retained control of the Senate. Senators' absences could have an important effect for Republicans.
"Slim majorities are a hard thing to work with, especially in the Senate where the ability of the majority party leadership to control the agenda has always been more fragile than that of their House counterpart," David A. Bateman, an associate professor of government at Cornell University, told Newsweek.
"Most majority leaders will experience some period in which members are unavoidably absent," he said. "Fetterman's absence probably makes it more likely that some Republican priorities will pass."
Nonetheless, Bateman said that "we shouldn't overstate its significance. These resolutions are being brought up and passing because at least a few Democrats support them, because the majority party leader isn't actively trying to prevent their consideration, and because they fall under a special and relatively narrow category of resolutions that can't be filibustered."
Senator Manchin has said he will oppose D.C.'s new criminal code and vote for the resolution to block it, while some other moderate Democratic senators might also do so.
"The only thing that Fetterman's absence changes is that Republicans need to find one fewer conservative Democratic vote for passage," Bateman said. "That's important, but it's not the only factor at work here."
Roadblocks and Filibusters
Bateman said that if Senate Majority Leader Chuck Schumer "wanted to throw up procedural roadblocks to these resolutions, he could."
"He chooses not to because he doesn't want to antagonize conservative Democrats— who could always get around these roadblocks if they really wanted to—and because he knows any major priorities of the party can be defended by the president's veto," Bateman said.
Bateman also pointed out that there are few issues that "fall under this type of exception to the filibuster."
The filibuster means that in order to end debate on most matters, 60 votes are required. That is not the case when it comes to the resolution on D.C.'s criminal code.
"So Democrats will lose a few votes on issues where the party is ambivalent or where they know Biden will exercise a veto, but only a small number given the narrow exception to the filibuster," he said.
Whispers of Resignation
Fetterman has given no indication that he intends to resign and even if he did, Democrats would then be faced with a special election in 2024—a presidential election year where Democratic Senator Bob Casey of Pennsylvania is also expected to seek re-election.
If Fetterman does resign, Pennsylvania's Democratic Governor Josh Shapiro would choose his replacement until the special election is held.
"While everyone on the Democrat side of the aisle has huge sympathy for Fetterman, there is a growing feeling that his race may be run. Resignation is now talked about in more than whispers," Shanahan told Newsweek.
"A Governor Shapiro-appointed junior senator for Pennsylvania would take the pressure off both Majority Leader Chuck Schumer and, indeed, President Biden in the short term," Shanahan said. "But it may be seen as a particularly heartless move. However, in the end, politics always comes down to the numbers."
Thomas Gift is founding director of University College London's Centre on U.S. Politics, and his home state is Pennsylvania. He told Newsweek that for Democrats "there's a clear trade-off between the short-term loss of being 'one man down' in the Senate, versus potentially losing his seat for good in a special election in two years."
"While Fetterman's decision of whether to step down will be a personal one, thinking Democrats should think twice before trying to pressure him out," Gift said.
"The reality is that very little governing will be going on in Washington over the next two years. So if Fetterman can recover, ensuring his seat for six years seems far more important than any political sacrifices required now," he added.