Joe Biden Sabotages Democrats' D.C. Statehood Dream
President Joe Biden may have sabotaged Democrats' ambition for statehood for the District of Columbia (D.C.) by saying he will approve a congressional resolution to veto reforms to the district's criminal code.
Biden made the announcement on Twitter on Thursday, saying he would sign a resolution that appears set to pass the Senate as early as next week after it was passed by the House of Representatives on February 9 with bipartisan support.
His decision comes at a time when support for D.C. statehood among Democrats has been growing. In April, 2021, the Democrat-led House passed a bill aimed at making the district the 51st U.S. state.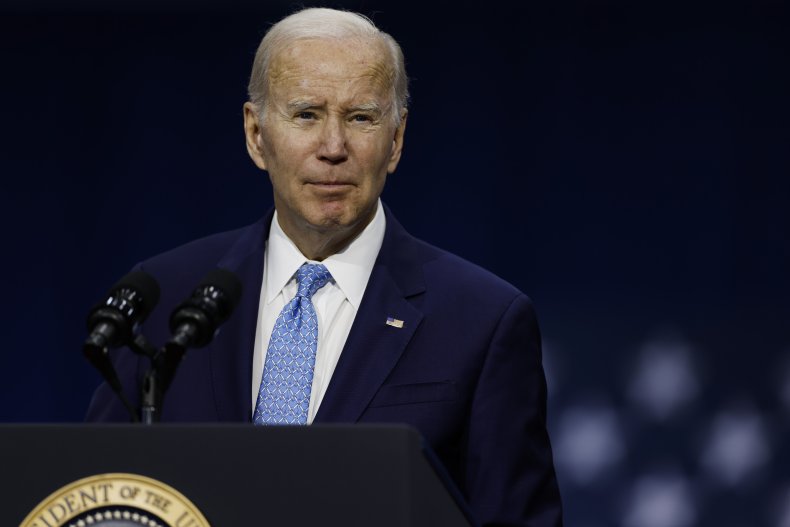 The D.C. Council approved the Revised Criminal Code Act (RCCA) by a vote of 12 to 1, overriding Mayor Muriel Bowser's veto. The revised code includes reductions in the maximum penalties for burglary, carjacking and robbery, as well as expanding jury trials and abolishing mandatory minimum sentences.
"I support D.C. Statehood and home-rule—but I don't support some of the changes D.C. Council put forward over the Mayor's objections—such as lowering penalties for carjackings," Biden tweeted on Thursday.
"If the Senate votes to overturn what D.C. Council did—I'll sign it," he said.
Democrats Criticize Biden
Democrats on the D.C. Council offered harsh criticism of the president and they were joined by Democratic Representative Elizabeth Holmes Norton, D.C.'s delegate in the House of Representatives, and Democratic Representative Alexandria Ocasio-Cortez of New York.
"Today has been a sad day for DC Home Rule and DC residents' right to self-governance, but a powerful argument in favor of #DCStatehood," Norton tweeted on Thursday.
"Today the President of the United States and many Senate Democrats turned their backs on DC residents and our fundamental right to self determination," tweeted D.C. Council member Janeese Lewis George, who is also a Democrat.
Newsweek has reached out to the White House about Biden's decision.
Republicans oppose statehood for D.C. and argue that making it a state would hand Democrats' a political advantage.
"Republicans have long argued that national Democrats' support for DC statehood is rooted in a desire for political gain instead of a principled stance on self-determination," tweeted Austin Ahlam of The Intercept on Thursday.
"Today, Biden confirmed that that critique is, in fact, dead on," Ahlam added.
Political scientists who spoke to Newsweek on Friday suggested that Biden had damaged the cause of D.C. statehood but said the president found himself in a difficult position.
Tough on Crime
Biden may be concerned about the recent defeat of Chicago Mayor Lori Lightfoot. The mayor came third in a race against Paul Vallas, a moderate Democrat endorsed by the city's police union, and Brandon Johnson, a progressive backed by the Chicago Teachers Union.
She has been criticized for her response to rising crime levels in the city, while the approach to crime is an issue that has divided progressive Democrats and those with a more traditional approach to the issue.
Crime was also a major issue in Mayor Bowser's successful re-election campaign last year.
In a statement on Thursday, Representative Norton argued that "with the nationwide increase in crime, most senators do not want to be seen as supporting criminal justice reform."
Mark Shanahan, an associate professor at the University of Surrey in the U.K, and co-editor of The Trump Presidency: From Campaign Trail to World Stage, told Newsweek that perceptions about his handling of crime were a key issue for Biden.
"President Biden is stuck between a rock and a hard place in trying to support D.C. statehood while also being seen to be tough on crime—an issue that consistently rates high with voters starting to turn their minds to the 2024 presidential race," Shanahan said.
"Biden doesn't want to be seen to be supporting the activist D.C. Council's move to lower some sentences as it's somewhat out of kilter with national policy," he added.
Weak Endorsement
Statehood for D.C. has been a long-term project and despite the 2021 bill, it appears unlikely that the district will become the 51st state any time in the near future, though many Democrats continue to argue in favor of it.
Shanahan told Newsweek that Biden's decision "does make his endorsement of statehood sound particularly weak if he's not seen by D.C. residents and politicians alike as supportive of their self-governing actions."
"It's a classic case of a disconnect between Biden's national political interests versus particular policy at a local level," he added.
A Losing Cause?
With Republicans in control of the House and a slim Democratic majority in the Senate, the cause of D.C. statehood appears to be stalled and controversy over criminal justice reform may be a bigger issue for Biden than a long-term goal of creating a 51st state.
Robert Singh, a professor of politics at Birkbeck, University of London, told Newsweek, that Biden signing the resolution "will certainly damage the case for D.C. statehood—although the actions of the mayor and the city council are probably more serious in terms of the damage that they're doing.
"It's probably sensible politics for Biden, inasmuch as he needs to show that he is not tolerant of 'soft on crime' measures by Democratic cities, with rising crime rates a major concern to mainstream voters."
He added that the president "can maintain that he supports statehood at the same time, while doing little or noting to push a losing cause."
"Still, it will likely cause some internal party troubles, especially with Black Democrats and progressives," said Singh.