What Lori Lightfoot's Defeat Means for Democrats Across the Country
Lori Lightfoot will leave office as Chicago's first one-term mayor since the 1980s, but her downfall can serve as a lesson for Democrats beyond the city.
On Tuesday voters sent Paul Vallas, a moderate Democrat endorsed by the city's police union, and Brandon Johnson, a progressive backed by the Chicago Teachers Union, to a runoff on April 4.
Lightfoot came third after being criticized for her response to rising crime in the city.
Crime is a key concern for U.S. voters. Ahead of November's midterms, a poll by the Pew Research Center found that 61 percent of the electorate viewed violent crime as a very important issue when deciding how to vote.
Violent crime rates have risen across the country: from about 381 per 100,000 people in 2019 to about 399 in 2020, according to the FBI. Chicago's violent crime rate was more than double the national average in 2020.
The election was "a referendum on Mayor Lightfoot's four years in office," according to Dick Simpson, a political scientist from the University of Illinois at Chicago and a former city alderman.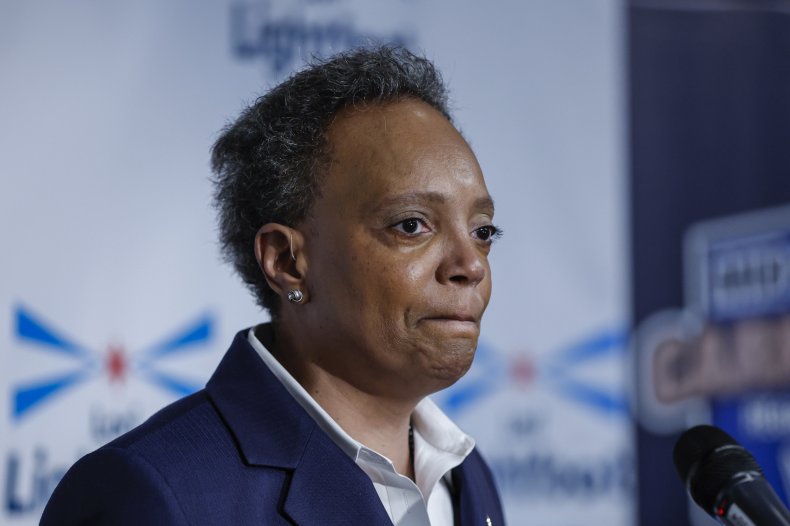 It showed that residents were "tired of the pandemic, the slow economic recovery and the increased level of crime," he told Newsweek.
"None of these problems are easy to solve. She made things worse by being more confrontational with both opponents and allies."
Lightfoot won comfortably in a 2019 runoff, becoming Chicago's first Black female and openly gay mayor, but her term of office has been marked by fights with the teaching and police unions.
Four years ago, Vallas finished toward the bottom in the first-round ballot for Chicago mayor, but this time his campaign focused on public safety and support for the police. He received the most votes on Tuesday, underlining how "tough on crime" stances are increasingly resonating with voters in the country's most liberal cities.
Robert Bruhl, a professor of political science at the University of Illinois at Chicago, told Newsweek that, in the minds of voters, Lightfoot "bore responsibility—rightly or wrongly—for not exercising control" over the unrest that followed the murder of George Floyd in 2020 and for not "aggressively" tackling the rise in crime.
Lightfoot and Rep. Jesus "Chuy" Garcia, once a leading contender to unseat her, "focused their campaigns on each other, rather than addressing the crime issue," Bruhl added.
"Both candidates went from being early front-runners to second tier," he said. "Mr Vallas and Mr Johnson both campaigned on 'getting things done.'"
The Democratic Party in the city is "based less on ideology and more on providing basic services," Bruhl said. "That's why the Daley family [which has produced two Chicago mayors] was so successful."
Simpson said Lightfoot, whom he described as a "pragmatic progressive," also "fell prey to the deep split between extreme conservatives and extreme progressives."
The city council elections reflected this division, he said. "It signals that moderate liberals are being attacked from both ends of the political spectrum."
However, EJ Fagan, an assistant professor of political science at the same university, cautioned against drawing conclusions about what the results may mean for Democrats outside Chicago.
Lightfoot "has been unpopular through most of her administration," Fagan told Newsweek. "She never had a base of support much larger than what she earned last night. Even in 2019, she won her first race with 17.5 percent in the first round."