John Fetterman Letter From Hospital Bed Raises Questions
Social media users have raised questions about U.S. Senator John Fetterman being involved in sending a joint letter to the Norfolk Southern Railway on Wednesday despite the fact he's currently in hospital.
Fetterman joined fellow Democratic Senator Bob Casey, both of whom represent Pennsylvania, and Democratic Representative Chris Deluzio in sending a letter to Norfolk Southern CEO Alan Shaw that urged the company to provide assistance to residents in Darlington Township.
The letter may raise further questions about Fetterman's capacity to serve in the Senate following his hospitalization last month. The senator's team has provided limited information about his activities but in a statement on Monday, his office said he was being kept informed about news and Senate business.
There has also been speculation about whether Fetterman could choose to resign, though his office has given no indication that he will do so. Pennsylvania's Democratic Governor Josh Shapiro, who would choose a successor if Fetterman left office, said on Monday that there was "no contingency plan" for that situation.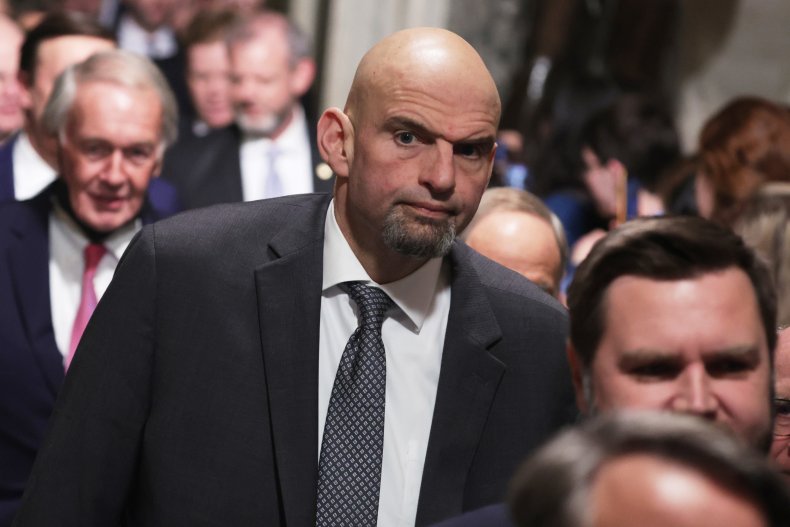 Fetterman checked himself into hospital on February 16 to receive treatment for clinical depression, but his office said in a statement on Monday that he was continuing to keep up with Senate business.
"He is visiting with staff and family daily, and his staff are keeping him updated on Senate business and news," Fetterman's communications director, Joe Calvello, said in the statement.
In the same statement, Calvello said: "Our team is moving full speed ahead and working tirelessly for the people of Pennsylvania. Just last week we opened a new office in Erie and will be opening several more offices in the coming weeks."
Calvello also reported that the Democratic senator "is doing well, working with the wonderful doctors, and remains on a path to recovery."
A copy of the letter available on Casey's website shows it is signed by him, Fetterman and Deluzio.
Some on social media raised questions about how Fetterman had been involved in writing the letter while he's currently in hospital.
The letter was subject to a report by local outlet WTAE and has begun to attract attention on social media, with some Twitter users questioning Fetterman's involvement.
The report was highlighted on Twitter by Stephen L. Miller, contributing editor at The Spectator World. Miller shared screenshots from the article that described Fetterman sending the letter along with his fellow Democrats and responded with: "What?"
Responding to WAET's tweet featuring the story, Twitter user @DeaconFrost95 suggested Fetterman was "having people already do his job for him," while user @MSmanneschi wrote: "I'm pretty sure that Fetterman had no idea what is going on."
Other Twitter users also raised questions about the fact that Fetterman has joined a bipartisan group of senators backing the Railway Safety Act of 2023.
"How is Fetterman joining anything right now?" asked user @jtLOL, sharing an article about the legislation.
Several Twitter users responding to the same article from Pennsylvania Capital-Star expressed a similar sentiment, with user @Zaggs writing: "Um, Fetterman is still in the hospital receiving treatment for depression. How is he legally allowed to submit anything?"
In their letter, Fetterman, Casey and Deluzio wrote that they were: "Frustrated by repeated reports from Pennsylvania residents that they are being turned away and denied needed assistance" from a Family Assistance Center in East Palestine established by Norfolk Southern in East Palestine, Ohio following a major train derailment.
"We appreciate the assistance you have offered to Darlington Township families on a case-by-case basis, but Pennsylvania families should not face additional hardship to get the assistance they are owed," the Democrats wrote.
Newsweek has reached out to John Fetterman's office for comment.
Update, 03/02/23, 09:40 a.m. ET: This article was updated to include additional context.