John Fetterman's Hospitalization Leaves Democrats Unprepared
Senator John Fetterman's hospitalization appears to have left Democrats unprepared for choosing a potential successor if he chooses to resign from office.
Pennsylvania's Democratic Governor Josh Shapiro would be tasked with selecting someone to fill Fetterman's seat in the event of his resignation but Shapiro told NBC News on Monday that there's "no contingency plan."
Fetterman checked himself into hospital on February 16 to receive treatment for clinical depression but questions about his health have been rife since he suffered a stroke in May before the Pennsylvania Democratic Senate primary.
He went on to defeat Republican Senate candidate Dr. Mehmet Oz in the November midterm elections in what was seen as a major win for the Democratic Party as Fetterman replaced retiring Republican Senator Pat Toomey.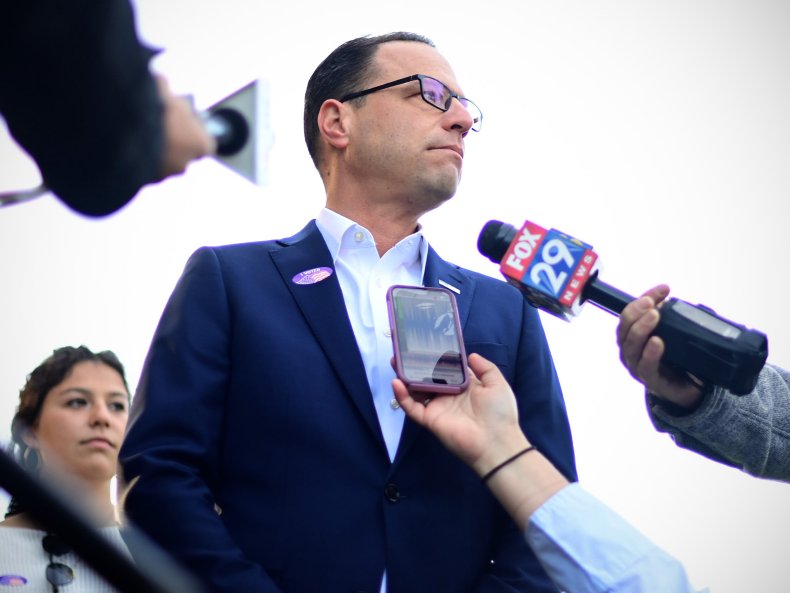 If Fetterman chose to resign from office because of ill health, Shapiro would be empowered to choose his successor but a special election would then have to be held in 2024 to fill the seat.
That would mean that both Pennsylvania's senators would face elections in 2024 as Democratic Senator Bob Casey is expected to seek another term. He has been in the Senate since 2007 and returned to work on Monday following successful surgery to treat prostate cancer.
Pennsylvania is a crucial state for Democrats in the 2024 presidential election and President Joe Biden won the state in 2020. In 2016, Pennsylvania was key to former President Donald Trump's White House victory.
Two Senate races in the state would potentially increase difficulties for Democrats as they will be battling to retain the White House and the Senate, while trying to retake control of the House of Representatives from Republicans.
"There is no contingency plan and it is 100 percent Senator Fetterman's decision as to what he will do in the future," Shapiro told NBC News.
The governor also said that he feels no pressure from Democrats to push Fetterman to resign from the Senate or to push him to remain in office for the benefit of Democrats.
"I'm proud of Senator Fetterman for getting the help that he needs and I'm there for Gisele and their family. And I know the people of Pennsylvania I've talked to are encouraging him along to get the help that he needs," Shapiro said.
He was referring to Fetterman's wife, Gisele Barreto Fetterman, who has been criticized by some on social media for her decision to take her children to Canada while her husband is hospitalized.
Contingency Plan
Robert Singh, a professor of politics at Birkbeck, University of London, told Newsweek that "the claim that there is no contingency plan for Fetterman is deeply implausible."
"If true, it suggests a state Democratic Party that is either politically negligent or suffering internal problems of its own,"Singh said.
"One would imagine that, even in the 2022 midterms, a candidate who had suffered a stroke would prompt his party to consider possible replacements. Given Fetterman's current self-admission for mental health treatment, and his absence from the Senate, it seems quite bizarre that the party would not have reached out to potential replacements," he said.
Singh added that since Pennsylvania "will be a key state in the 2024 presidential election—in which Governor Shapiro himself has been mentioned as a potential, if long-shot, Democratic nominee—and with, potentially, two Democratic U.S. Senators running if Fetterman does resign, nominating a serious, qualified, and credible successor would seem imperative to the party's prospects."
"The governor's claim surely awaits the test of public opinion in his state," he said.
Health problems have led to the the resignations of a number senators in recent years.
Republican Senator Johnny Isakson resigned at the end of 2019 citing health problems, saying that his "health challenges are taking their toll on me, my family and my staff."
He was succeeded by Senator Kelly Loeffler, who was appointed by Georgia Governor Brian Kemp, and subsequently lost her bid for election to the Senate in 2020.
In 2018 Republican Senator Thad Cochran of Mississippi announced that he would resign from office that April for health reasons. He was 80 years old at the time and subsequently passed away in May, 2019.
"I regret my health has become an ongoing challenge. I intend to fulfill my responsibilities and commitments to the people of Mississippi and the Senate through the completion of the 2018 appropriations cycle, after which I will formally retire from the U.S. Senate," Cochran said in a statement announcing his decision.
He was succeeded by Senator Cindy Hyde-Smith, who was appointed by Mississippi Governor Phil Bryant. She went on to win a special election in 2018 and re-election in 2020. She is still in the Senate.
Fetterman's Health
There is no indication that Fetterman intends to tender his resignation, however, and his communications director Joe Calvello said in a statement on Monday that the senator "is doing well, working with the wonderful doctors, and remains on a path to recovery."
"He is visiting with staff and family daily, and his staff are keeping him updated on Senate business and news," Calvello added.
Fetterman's recent hospitalization has renewed concerns about his health following the stroke he suffered in May, 2022 when he was a candidate for the U.S. Senate. Fetterman was hospitalized as a result of the stroke.
In a statement at the time, Fetterman said: "I had a stroke that was caused by a clot from my heart being in an A-fib rhythm for too long."
He added: "Fortunately, Gisele spotted the symptoms and got me to the hospital within minutes."
The amazing doctors here were able to quickly and completely remove the clot, reversing the stroke; they got my heart under control as well."
In June 2022, Fetterman said that he had "almost died" from the stroke and in October, Dr. Clifford Chen issued a one-page note about Fetterman's condition that said the stroke had had no effect on his cognitive ability or his ability to think and reason.
Newsweek has reached out to John Fetterman and Josh Shapiro's offices for further comment.
Update 03/01/23 10.49 a.m. ET: This article has been updated to include more information, including comment from Robert Singh.