John Fetterman's Wife Leaving the Country Raises Questions
Critics on social media have questioned the decision by Gisele Barreto Fetterman, wife of U.S. Senator John Fetterman, to leave the country following her husband's hospitalization.
Gisele Fetterman tweeted on February 24 that she had taken the couple's children to Canada amid intense media attention following the senator's admission to hospital to receive treatment for clinical depression.
"I am not really sure how to navigate this journey but am figuring it out slowly. 1 week ago today when the news dropped, the kids were off from school and media trucks circled our home. I did the first thing I could think of ... pack them in the car and drive," she tweeted, adding: "We drove straight into ... Canada (and lovely Buffalo NY)."
Sharing a photo and a short video, she added that she and her children "did some scary things but we did them together. We ziplined over Niagara Falls and August got stuck."
Some social media users were highly critical of that decision and questioned why she had chosen to leave the U.S. while John Fetterman remains in hospital.
"John Fetterman's wife abruptly leaves the country while he is hospitalized," tweeted Collin Rugg, co-owner of Trending Politics, on February 24. "Her husband gets hospitalized with severe depression and her first thought is to leave the country. Wow."
"The competition is over. We have a winner. Gisele Fetterman edges out Meghan Markle and Jill Biden for Worst Wife in the World," wrote podcast host Gerry Callahan on February 25.
Emerald Robinson, formerly of conservative outlets Newsmax and OANN, tweeted on Monday: "So John Fetterman (Vegetable-PA) was hospitalized recently and his wife's response was to gather their kids and drive off to Canada?"
Actor and conservative Kevin Sorbo tweeted on Monday: "When I had strokes during Hercules, my soon-to-be wife Sam stayed by my side and helped me recover. Why is John Fetterman's wife taking their kids out of the country?"
Sorbo was referring to strokes he suffered while filming the 1990s TV show Hercules: The Legendary Journeys.
Monica Crowley, a former Fox News contributor who served as Assistant Secretary for Public Affairs at the Department of the Treasury from 2019 to 2021, tweeted on Monday: "A sitting U.S. Senator was admitted to a hospital nearly 2 weeks ago, we have received no updates about his condition, the press refuses to ask questions, and his wife left the country with their kids."
"What is going on with John Fetterman?" Crowley added
However, many social media users responded to Gisele Barreto Fetterman's tweets with support.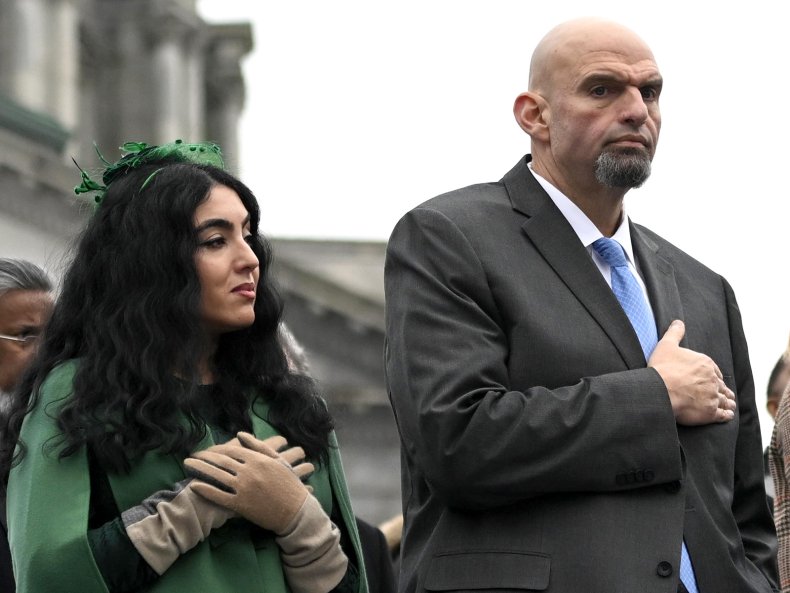 Twitter user Lorenzo The Cat wrote: "You are the personification of joy, Gisele. I hope you know that all of us support you and send you love and strength and resilience."
"Good on you for knowing when to help your kids process what's happening by taking a break from their normal routine, giving them new experiences, and encouraging them to share how they feel. I hope to be half as thoughtful and empathetic when I become a mom. Love you guys," tweeted user @madsmaru.
Fetterman's communications director Joe Calvello said in a statement on Monday that the senator is "doing well."
"We don't have a lot to update folks with since there's no real news to report except that John is doing well, working with the wonderful doctors, and remains on a path to recovery," Calvello said.
"He is visiting with staff and family daily, and his staff are keeping him updated on Senate business and news," he added.
Newsweek has reached out to John Fetterman's office for further comment.