How Did João Teixeira de Faria Get the Nickname 'John of God' and Where Is He Now?
John of God: The Crimes of a Spiritual Healer is the wild four-part documentary series about Brazilian physic and convicted sex offender, João Teixeira de Faria, also known as João de Deus, or perhaps even more infamously, John of God.
The documentary follows Faria's rise to the spiritual healer to becoming the subject of Brazil's biggest ever sexual harassment scandal.
How Did João Teixeira de Faria Get the Nickname 'John of God'?
For more than 40 years, Brazilian medium João Texieira claimed to channel healing spirits and carried out 'psychic surgeries'.
His stranger-than-life itself "powers" earned him the nickname John of God. The nickname was also one he inherited from his mentor, the philanthropist Chico Xavier.
He saw himself as one of God's messengers.
In the Netflix documentary, a narrator reading an extract from Faria's personal accounts states: "It's a gift from God. I was given this mission by God and I will accomplish it."
He claimed to be Catholic but his healing abilities were open to people of different faiths and religions.
As heard in the Netflix documentary, John of God: The Crimes of a Spiritual Healer, Faria is known in Brazil as a Saint.
In the first episode of the documentary, people who followed John of God spoke of times where he healed cancer sufferers and witnessed people walking who were told they would never walk again after being 'healed' by Faria.
He was based in the small town of Abadiânia, Brazil, where he ran the Casa de Dom Inácio de Loyola, which he called the "spiritual healing center".
At the Casa, herbs, blessed items, and artifacts were sold to help his followers in their healing process helping Faria build a financial empire.
At the Casa, he would often perform "spiritual surgery" and deliver "spiritual treatment". There were two kinds of surgery, "visible" and "invisible." Whoever chose the latter, would be directed to sit in a room and meditate and a medium will help with their healing.
Visible surgery would see Faria operate without using a traditional anesthetic. Instead, he used "energized" water and summoned spirits, who were volunteers meditating. He also carried out procedures such as nasal probing's, eye scraping, and body incisions.
He also gives his volunteers pure passion flower which he claimed would help an individual's healing processes.
His powers were seen as incredible, he received extensive media coverage on CNN, ABC News, and The Oprah Winfrey Show.
In 2013, Oprah Next Chapter aired a television special titled John of God, where Winfrey met with Faria and interviewed several of his believers who were hoping to be cured with his powers.
However, as early as 2005 people were beginning to express their skepticism about "John of God."
An extensive investigation by James Randi and Joe Nickell for ABC News exposed Faria's "healing procedures" as being nothing more than tricks. They also argued the miracles experienced by his followers were simply placebo effects.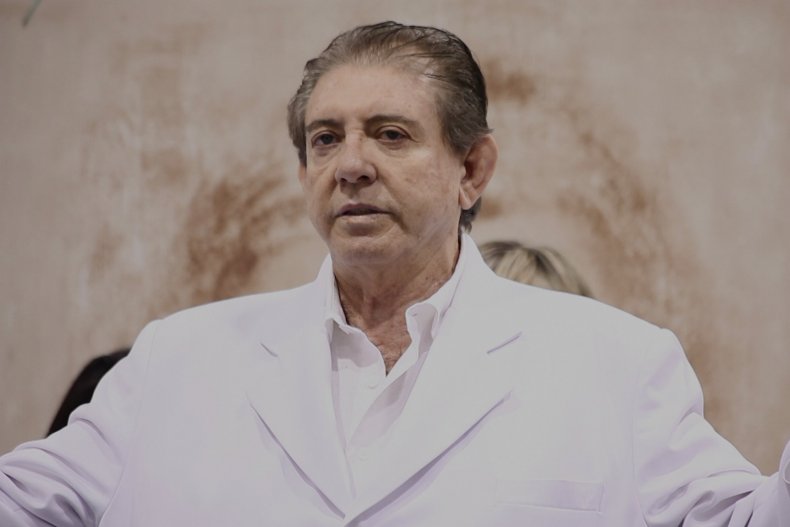 Where Is João Teixeira de Faria Today?
There is also a much darker side to João Teixeira de Faria.
In early December, four women came forward on Brazilian television channel TV Globo alleging Faria abused them, making headlines around the world.
The alleged abuse took place from the 1980s through to October 2018, with his victims ranging from ages nine to 67.
As heard in the John of God: The Crimes of a Spiritual Healer, the Prosecution Office of the State of Goiás set up an email address and hotline for other women to come forward.
Within less than 48 hours, over 200 complaints were received across nine different states in Brazil. Two other claims came from the United States and Switzerland, reported Gobo TV.
During this time, Faria continued to operate at the Casa Dom Inácio de Loyola but by December 11 he had started to limit his appointments.
On December 16, 2018, after over 200 accusations of sexual abuse, he turned himself into Brazil's Civil police. He has continued to deny all allegations against him.
His office also denied the allegations, issuing a statement on his behalf which read: "[Faria] "vehemently rejects (allegations of) any improper practice during his treatments".
His own daughter, Dalva Faria came forward as one of the victims. In an interview with Brazilian magazine Veja, she stated her father raped at beat her, calling him a "monster."
In December 2019, he was sentenced to 19 years and four months, for the rapes of four different women, reported ABC News.
One month later, on January 20, 2010, Faria was sentenced to an additional 40 years in prison for rape against five more women. He was also convicted of illegally possessing firearms.
In total, Faria is serving a sentence of 62 years and four months.
Faria is 77-years-old and is serving his sentence at Aparecida de Goiania Complex in the Brazilian state of Goias, reports Bustle.com.
According to Correio Braziliense, 44 women came forward on August 14, 2021, accusing Faria of abuse.
According to the prosecutors working in the case, the victims were raped between 1986 and 2017 and are from the states of Rio Grande do Sul, São Paulo, Minas Gerais, Paraná, Maranhão, Goiás, Santa Catarina, Mato Grosso and Espírito Santo.
John of God: The Crimes of a Spiritual Healer is streaming on Netflix now.