First GOP Lawmaker to Back Impeachment Says Capitol Riots 'Worse Than People Realized'
Rep. John Katko, the first Republican lawmaker to back the impeachment of President Donald Trump after the Capitol riots, wants a congressional commission into the unrest because he believes it was not just a spontaneous attack.
Katko, who is the top Republican on the House homeland security committee, said he had received intelligence briefings about planning and security shortcomings before the riots that left "a lot of unanswered questions" over "who was involved and when they were involved."
"I've had a lot of classified briefings on it, and it's deeply troubling," Katko told Syracuse.com. "I was left with a profound sense that it was much worse than people realized."
Katko did not give further details of the briefings, but told the news outlet he was concerned enough that any probe should warrant a commission with the power to subpoena witnesses.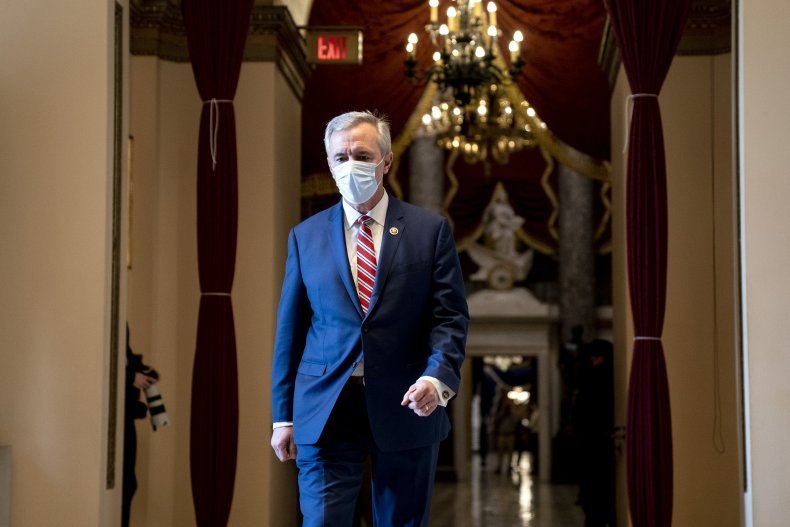 "We need to have a full stem-to-stern look back on this to see what happened, how it happened, the sequence of events, who contributed to it and how we make sure it never happens again," he said.
Last week Katko and two other House Republicans introduced a bill to establish an independent panel modeled after the commission that looked into the terror attacks on the U.S. on September 11, 2001.
House Speaker Nancy Pelosi said this week there was "strong support" in Congress for such an investigation.
The Justice Department has charged more than 100 people in connection with the events of January 6.
Although no one has been charged with leading or directing the violence, the FBI investigation is focusing on some self-styled militia members and whether certain people coordinated the attack or were just opportunistic instigators, The Washington Post reported.
Court documents filed on Tuesday revealed that self-styled militia members had made plans before January 6 to storm the Capitol and communicated with each other as they breached the building and talked about hunting for lawmakers.
Katko, who voted against the impeachment of Trump in 2019, wrote an op-ed for The Hill on Sunday, explaining that he became the first Republican lawmaker to call for impeachment this time because he "came to the conclusion that the president's role in the insurrection was undeniable."
Referring to Trump's claims on social media that the 2020 election had been marred by fraud and his speech to the protesters on the day, he wrote that the president had "deliberately promoted baseless theories that created a combustible environment of misinformation and division."
Katko added: "To allow the president of the United States to incite this attack without consequence is a direct threat to the future of our democracy and to our security."
The graphic below provided by Statista looks at extremist groups in the U.S. over the terms of the last four presidents.