John Kerry Says Oil Chief Leading COP28 Is 'Terrific.' It's Terrifying | Opinion
Decried by hundreds of climate groups, the naming of oil CEO Sultan Al Jaber to head this year's United Nations climate talks at COP28 was roundly blasted as the fox guarding the henhouse. It got even more bizarre when U.S. climate envoy John Kerry started praising Al Jaber, calling his appointment "terrific."
Kerry's jaw-dropping remark came against a backdrop of alarming reports that 2022 was one of the warmest years on record and that oceans are the hottest they've been in recent history—dire climate impacts that overwhelmingly come from oil, gas, and coal.
Al Jaber's appointment presents a radically honest view of the grave state of global climate inaction—and the incredible influence of the fossil fuel industry over world governments.
Al Jaber heads the world's 12th largest oil producer, Abu Dhabi National Oil Company (ADNOC), which sits squarely within the top 15 corporations most responsible for carbon emissions, and leads oil and gas expansion plans second only to Qatar Energy. The fact that someone like Al Jaber can oversee a critical round of climate negotiations at a crucial inflection point is perhaps the most affronting example of this corporate capture, but it's far from the only one.
Last year, at COP27 in Egypt, more than 630 fossil fuel industry lobbyists descended upon the negotiations. The United Arab Emirates (UAE), where COP28 will take place, hosted the largest number of lobbyists in its delegation. Coca-Cola, the world's largest plastics polluter, literally bankrolled the talks.
We'll never see the bold moves we need from the United States and other world leaders if fossil fuel interests continue to co-opt climate policy from the inside out.
The United States has used Al Jaber's involvement in renewables to rationalize his U.N. appointment, but the U.S. and UAE can't make meaningful progress on climate if they continue to produce and export their fossil fuel pollution across the world. Renewable energy development needs to displace fossil fuels, not greenwash the use of them. Until they stop oil and gas expansion, renewable investments by the U.S. and United Arab Emirates amount to little more than a paper tiger.
Even the best-case Inflation Reduction Act implementation won't meet President Joe Biden's own climate goals, much less achieve the deep emissions cuts climate science demands. Yet the administration is backing horrific fossil fuel expansion, including the nation's largest offshore export terminal in the Gulf and massive drilling in the Alaskan wilderness. And Biden has outpaced the number of oil and gas drilling approvals under former President Donald Trump.
Petrostate oil champions like Sultan Al Jaber and the United Arab Emirates should be held to account for sabotaging any renewable-energy progress with their fossil fuel expansion. And so should the United States.
As the nation historically most responsible for global emissions—and currently the world's second-largest emitter—the U.S. has a duty to lead on the lifesaving action we need now to end new fossil fuel expansion and justly phase down existing extraction.
It's no wonder that for nearly 30 years, climate talks have failed to deliver the action needed, and instead have advanced industry-favored false solutions like carbon markets and offsets that do far more harm than good.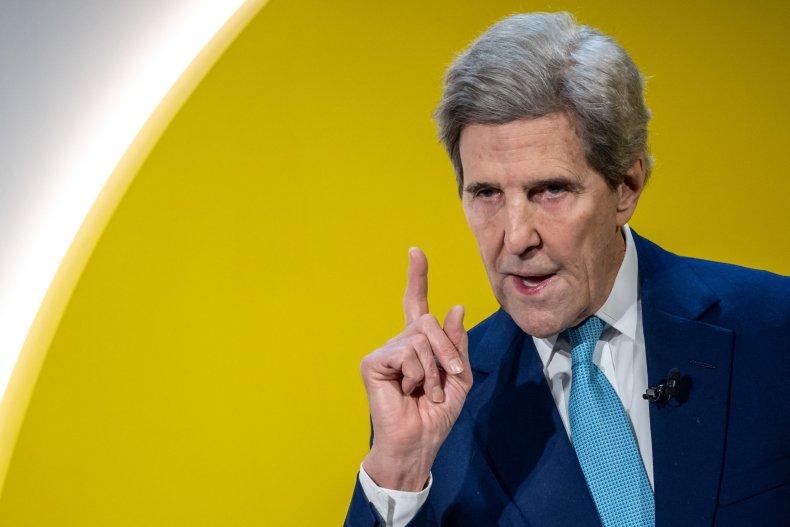 We could hit the Paris climate agreement's 1.5 degree Celsius warming threshold this year. The legitimacy of climate diplomacy hangs by a thread. People are losing faith in the U.S. and world governments to respond to humanity's greatest threat.
Regaining the people's trust begins with ensuring that the president of COP28 is not a fossil fuel profiteer. But it also demands much more.
President Biden must lead the world in phasing out the oil, gas, and coal that are fueling the climate emergency. At COP27, Kerry agreed that nations should agree to phase down fossil fuels. Now the U.S. needs to walk the walk, declare a climate emergency, and stop approving all new fossil fuel extraction. Denying the Willow drilling project in Alaska would be a great start.
The United States should also commit to a rapid phaseout of existing production in its upcoming carbon emissions reduction commitment due next year and push other countries to do the same.
But it's utterly foolhardy to entrust all the global accountability we need to an oil chief. More than two dozen U.S. lawmakers have called on Kerry to push UAE to replace Al Jaber as COP28 president. And as the United States' chief climate diplomat, Kerry should join calls for the U.N. to kick polluters out of the climate talks altogether and end this outrageous conflict of interest.
There's still time for Biden and world governments to come together on climate commitments and protect the only home we have. But it must mean putting people and the planet above polluters' greed and insidious influence. And it must start now.
Rachel Rose Jackson is director of climate research and policy at Corporate Accountability and coordinator of the campaign to Kick Big Polluters Out, a network of around 500 climate organizations from around the world.
Jean Su is energy justice director at the Center for Biological Diversity and board co-chair of Climate Action Network International, the largest network of climate organizations in the world.
The views expressed in this article are the writers' own.