U.S. Secretary of State John Kerry: Two-State Solution Is in 'Serious Jeopardy'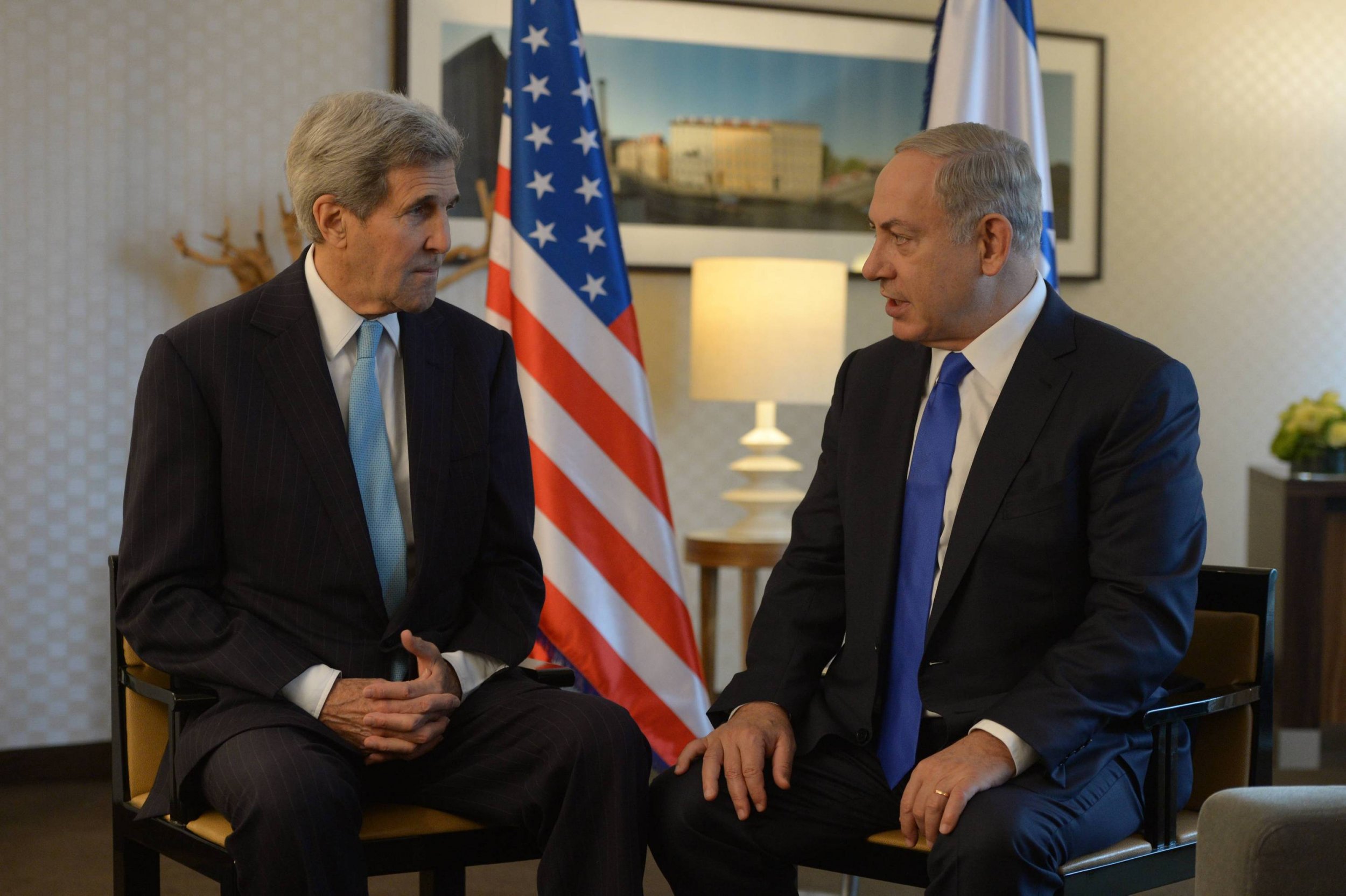 U.S. Secretary of State John Kerry said Wednesday that a two-state solution to achieve peace between the Israelis and the Palestinians was in "serious jeopardy" because of moves by both sides.
Speaking at the State Department in Washington, Kerry laid out his vision for a future deal between the Israelis and the Palestinians in his final major speech on the issue, defending the U.S. decision on Friday to abstain from voting on a U.N. resolution that condemned Israeli settlement building.
"The two-state solution is the only way to achieve a just and lasting peace between Israelis and Palestinians," Kerry said, three weeks before the Obama administration hands over to President-elect Donald Trump. "We cannot, in good conscience, do nothing, and say nothing, when we see the hope of peace slipping away.
"The truth is that trends on the ground—violence, terrorism, incitement, settlement expansion and the seemingly endless occupation—are destroying hopes for peace on both sides and increasingly cementing an irreversible one-state reality that most people do not actually want."
He continued: "Today, there are a similar number of Jews and Palestinians living between the Jordan River and the Mediterranean Sea. They have a choice. They can choose to live together in one state, or they can separate into two states."
The speech will almost certainly have no impact on the ground. The Obama administration has failed to revive the peace process that failed in April 2014, and the Israeli government is looking to work with a more sympathetic president in Trump, who has suggested he will change U.S. policy.
Proposing "principles" for "serious negotiations" between both the Israelis and Palestinians, Kerry said that Israel and Palestinians should agree on the pre-1967 lines as a foundation to two states with "equivalent" territorial swaps.
He said Israel should be recognized as a "Jewish state" and Israel should recognize any Palestinian state. Kerry said Jerusalem should be the capital of both states in any final agreement and that the Israeli military occupation of the West Bank should end, as long as Israel's security considerations were met.
Read more: Full transcript of John Kerry's remarks on Israeli settlements and two-state solution
Israeli Prime Minister Benjamin Netanyahu criticized Kerry's speech in a statement as "skewed against Israel" and focused too narrowly on Israeli settlements. "For over an hour, Kerry obsessively dealt with settlements and barely touched upon the root of the conflict—Palestinian opposition to a Jewish state in any boundaries," he said.
Kerry made the speech against the backdrop of a bitter end to relations between Netanyahu's right-wing government and the outgoing Obama administration.
On Friday, the U.S. abstained on a United Nations Security Council vote to allow the passing of a resolution that called for an end to Israeli settlement building in East Jerusalem and the West Bank. The Palestinians have earmarked both territories for any future Palestinian state.
Kerry responded to Israeli anger over the decision, saying that Washington had acted "in accordance with our values" and did so to prevent the collapse of any hope of a two-state solution.
"The vote in the U.N. was about preserving the two-state solution. That's what we were standing up for: Israel's future as a Jewish and democratic state, living side by side in peace and security with its neighbors," Washington's top diplomat said.
Kerry added that Israel was making a "comprehensive effort" to take West Bank land and called on the Israeli government to cease building settlements in the territories it captured in the 1967 Six-Day War. In doing so, he questioned Netanyahu's stated commitment to the two-state solution, saying he was spearheading the most right-wing Israeli government in history.
"Settlement expansion has nothing to do with Israel's security," Kerry said, adding that far-right members of the Israeli government were driven by "ideological imperatives." He warned that ministers such as Education Minister Naftali Bennett, who recently declared the "end of the Palestinian state," were increasingly "getting their way."
"No one thinking seriously about peace can ignore the reality of the threat settlements pose to peace," Kerry said. "But the problem goes well beyond just settlements. Trends indicate a comprehensive effort to take West Bank land for Israel and prevent any Palestinian development there.
"The settler agenda is defining the future in Israel. And their stated purpose is clear: They believe in one state: greater Israel."
Opposition lawmakers said they supported much of Kerry's speech. Hilik Bar, deputy speaker of the Israeli Knesset and chair of the two-state lobby in the Israeli parliament, said that while he is opposed to unilateral decisions against Israel, the only viable solution to the conflict is that of two states. "The one-state solution is a non-solution that will lead to an Israel that won't be Jewish or democratic," he tells Newsweek, echoing Kerry's words.
Before Kerry spoke, Public Security Minister Gilad Erdan told Israel Army Radio on Wednesday said that the "anti-democratic" speech was an attempt to tie Trump's hands before he entered office.
In reaction to the vote, an Israeli committee on Wednesday approved a four-storey building for settlers in Silwan, a Palestinian neighborhood of east Jerusalem, according to settlement monitor Ir Amim. It came after a Jerusalem planning committee postponed requests for building permits of some 500 homes in east Jerusalem.
Trump had earlier tweeted criticism of Obama and the United Nation's policy moves in regard to Israel. Trump has picked his bankruptcy lawyer and hardline settlement advocate David Friedman as the incoming ambassador to Israel.
In two tweets sent before Kerry's speech Trump said: "We cannot continue to let Israel be treated with such total disdain and disrespect. They used to have a great friend in the U.S., but…
"Not anymore. The beginning of the end was the horrible Iran deal, and now this (U.N.)! Stay strong Israel, January 20th is fast approaching! [sic]" he added, referring to the date of his inauguration.
The president-elect pledged during his campaign to move the U.S. embassy from Tel Aviv to Jerusalem, effectively recognizing the city—viewed as a holy city for Jews, Muslims and Christians—as Israel's capital, a move with serious security implications.
In a tweet shortly before Kerry's speech, Netanyahu thanked Trump "for your warm friendship and your clear-cut support for Israel!"