In emotional remarks on Friday, Pentagon press secretary John Kirby criticized the actions of Russian President Vladimir Putin in Ukraine.
During a press briefing, a reporter asked Kirby: "Putting aside whether you agree with his logic, do you believe Putin is a rational actor?"
"I'm not a psychologist," the press secretary responded. "I'm not going to go into the psychology of Vladimir Putin. It's hard to look at what he's doing in Ukraine, what his forces are doing in Ukraine, and think that any ethical, moral individual could justify that."
He continued to speak briefly, but then paused and appeared to hold back tears. "It's difficult to look at some of the images and imagine that any well-thinking, serious mature leader would do that. So I can't talk to his psychology, but I think we can all speak to his depravity."
Kirby's comments come as Russia's invasion of Ukraine has now lasted more than two months. He is one of several Biden administration officials who have issued sharp rebukes of the Russian president. In late March, President Joe Biden called Putin a "butcher" and a "war criminal" after meeting with Ukrainian refugees. Also in March, U.S. Secretary of State Antony Blinken accused Russia of committing war crimes in Ukraine.
Kirby said Friday that Russian President Vladimir Putin "absolutely shouldn't" take part in this year's G20 summit that will be held in Indonesia.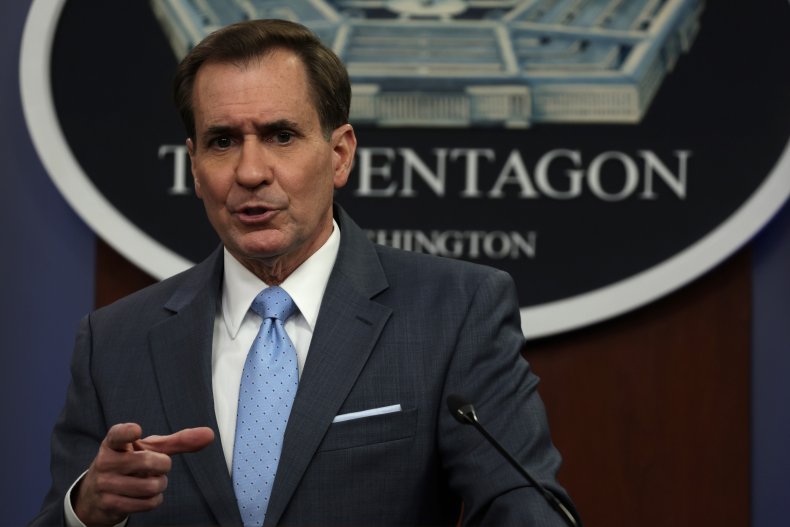 "[Putin] has isolated Russia by his own actions and should continue to be isolated by the international community," Kirby said on CNN.
In comments on a British radio show Thursday, British Defense Secretary Ben Wallace said Putin may soon declare war on the "world's Nazis," adding that he wouldn't be surprised if such a statement came on Victory Day on May 9—an annual Russian commemoration of the end of World War II.
British intelligence officials said this month that they believe Russia is trying achieve large military gains ahead of the holiday.
While Wallace noted he doesn't have information confirming his theory, he said Putin is "probably going to declare on this May Day that we're now at war with the world's Nazis and we need to mass mobilize the Russian people. Which is actually a pathetic attempt to cover for the fact that actually his generals have sent thousands of men to their death because of their incompetence and arrogance and his ego."
Newsweek has reached out to the Russian Foreign Ministry for comment.