John Kirby Warns 'Not a Consensus' on COVID Origins Following Report
A key defense spokesman warned there is "not a consensus" on the origins of the COVID-19 pandemic among the United States intelligence community following a report that the Department of Energy (DOE) determined the virus stemmed from a lab leak in China.
The Wall Street Journal reported on Sunday that the DOE determined with "low confidence" that the COVID-19 virus likely stemmed from a lab in Wuhan, China, where the virus was first detected in 2019—making it the second federal agency to come to that conclusion.
The origin of the virus has become a hotly debated, and politicized, discussion. Initially, it was believed the virus was likely transmitted to "patient zero" via a bat in an open-air market in Wuhan. However, a second theory that the virus could have been man-made and accidentally leaked from a nearby lab has also gained traction.
John Kirby, the strategic communications coordinator for the National Security Council, fielded questions from journalists about the report during a press conference on Monday. During that conference, he stressed that the intelligence community remains divided about the origins of the virus.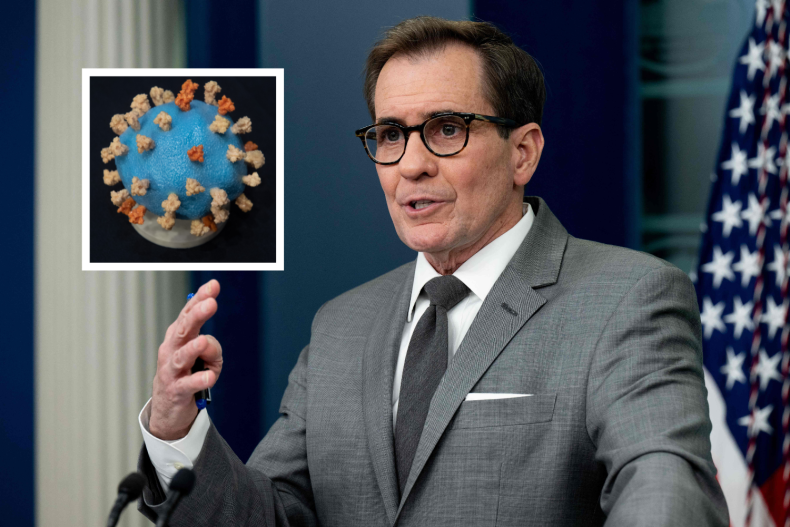 "There is not a consensus right now in the U.S. government about exactly how COVID started. There is just not an intelligence community consensus," Kirby said.
The Federal Bureau of Investigations (FBI) concluded in 2021 that the pandemic resulted from a lab leak with "moderate confidence." Four other agencies, however, maintain the virus likely spread naturally. Two others remain undecided on its origins.
"If we have something that we believe can be reported to Congress and to the American people that we're confident in, we will absolutely do that," Kirby said, adding the Biden administration wants "to know what happened here" to better prepare for future pandemics.
Kirby said President Joe Biden "made trying to find the origins of COVID" a priority when he took office in January 2021, nearly a year after the pandemic broke out in the United States, leaving more than one million Americans dead and upending life for nearly all others.
China has repeatedly dismissed the lab leak theory, describing it in June 2022 as "concocted by anti-China forces for political purposes." Mao Ning, a spokesperson for the Chinese Foreign Ministry, doubled down on Beijing's denial of the theory after the new report.
"Certain parties should stop rehashing the 'lab leak' narrative, stop smearing China and stop politicizing origin tracing," Mao said.
A Department of Energy spokesperson previously told Newsweek, "The Department of Energy continues to support the thorough, careful, and objective work of our intelligence professionals in investigating the origins of COVID-19, as the President directed."
Newsweek reached out to the White House for comment.