John Krasinski Floats 'The Office' Coming Back With a Christmas Special
Amid rumors of a revival of The Office, one of the former stars of the show John Krasinski—who played Jim Halpert—had a novel idea for how the show could be brought back: a Christmas special.
Krasinski told Indie Wire this week that he loved all of his time on the show and he'd be down to reprise his most famous role.
"It's one of those things where I'm sure people don't believe me when I say I would totally do it, because the truth is I would totally do it," Krasinski told Indie Wire.
But the show did come to a tidy end with its final episode in 2013 and creators got to finish the series exactly how they wanted, Krasinski pointed out. That means any comeback might run the risk of seeming tired.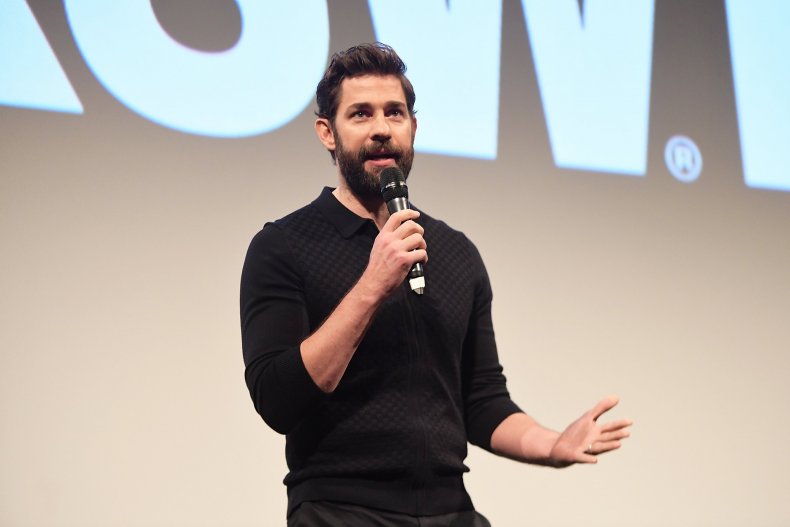 "I don't know how it exciting it would be to do a run of the show, 'cause you don't want to retread old things and have people not be as excited about it as they are now," Krasinski told Indie Wire.
He had a solution: Copy the actions of the British version of the show—the Ricky Gervais-led vehicle that inspired Krasinski's breakout show. The U.K. Office went off air after just two seasons—compared with nine for the American version—but returned with a Christmas special.
"I think the UK thing that I always have pitched and wanted to do is that Christmas special thing, where we do a Christmas special this year and then two years from now, or three years from now, we do another one," Krasinski told Indie Wire. "I love that idea coming back finding out where everybody is. I would totally be down for that."
The Office revival rumors really picked up in December when TV Line reported that NBC was looking to bring back the show in some form for the 2018-19 television season. Details have been scarce but it would almost certainly not star former leading man Steve Carell, who played Michael Scott and left after Season 7. Jenna Fischer, who played Pam (and was Krasinski's TV wife), is starring in a new show now but previously said she'd be open to coming back to the program that made her famous.
"I think the idea of an Office revival is—I think it's a great idea," she told press while promoting her new show Splitting Up Together. "I would be honored to come back in any way that I'm able to."