John Legend Says Being Kanye West's Friend Became 'Too Much'
John Legend admits Kanye West's presidential campaign in 2020 put a strain on their friendship, leaving it "too much" for them to sustain.
The two musicians have been close for decades but publicly fell out during Ye's run for office. They also fell out in 2018 when West publicly supported Donald Trump, which resulted in West sharing texts between the two.
Opening up about their fraught relationship, Legend revealed that while the two have reconciled, they're not as close as they used to be.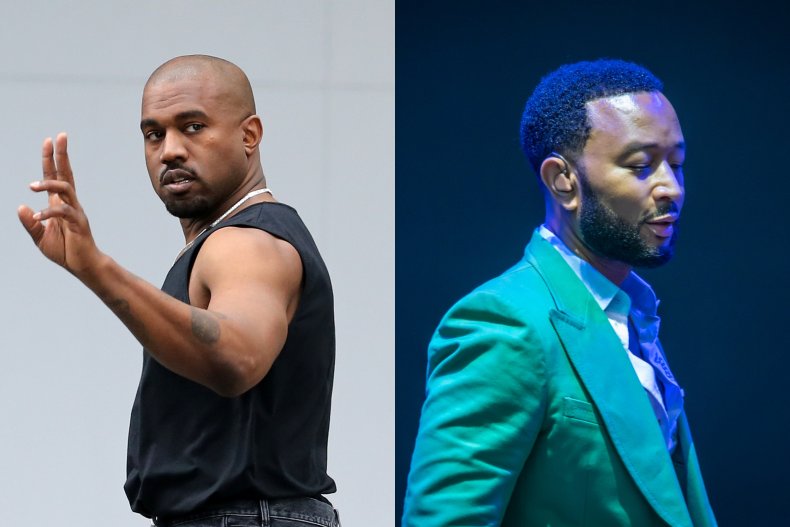 "We aren't friends as much as we used to be because I honestly think because we publicly disagreed on his running for office and supporting Trump. I think it became too much for us to sustain our friendship honestly," Legend said during a conversation on The Axe Files with David Axelrod podcast.
"He was upset that I didn't support his run for presidency of the United States of America—for understandable reasons. I wasn't alone in that!" Legend joked. "But he was not happy about that, and we really haven't been close since then."
Legend and West came up together in the music industry. They both came to prominence in the early 2000s and Legend went on to discuss on the CNN podcast how seeing West get famous first helped him prepare for the same eventuality when he started to get big in 2004.
Host Axelrod asked Legend to explain what people might not understand about his longtime collaborator West.
"I think people get a lot about him. I think he's been very open with who he is and his struggles with mental health. He's very real, honestly." Legend continued, "He's been pretty upfront with his opinions, his struggles, all the things that he's dealing with, and I think what you see with him is pretty much what you get.
"I don't feel like he's a whole separate person in private than he is in public. I think you're pretty much seeing the real Kanye publicly."
In 2019 Legend defended himself on Twitter after a story suggested he and West were never the "closest of friends." He shared a detailed explanation of the level of their friendship at that time.
Legend played instruments, co-produced and ghostwrote songs for other artists before becoming a successful solo artist in his own right. As well as West, he's worked with the likes of Lauryn Hill, Fergie, Rick Ross and Scissor Sisters.
Legend's wife Chrissy Teigen recently announced she's pregnant again nearly two years after losing a baby due to pregnancy complications. She delivered the news on Wednesday via Instagram saying she was often too nervous to make the announcement until now.