John Lennon's Killer Is Up for Parole
The man convicted of murdering John Lennon is up for parole for the twelfth time.
Mark David Chapman, who pleaded guilty to the ex-Beatle's December 1980 murder, is scheduled for a parole hearing in New York state, where he is held, within the next week, officials told Hawaii NewsNow.
Chapman, who is originally from Hawaii, was denied parole after all 11 previous hearings since 2000, when he became eligible. He has been denied every two years.
The latest denial occurred in August 2020 and he was given a hold for 24 months.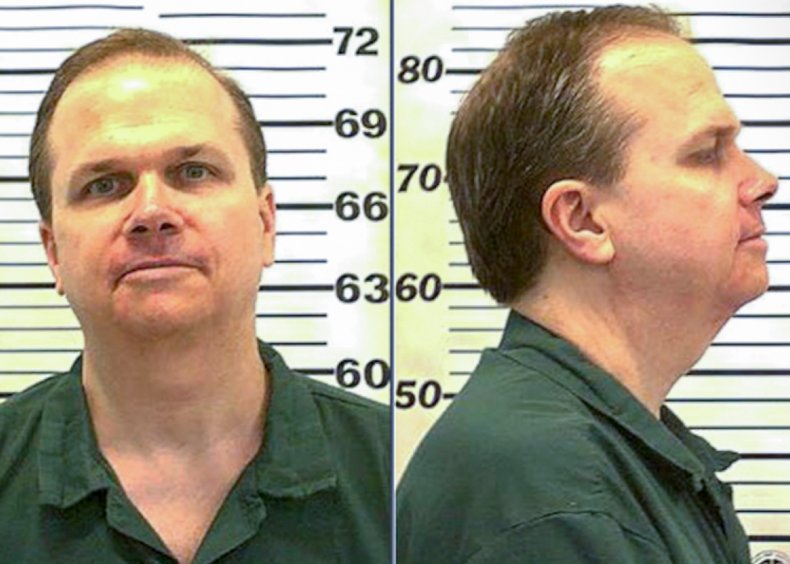 Chapman was a 25-year-old out-of-work security guard when he fatally shot Lennon near the musician's New York City apartment. Lennon's death sparked grief around the world.
Chapman was sentenced to 20 years to life in 1981.
Now aged 67, he remains held at Wende Correctional Facility in Alden, New York.
Newsweek has contacted New York's Board of Parole for comment.
Lennon was shot four times in the back with a revolver, upon returning home from a recording studio.
He was rushed to hospital where he was pronounced dead about 11 p.m. on December 8, 1980. He was 40 years old.
Chapman had earlier that day asked Lennon to sign a copy of his latest album, Double Fantasy.
"I saw the photo where he signed the autograph. It was flashed on TV again and again," Ono went on to write fans a month later in an advert she took out in major newspapers across the U.S.
"Somehow that photo was harder for me to look at than the death photo," she wrote. "John was in a hurry that afternoon. He did not have to give his autograph but he did, while the man watched him, the man who was to betray John later."
Ono has previously urged officials to keep Chapman behind bars.
Chapman initially refused to speak to the press following his arrest but eventually spoke to journalist Jack Jones about the killing.
Chapman,who was reading a copy of J. D. Salinger's novel The Catcher in the Rye when he was found by officers after the shooting, said: "He told us to imagine no possessions and there he was, with millions of dollars and yachts and farms and country estates, laughing at people like me who had believed the lies and bought the records and built a big part of their lives around his music."
"Saying that he doesn't believe in Jesus and things like that. At that point, my mind was going through a total blackness of anger and rage. So I brought the Lennon book home, into this The Catcher in the Rye milieu where my mindset is Holden Caulfield and anti-phoniness."
Chapman's wife, Gloria, has also reflected on the mental state of her husband and the reasoning behind the murder, saying: "He was angry that Lennon would preach love and peace but yet have millions."