Petition to Rename Alabama Bridge Honoring KKK Leader After John Lewis Hits 500,000 Signatures
A petition calling for the Edmund Pettus Bridge in Selma, Alabama, to be renamed after John Lewis has reached more than 500,000 signatures in the wake of the civil rights hero's death.
The petition was set up in mid-June by Michael Starr Hopkins amid growing calls to remove or rename monuments and other symbols in the U.S. honoring Confederate leaders.
The bridge, which was the scene of the Bloody Sunday civil rights march, is named after Edmund Pettus, a former soldier in the Confederate Army who also served as a grand dragon in the Ku Klux Klan.
"Edmund Pettus was a bitter racist, undeserving of the honor bestowed upon him," Hopkins writes on the change.org description page. "As we wipe away this country's long stain of bigotry, we must also wipe away the names of men like Edmund Pettus."
Lewis, who died on July 17 at the age of 80, had his skull fractured by police during the first of the marches in Selma in 1965. Televised footage of the violence taking place on the bridge helped push the civil rights movement, eventually paving way for the Voting Rights Act to be passed into law later that year.
Ava DuVernay, director of the 2014 film Selma which documented the civil rights marches led by Lewis, Martin Luther King and others, was one of the high-profile figures to show support for the name change.
"I've just signed a petition about this bridge to dignity as seen in SELMA," DuVernay tweeted on June 13. "It is named after a KKK grand wizard and confederate warlord. Edmund Pettus Bridge should be the John Lewis Bridge. Named for a hero. Not a murderer. Join this call. It's past due."
Four days after the Georgia representative died, the number of people to have signed the petition reached more than half a million. It is unclear if the state of Alabama will back the name change.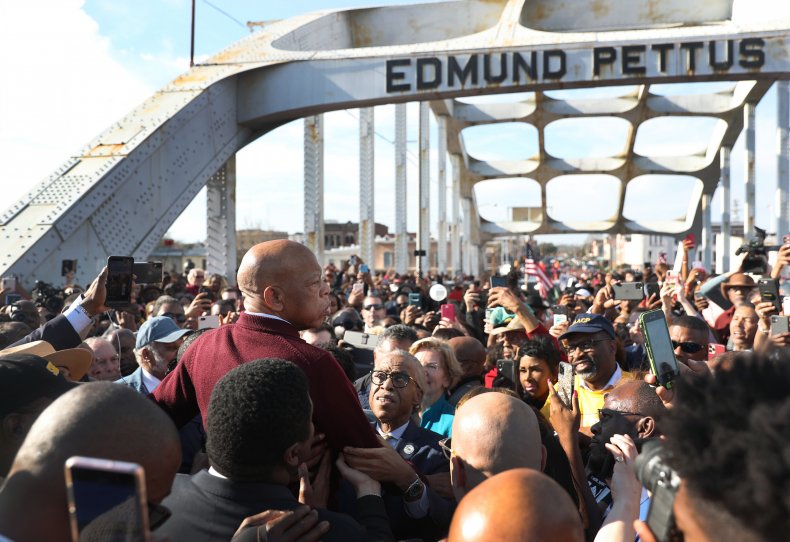 Alabama State Rep. Prince Chestnut, whose district 67 includes Selma, called Lewis "a great and noble man" but believes renaming the bridge after him is "not appropriate."
"There were many Selmians and Alabamians who were either on the bridge in March 1965, near the vicinity or precipitated the situation that changed this country for the better. John was not the only one," Chestnut told The Associated Press.
Alabama Gov. Kay Ivey, who ordered flags be flown at half-staff in tribute to Lewis, has been contacted for comment.
"As a pioneer of the Civil Rights Movement, he is a proud son of Alabama. He dedicated his life to serving his community and advocating for others, during some of the most difficult times in our nation's history," Ivey in a statement. "We will forever remember his heroism and his enduring legacy."
Former President Barack Obama also paid tribute to Lewis, describing him as a man who "loved this country so much that he risked his life and his blood so that it might live up to its promise.
"Through the decades, he not only gave all of himself to the cause of freedom and justice, but inspired generations that followed to try to live up to his example," Obama added.
"In so many ways, John's life was exceptional. But he never believed that what he did was more than any citizen of this country might do. He believed that in all of us, there exists the capacity for great courage, a longing to do what's right, a willingness to love all people, and to extend to them their God-given rights to dignity and respect.
"And it's because he saw the best in all of us that he will continue, even in his passing, to serve as a beacon in that long journey towards a more perfect union."
Obama awarded Lewis the presidential medal of freedom in 2011.