Rep. John Lewis on Tuesday marked 59 years since he was released from jail for using a "white" bathroom in segregated Mississippi.
Lewis took to Twitter to mark the anniversary, accompanied by mugshots of his 1961 arrest. Lewis, then 21, was imprisoned for over a month at the notorious Mississippi State Penitentiary, also known as Parchman Farm, on charges of "disorderly conduct" for using a bathroom labelled "white."
"59 years ago today I was released from Parchman Farm Penitentiary after being arrested in Jackson, MS for using a so-called 'white' restroom during the Freedom Rides of 1961," Lewis tweeted.
Lewis has marked the anniversary while sharing the mugshots to Twitter every year since 2014. The arrest was only one of 45 times Lewis has been arrested during his many decades in activism, including five times while serving in Congress.
The 1961 Freedom Rides saw Lewis and other Black civil rights activists, joined by white compatriots, travel by bus while attempting to challenge the practice of segregation, which continued to be enforced in many southern states despite the U.S. Supreme Court having deemed it unconstitutional.
The rides often led to violent confrontations, with Lewis and other activists being beaten by angry mobs of white people on multiple occasions. They also led to police encounters resulting in many arrests, with hundreds of Freedom Riders eventually arrested in Mississippi and sent to Parchman.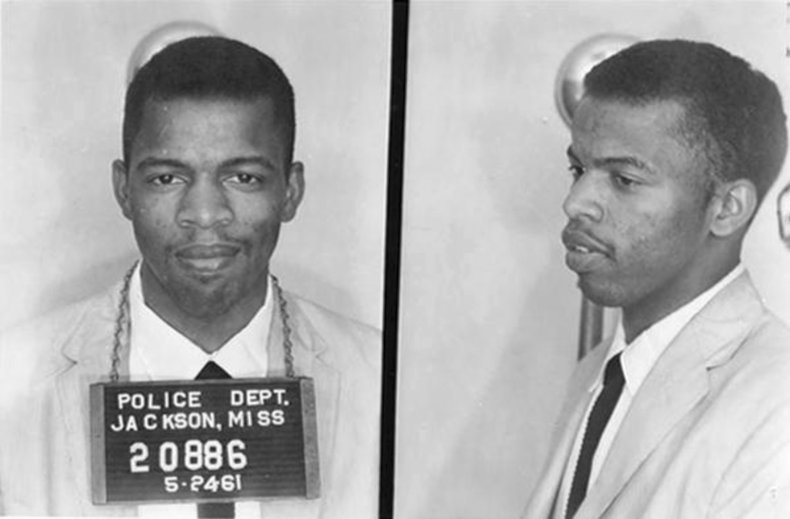 On May 24, 1961, Lewis and other Black activists were confronted by a police officer in the "white" bathroom of a Jackson bus station. The group were arrested after they refused to comply with the officer's demand that they leave.
"The next words he said: 'You're under arrest.' And that was my introduction to the state of Mississippi and the city of Jackson," Lewis told The Associated Press in 2018.
About two years later, Lewis became chairman of the Student Nonviolent Coordinating Committee. He was known as one of the "Big Six" who helped organize the 1963 March on Washington and was the youngest speaker at the march, which also saw Dr. Martin Luther King Jr. deliver his iconic "I Have a Dream" speech.
Lewis's activism led to a long career in politics. He was elected as the U.S. Representative for Georgia's 5th Congressional District in 1986, where he has served ever since.
In December 2019, he announced that he is battling stage IV pancreatic cancer. Last week, a new documentary feature about his life was released, titled John Lewis: Good Trouble in reference to a phrase he has used to describe the struggles experienced while engaging in activism.
"Dr. King and others inspired me to get in what I call good trouble, necessary trouble," Lewis wrote in an article published by Time in 2018. "And I think we're going to have generations for years to come that will be prepared to get in trouble, good trouble, necessary trouble. And lead us to higher heights."
"It's a struggle that doesn't last one day, one week, one month, one year," he added. "It is the struggle of a lifetime, or maybe many lifetimes."