John Mayer Surprises Guests at NYC Wedding: 'The Year is 2001'
Guests at a wedding reception last Saturday in New York City had the surprise of their lives when Grammy-award-winning musician John Mayer walked on stage to perform for the father-daughter dance.
The intimate concert occurred at Tavern on the Green, a landmark restaurant located in Central Park, with only the father of the bride and wedding planner aware of the surprise.
Rachel Dalton, who works to acquire celebrities for various events such as weddings, told Brides.com that these sorts of surprises are outside the scope of a typical wedding planner.
Dalton said she's had many clients who want to somehow tie their favorite celebrity into some of the most important events of their lives.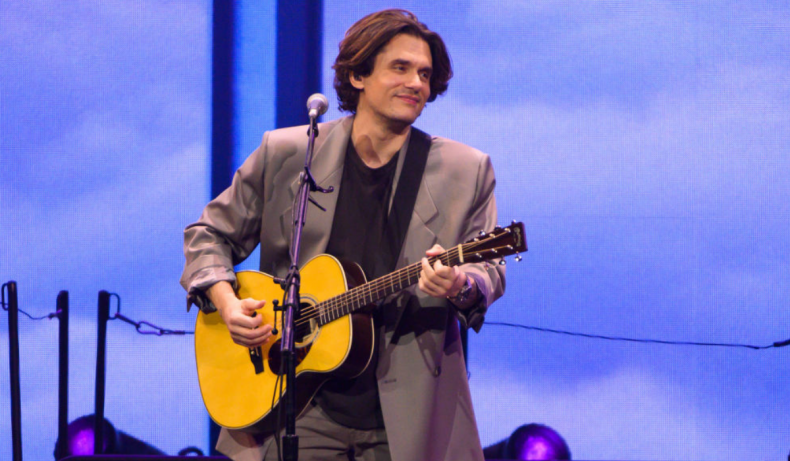 "I've talked to people about bringing in a celebrity chef for the wedding shower," Dalton told Brides. "All the events having to do with the wedding—shower, bachelor party, bachelorette party—are doable. We can even bring the bride-to-be's favorite celebrity to the proposal."
Wedding photographer Kimberly Craven told Newsweek the band began playing a song as the bride and her father began dancing.
The music abruptly stopped and confused, the bride looked at the band before they began playing a different song; then Mayer walked out on stage.
After performing his Grammy-winning song "Daughters" for the father-daughter dance, the guests rushed to the stage where Mayer performed a 45-minute set, including fan favorites from his hit 2001 album Room For Squares.
In videos posted online by guests, Mayer played acoustic guitar on the intimate stage and performed "Your Body is a Wonderland" as the crowd sang along.
"The year is 2001," the on-screen text read over Mayer's acoustic performance.
Other footage of the concert showed Mayer playing "My Stupid Mouth" and "Who Says."
"Is this a fever dream or did @johnmayer just show up to my first NYC wedding?" another guest said in a video of Mayer performing his 2018 hit "New Light."
Craven said the bride and groom moved to NYC from Fort Worth, Texas, and that most of the wedding guests were visiting from out of state.
Newsweek reached out to reps for Mayer and other wedding attendees, including the bride's mother Elizabeth Walraven.
Last month, a bride and groom were surprised by their "bridesman" who planned a flash mob to ABBA's "Dancing Queen" during the wedding.
Another bride had the surprise of her life after Oscar-winning actor Tom Hanks asked if he could get a photo with her while in downtown Pittsburgh.
One bride went viral after footage of her nuptials was branded as "awkward" and a "nightmare" when she surprised the groom with a flash mob.