The death of John McAfee, the computer virus tech entrepreneur, in prison has sparked search queries about his life and alleged involvement with cryptocurrency fraud.
McAfee was found dead in a Barcelona prison cell on June 23. He was 75 years old.
His death came just hours after a Spanish court agreed to send McAfee to the U.S., where he was due to face charges related to tax evasion.
McAfee was arrested in Spain in October 2020 while attempting to board a flight from Barcelona to Istanbul.
A Securities and Exchange Commission (SEC) complaint, filed October 5, 2020, accused McAfee of having "leveraged his fame" on Twitter to make over $23 million by pushing at least seven initial coin offerings, or ICOs, for which he was paid.
An ICO is essentially a fundraising campaign used by cryptocurrency developers to get new tokens off the ground. It is a variation of an initial public offering (IPO) used in the stock market.
They work by asking people to send money to the developers in return for some of the new cryptocurrency that they are making.
The SEC complaint accused McAfee of making ICO recommendations that "were materially false and misleading" for a number of reasons, including that he did not disclose he was being paid to promote the ICOs and falsely claimed to be an investor when recommending them.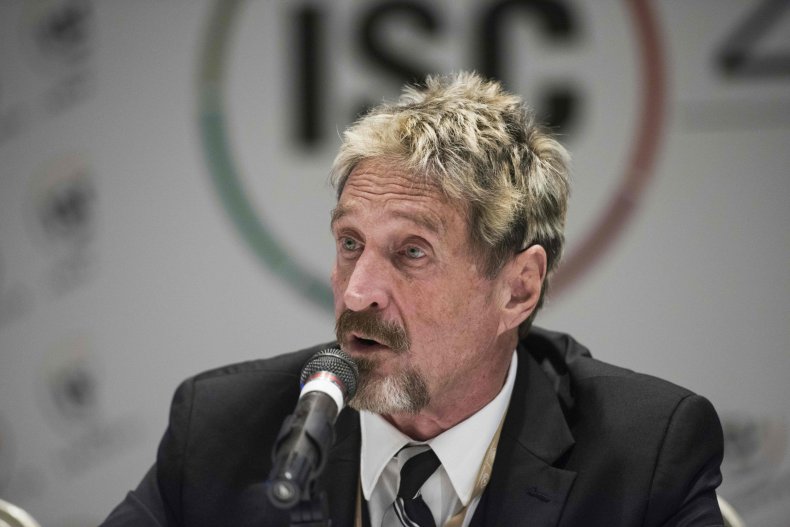 The SEC said McAfee was paid in bitcoin and ether for his role in pushing the ICOs, and also received around $11.5 million worth of promoted tokens. The complaint also named Jimmy Gale Watson, who it described as McAfee's "bodyguard," and said Watson had assisted McAfee in the schemes.
McAfee's actions violated Sections 17(a) and (b) of the Securities Act 1933, and Section 10 (b) of the Securities Exchange Act 1934. The SEC said it wanted the defendants to give up their profits and pay additional penalties.
Audrey Strauss, the attorney for the Southern District of New York, later said in a press release: "McAfee, Watson, and other members of McAfee's cryptocurrency team allegedly raked in more than $13 million from investors they victimized with their fraudulent schemes. Investors should be wary of social media endorsements of investment opportunities."
Separately, McAfee was also indicted by U.S. officials on June 15, 2020 for tax evasion and alleged failure to file tax returns between the years of 2014 and 2018. He was also accused of hiding assets including a yacht.
The tech entrepreneur faced up to 30 years in prison if he was convicted of all the charges mentioned in the June indictment.
McAfee had made no secrets of his unwillingness to pay taxes. In a tweet on October 16, 2020, the anti-virus tycoon said he was accused of lying on his tax returns but added: "I have filed no returns for many years and have made no secret of it. If I have said nothing, how could I have lied?
"My real crime is speaking publicly about the insanity rampant within our government."
McAfee also called cryptocurrencies "our last hope for financial independence" in a May 24 post and also called the charges against him "absolutely ridiculous" in another.