John McAfee Is Running for President—And Away From the Government
John MacAfee, who made his fortune selling ground-breaking antivirus software and has subsequently cultivated a reputation for irreverence and law-breaking, is running for president. However, he's doing it from a boat because he's also running from the government.
The antivirus pioneer began tweeting messages to his supporters from what he described as the yacht of a crypto friend—MacAfee is a strong proponent of digital currencies—on January 22. He explained that his presidential bid for the White House in 2020, which he announced in the summer of 2018, had taken to the water as he avoids the IRS.
Read more: John McAfee says crypto will bounce back—and he's not alone
MacAfee openly admits he hasn't paid taxes in eight years and tweeted to his followers as he took to the seas, claiming that the IRS had sought to silence him.
"I have not paid taxes for eight years. I have not filed returns. Every year I tell the IRS 'I am not filing a return, I have no intention of doing so, come and find me,'" he said in one of several video messages he has released from the boat.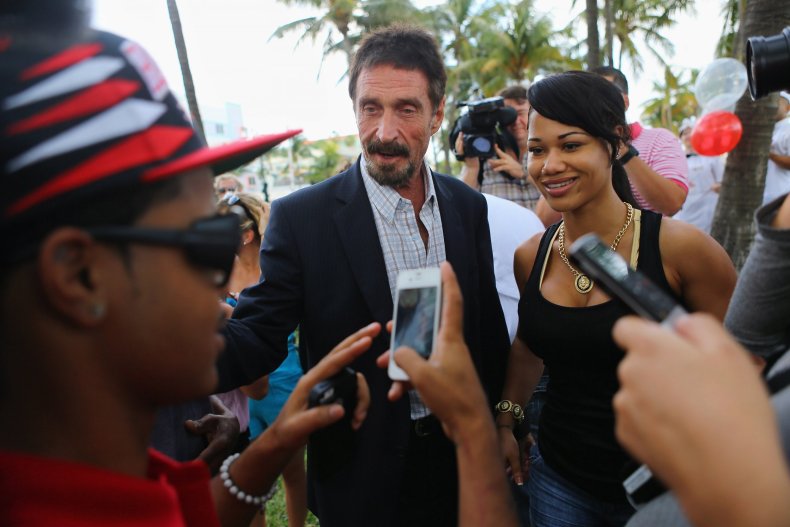 "Today, January 22, the IRS has convened a grand jury in the state of Tennessee. To charge myself, my wife, four of my campaign workers, with unspecified IRS crimes. They want to silence me, I will not allow that," he added.
In response to Newsweek's questions over the truthfulness of MacAfee's claims about an IRS investigation, a spokesperson said they were unable to comment on the relationship of any taxpayer or any tax-paying entity with the revenue service because it contravened federal tax law.
MacAfee, who sees technology as the answer to many perceived societal woes, is looking to tech to allow him to orchestrate his campaign from the ocean. Some of his recent tweets indicate he is in the Bahamas.
The computer millionaire has claimed thousands of volunteers have agreed to act as surrogates, using iPads strapped to their faces to act as stand-ins for campaign officials. "First, our road warriors. Who, once a month, are going to appear in parks, street corners, restaurants all around America while I speak through loudspeakers through them," he said.
"Group two are people who will be going to conferences doing keynotes and debates," he added.
McAfee has flaunted his reputation for law-breaking as a part of his libertarian ideology. In 2012, according to The New York Times, he was arrested in Guatemala for entering the country illegally. He was being sought by police in Belize, where at the time he had been living for four years, as a "person of interest" in an investigation into the death of his neighbor Gregory Faull.
In May 2012 he was arrested on suspicion of manufacturing crystal meth and the possession of an unlicensed weapon.