McCain: Obama Indirectly, Not 'Directly' Responsible for Orlando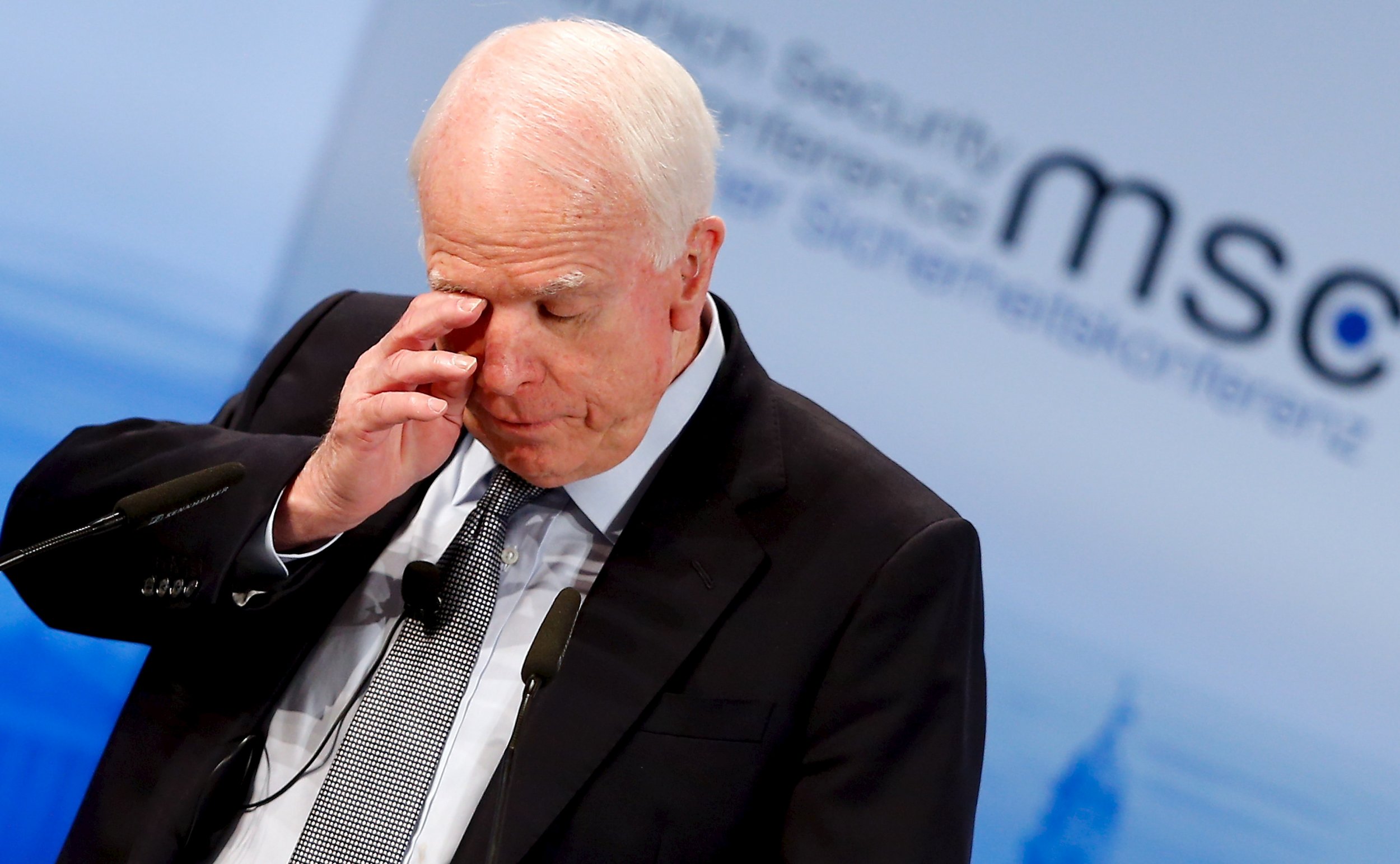 Senator John McCain quickly walked back his argument that President Barack Obama was "directly" responsible for the massacre in Orlando, Florida, last weekend, issuing a follow-up statement later in the day on Thursday in which he argued that the president was indirectly responsible, instead.
McCain blamed Obama's decision to withdraw troops from Iraq in 2011 for the rise of the Islamic State militant group (also known as ISIS and ISIL) for the attack that left 49 dead at Pulse, a gay nightclub in Orlando.
"When he pulled everybody out of Iraq, then Al-Qaeda went to Syria, became ISIS and ISIS were the ones responsible for these attacks. So it's directly at the doorstep of President Obama, and I intend to tell every American I know about it," McCain told reporters Thursday afternoon.
During the attack, the gunman called 911 and pledged allegiance to ISIS, but CIA Chief John Brennan said on Thursday that the attacker had "no direct link" the group.
A reporter from The Washington Post tweeted McCain's "directly responsible" line, which soon took off on Twitter. Reporters from other news outlets followed, and the line was soon plastered all over the web.
In a statement, Senate Minority Leader Harry Reid called McCain's comments "unhinged" and "just the latest proof that Senate Republicans are puppets of Donald Trump."
McCain quickly followed up with a clarification Thursday afternoon.
"I misspoke," he said in a statement. "I did not mean to imply that the president was personally responsible. I was referring to President Obama's national security decisions, not the president himself. As I have said, President Obama's decision to completely withdraw U.S. troops from Iraq in 2011 led to the rise of ISIL. I and others have long warned that the failure of the president's policy to deny ISIL safe haven would allow the terrorist organization to inspire, plan, direct or conduct attacks on the United States and Europe as they have done in Paris, Brussels, San Bernardino and now Orlando."
McCain, who chairs the Senate Armed Services Committee, faces a tough re-election battle. McCain has represented the state of Arizona in the Senate since 1987, but now faces a surging Democratic challenger in Democrat Ann Kirkpatrick. He lost to Obama in the 2008 presidential election.
McCain's comment mirrored an earlier implication by Trump that the president was somehow complicit in the massacre, a remark from which most of the GOP's elected officials sought to distance themselves. "He doesn't get it, or he gets it better than anybody understands. It's one or the other," Trump said of Obama. "We're led by a man who is a very—look, we're led by a man that either is, is not tough, not smart or he's got something else in mind."
The 79-year-old senator has privately worried that Trump's perch at the top of the Republican ticket could hamper his chances.