John McCain Shrugs Off Trump Threat, Warns He Will Block President's Defense Department Nominees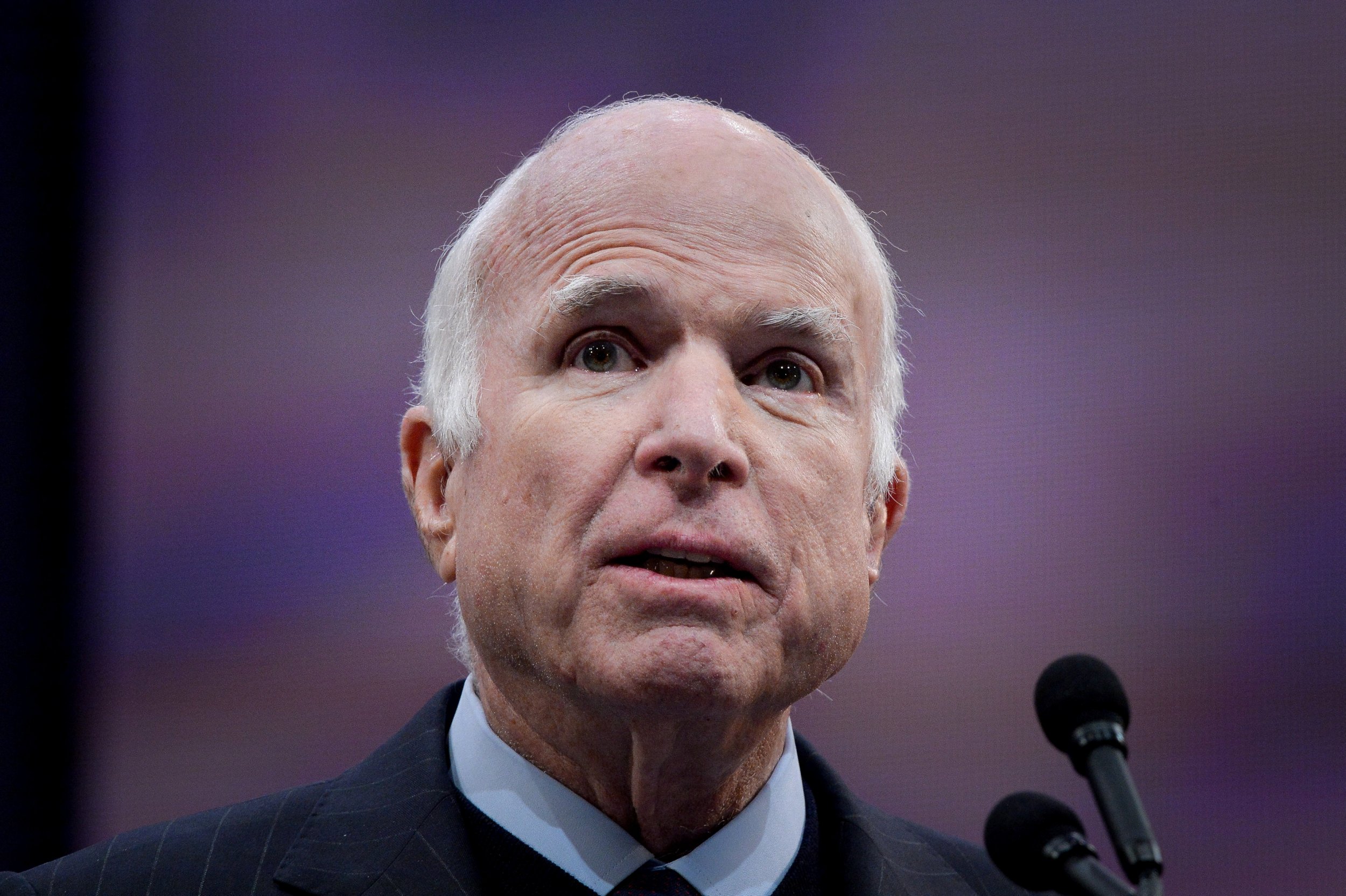 Senator John McCain has shrugged off a threat from President Donald Trump and is warning he will block the president's nominations for key Defense Department posts unless the administration provides more detail about its Afghanistan policy.
Trump's warning came after a McCain speech Monday night in Philadelphia, where the senator criticized the president's pursuit of "half-baked, spurious nationalism" in carrying out America's foreign policy, calling it as "unpatriotic as an attachment to any other tired dogma of the past that Americans consigned to the ash heap of history."
The president was asked during an interview on The Chris Plante Show on Tuesday: "He was taking shots at you again yesterday. You heard what he said yesterday, Senator McCain?"
"Yeah, well, I hear it. And people have to be careful because at some point I fight back," Trump said. "I'm being very nice. I'm being very, very nice. But at some point, I fight back, and it won't be pretty."
Responding to Trump's threat on Tuesday, McCain told reporters at the Capitol: "I've faced far greater challenges than this."
McCain, a former prisoner of war who is chairman of the influential Armed Services Committee, went on to continue his criticism of the Trump administration for its Afghanistan policies. He also criticized Secretary of Defense James Mattis for a lack of communication, as well as the administration for the way it has treated Congress.
"I had a better working relationship [with President Barack Obama's defense secretary, Ash Carter] than I do with an old friend of 20 years," McCain said of Mattis, as quoted by the Associated Press.
McCain said that even though he and Carter often disagreed, "there was a lot of communication" between them. He contrasted that with a lack of information from the Pentagon under Trump.
"I think they had this idea, once Trump won, that we are a unicameral government...and that they don't have to respond to what the Constitution says," McCain said.
"We will not sit by without having a complete understanding of what is going on," he said.
McCain said his committee needs new information to properly train and outfit the U.S. military with equipment.
"If we don't get the information we need, we can't do that," he told reporters.
The Trump administration plans to boost troop numbers in Afghanistan by 3,500, but McCain said it had not been explained how the relatively modest increase would make a difference.
"I have no idea, nor do I care," McCain told reporters when asked how many Trump administration nominees are being delayed as a result of his standoff with the president.
McCain has emerged as one of Trump's toughest critics.
The two first clashed in 2015, when Trump, then a contender for the Republican Party presidential nomination, told reporters that he didn't consider McCain a war hero because he had been captured by the enemy.
McCain in July dramatically voted against the Trump administration's bid to repeal the Affordable Care Act, or Obamacare, and he has also refused to support a GOP health care bill touted as a replacement. Enraged by McCain, Trump reportedly resorted to physically mocking the senator behind closed doors. McCain has brain cancer.
During an interview in September, McCain spoke of the differences between his and Trump's values.
"I'd be glad to converse with him. But I also understand that we're very different people. Different upbringing. Different life experiences," McCain told CBS. "He is in the business of making money, and he has been successful.... I was raised in a military family. I was raised in the concept and belief that duty, honor, country is the lodestar for the behavior that we have to exhibit every single day."