John Mulaney Fans Ask Who Gets Custody of Dog Petunia Amid Divorce Announcement
John Mulaney fans are expressing concern over what will happen to the comedian's dog Petunia Tendler-Mulaney, following his divorce announcement.
The stand-up, who has just completed a stint in rehab, has confirmed that he and his artist wife of six years, Anna Marie Tendler, are separating.
Mulaney, 38, checked himself into rehab for 60 days late last year amid a long struggle with alcohol and drug abuse.
A representative for Mulaney told Page Six: "John will not have any further comment as he continues to focus on his recovery and getting back to work."
Meanwhile, in her own statement, Tendler said via her representative: "I am heartbroken that John has decided to end our marriage. I wish him support and success as he continues his recovery."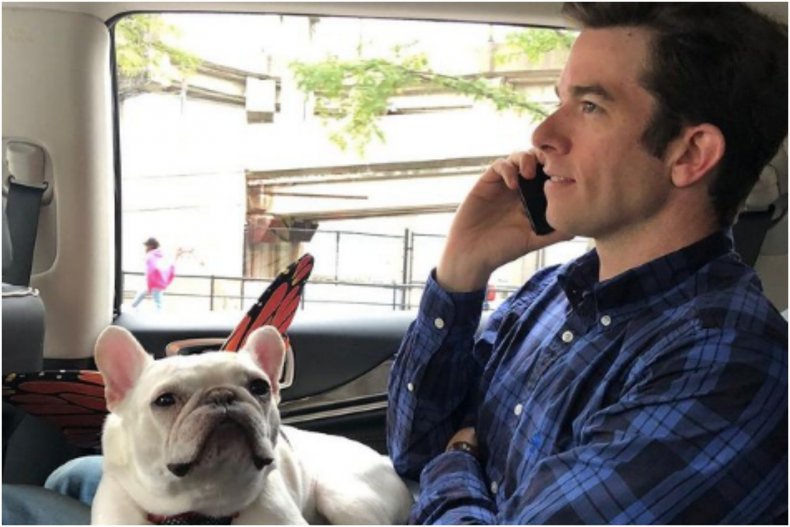 Mulaney has just announced a series of New York City shows, From Scratch, which will run from May 10-14.
The divorce announcement has fans concerned about the couple's beloved French bulldog, Petunia, who has her own Instagram account with 160,000 followers and has featured predominantly in Mulaney's comedy.
For the pooch's 7th birthday, Mulaney posted a tribute on his Instagram, saying: "Happy Birthday Petunia! You rule beyond words! You are the greatest little friend and weirdo and contessa and constant companion and little shadow. Living with you is like a TV show that is all bloopers. Happy 7th Birthday, I love you."
As fans learn the news of the divorce, many are asking what will happen to Petunia.
"john mulaney is getting a divorce :( who's going to keep petunia," reads one tweet with more than 17,000 likes.
"Why is no one asking the most important question about John Mulaney and Anna's divorce?? WHAT IS GONNA HAPPEN TO PETUNIA?!" asked another.
While another fan tweeted: "You mean to tell me that JOHN MULANEY ASKED HIS WIFE FOR A DIVORCE? WHAT ABOUT PETUNIA?!"
"not me crying over the thought of a custody battle," said another.
The former SNL writer checked into rehab in December to aid his struggles with alcohol and cocaine abuse.
Speaking to Esquire in 2019, Mulaney was frank about his struggle with sobriety, revealing he started drinking as a young teenager, before progressing to cocaine in his early 20s.
"I drank for attention," he said. "I was really outgoing, and then at twelve, I wasn't. I didn't know how to act. And then I was drinking, and I was hilarious again ... I never liked smoking pot. Then I tried cocaine, and I loved it. I wasn't a good athlete, so maybe it was some young male thing of 'This is the physical feat I can do. Three Vicodin and a tequila and I'm still standing. Who's the athlete now?'"