John Oliver Lays Out What Needs to Be Done to Combat a Trump Presidency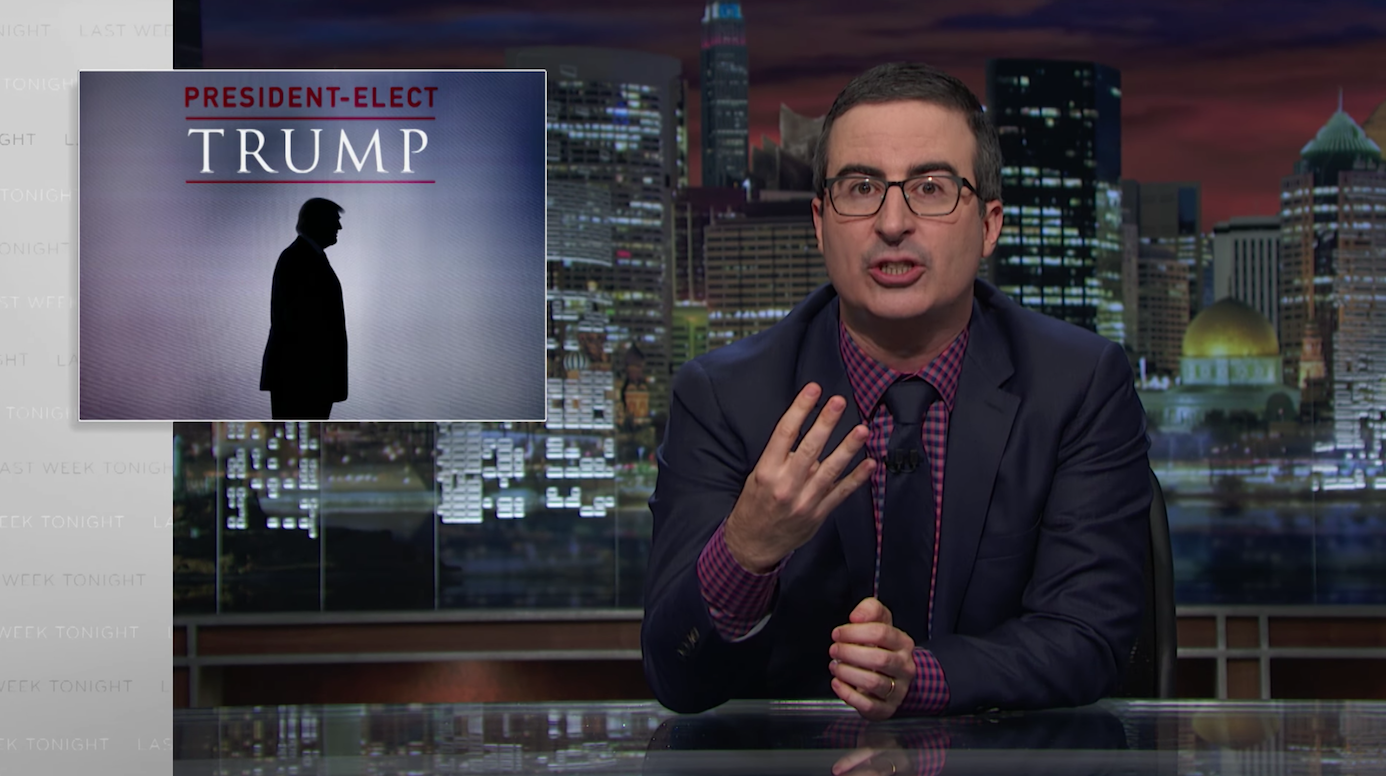 John Oliver rightfully spent the entirety of his show Sunday night discussing the conclusion of the 2016 presidential election. The Last Week Tonight host has long been one of Donald Trump's fiercest critics, and like many Americans he has been experiencing "wave after wave of nausea all week."
Realizing Trump is going to have access to the nuclear codes? There's a wave of nausea. Realizing our next president was supported by the KKK and has already named someone who is considered a white nationalist his chief strategist? Another wave. Trump in charge of Supreme Court appointments? Sicker still. There's also the issue of the military, which Trump will soon control. Vomiting now. This list will continue to grow as Inauguration Day nears. It's going to be a while before many feel well again.
As Oliver points out, though, it should take a while. One refrain that has echoed across news stations since the events of Tuesday night calls for us to "give him a chance." Americans do need to accept that Trump is going to be our next president: The people have spoken. But this doesn't mean they need to accept his behavior or his positions. Trump is not normal, Oliver says, and Americans can't be lulled into accepting racism, sexism and homophobia as "normal" in the United States. Opponents need to fight against these ideas, and be vigilant in doing so.
Oliver is not one to lay out a set of problems solely for the sake of "awareness." He has always been about action, and Sunday night was no different. "We're going to have to actively stand up for one another," he says. "It can't be just sounding off on the internet or sharing thinkpieces or videos like this one that echo around your bubble. I'm talking about actual sacrifice to support people who are now under threat."
The answer is not to move to Canada. The answer is to stay in the U.S. and battle, "not just politically in four years when he is up for re-election," says Oliver, "but constantly monitoring legislation as it moves through Congress, and fucking voting when your legislators come up for re-election in two years." This is the bare minimum of what is going to be needed, he says.
Oliver listed a number of organizations he says need help now more than ever, such as Planned Parenthood, the Center for Reproductive Rights, the National Resources Defense Council, the International Refugee Assistance Project, the NAACP Legal Defense Fund, the Trevor Project for LGBTQ youth and the Mexican-American Legal Defense and Educational Fund.
Regardless of the degree to which you believe the media played a role in Trump's election, it is going to have to play a vital role in exposing any corruption within his administration. Oliver recommends subscribing to outlets such as The New York Times and The Washington Post, as well as donating to ProPublica, a nonprofit organization for investigative journalism. (We would recommend that you subscribe to Newsweek.)
Oliver also notes an added bonus to giving money to organizations that are going to need it as long as Trump is in power: "If you have relatives who supported Trump, you can give money in their name." Or in the name of Trump's vice president-elect.
John Oliver Lays Out What Needs to Be Done to Combat a Trump Presidency | Culture