John Roberts' Wife Allegations Spark Call for Supreme Court Scrutiny
The U.S. Supreme Court is facing renewed calls for greater scrutiny after a letter sent to Congress said Chief Justice John Roberts' wife's business ties may present a conflict of interest.
A former colleague of Jane Sullivan Roberts has sent records to Congress and the Justice Department indicating that her work as a legal recruiter poses ethics concerns for the chief justice, The New York Times reported.
The records indicate that she has been paid millions of dollars in commissions for placing lawyers at firms, including at some that have business before the high court, according to a letter obtained by the newspaper.
Kendal Price argued in the letter that justices should have to disclose more information about their spouses work, adding that he was concerned a financial relationship with law firms arguing before the court could have an affect on justices' impartiality or give the appearance of having an affect.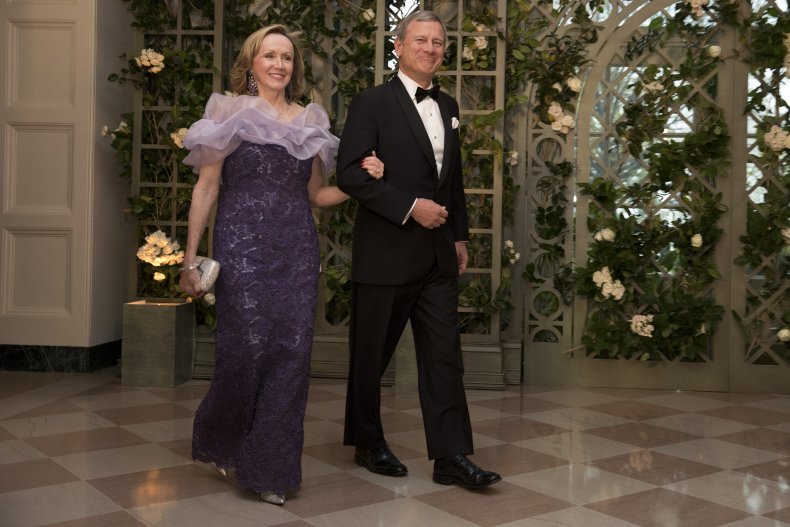 "I do believe that litigants in U.S. courts, and especially the Supreme Court, deserve to know if their judges' households are receiving six-figure payments from the law firms," Price wrote in the letter.
Jane Roberts is the managing partner of the Washington office of Macrae, which represents attorneys in their efforts to secure positions in wealthy firms.
But she and Price both previously worked as legal recruiters for Maryland-based firm Major, Lindsey & Africa. Price was fired in 2013 and sued the firm, Jane Roberts and another executive over his dismissal but lost the case.
However, that litigation produced the documents he sent to Congress and the justice Department, including spreadsheets documenting six-figure commissions attributed to Jane Roberts from 2007 to 2014.
Senator Dick Durbin, chairman of the Judiciary Committee, said in a statement to Newsweek that Price's letter raised "troubling issues that once again demonstrate the need for a mandatory code of conduct for Supreme Court justices.
"We must work on a bipartisan basis to pass Sen. [Chris] Murphy's bill, the Supreme Court Ethics Act, which would simply require Supreme Court justices to adhere to the same standard of ethics as other federally appointed judges. Passing this requirement is a common sense step that would help begin the process of restoring faith in the Supreme Court."
A spokeswoman for the Supreme Court said all the justices were "attentive to ethical constraints" and complied with financial disclosure laws.
Roberts and his wife also consulted the code of conduct for federal judges, including a 2009 advisory opinion that a judge "need not recuse merely because" his or her spouse had worked as a recruiter for a law firm with issues before the court, the spokeswoman added.
But the report has renewed calls for stronger disclosure requirements and an ethics code for the court.
Consulting "a decade-old advisory opinion written by lower court judges is not adequate," said Gabe Roth, the executive director of advocacy group Fix the Court.
"Judicial spouses should of course have whatever jobs they want. But the public should have more information as to whether those jobs might pose a conflict to their wives' or husbands' judicial work," he said.
Roth added: "What we need is for the Supreme Court to draft and adopt a comprehensive ethics code comprising a uniform set of principles that the justices can look to for guidance and that can set reasonable expectations for the justices' conduct on and off the bench.
"We need more disclosure from judges and justices about spousal engagements that result in major paydays. And we need a neutral third party at the Court whose job it is to help the justices navigate their ethical responsibilities."
In 2022, Politico reported on the potential conflicts of interest posed by the work of several justices' spouses and how justices only disclose their spouse's jobs, not the identity of their clients or what they earn.
That report prompted a coalition of watchdog groups, including Fix the Court, to call on lawmakers to establish greater disclosure requirements.
The Supreme Court and the Justice Department have been contacted for comment.
Update 2/5/23, 4:55 a.m. ET: This article has been updated with a statement from Dick Durbin.