John Stamos said he was "disappointed" after learning that Bob Saget wasn't included in the in memoriam segment of Sunday's Tony Awards.
This year's 75th annual star-studded ceremony, celebrating the theater world's achievements, was held at New York City's Radio City Music Hall and hosted by Oscar-winning West Side Story star Ariana DeBose.
Ahead of the event, Stamos took to Twitter to reveal that his late friend and Full House co-star Saget, who died in January at the age of 65, wouldn't be recognized during the tribute to those who passed away recently.
"Disappointed to hear that @bobsaget will be LEFT OUT of the In Memoriam segment tonight @TheTonyawards," wrote Stamos, 58. "Bob was brilliant in The Drowsy Chaperone & Hand to God. Come on @BroadwayLeague and @TheWing! Do the right thing! Bob loved Broadway and I know the community loved him."
While he rallied for support in having Stamos recognized at the event, Stamos also sent his "good wishes" to those taking the stage that night, including Darren Criss and Julianne Hough, as well as the numerous nominees.
He tweeted: "Let's make some noise about this everyone - and send our love and good wishes to the hosts @ArianaDeBose, @JulianneHough and my buddy @DarrenCriss and all the well-deserved nominees."
Per People, the in memoriam segment of the show, which included a live performance by Billy Porter, didn't mention Saget, who made his Broadway debut in 2007 in The Drowsy Chaperone, and played Pastor Greg in Hand to God in 2015.
Stars including Sidney Poitier, Stephen Sondheim, William Hurt, Peter Scolari, Robert Morse and Joan Didion were among those featured.
Introducing the tributes, Laurence Fishburne said: "Since the theatrical community last gathered as one to celebrate our art, we have lost great number of cherished friends and colleagues.
"Many were familiar to generations of theatergoers, theater lovers who were transported by their performances onstage or moved by their voices on cast albums."
"Others may not have been as well known beyond the 26 square blocks known as Broadway, but their contributions behind the scenes were equally vital to the American theater," he went on. "We remember some of them now, along with all of our colleagues whose brilliance will forever enlighten future artists and admirers."
Newsweek has contacted representatives of the Tony Awards for comment.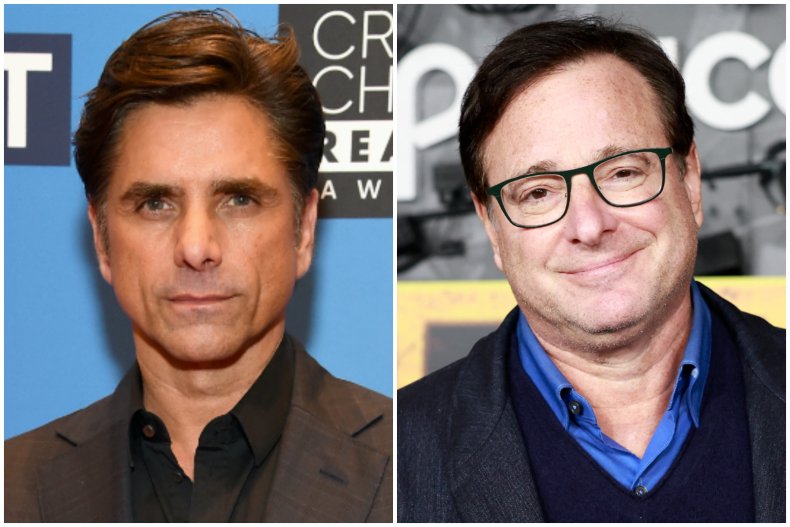 While the Tony Awards celebrations took place in New York City, Stamos was in Los Angeles, where he presented Saget's widow, Kelly Rizzo, with the Impact Award on behalf of her late husband at Sunday's 4th Annual Critics Choice Real TV Awards.
Beloved comedian Saget was found dead in his room at the Ritz-Carlton hotel in Orlando, Florida, on January 9, after having performed stand-up at the Ponte Vedra Concert Hall in Palm Valley the night before.
In February, the star's family said in a statement that he died after he "accidentally hit the back of his head on something, thought nothing of it, and went to sleep."
According to an autopsy on Saget, a PCR test detected signs of COVID. The star said in early January that he had contracted the virus, but didn't specify when. A PCR test can detect COVID weeks after someone has recovered.
In his trademark comedic style, Saget urged his Twitter followers to get the COVID vaccine, writing last August: "Please people, I don't wanna preach, but please get your visine today. Sorry, auto-correct—I meant vaccine... Help save eyes... Sorry, damn this auto-correct! I meant save lives."
Per an incident report shared in March, the autopsy conducted by Chief Medical Examiner Joshua Stephany, M.D., stated that Saget's head injury could have been caused by "a fall onto a carpeted floor."
Stephany added: "The headboard of the bed was lightly padded and set slightly out from the wall. These are listed here as possible mechanisms of injury, but nothing was located in the room that allows for a definitive conclusion."
Brian Bieber, attorney for the Saget family, told Newsweek: "The records released tell the entire story—that is—Bob passed away after a fall and hitting his head in his hotel room.
"Now that the medical examiner's and police department's records have been released after their respective thorough investigations, the Saget family would appreciate privacy to mourn in peace."
In February, Saget's widow, Kelly Rizzo, and his daughters, Aubrey, Lara and Jennifer, sued Orange County Sheriff John Mina and the District Nine Medical Examiner's Office in a bid to keep personal autopsy records confidential.
They also requested that video, audio recordings, photographs and other materials gathered through the investigations into Saget's death be exempt from public request records.
Circuit Court Judge Vincent Chiu granted a permanent injunction, with the Orlando Sentinel reporting that while officials had taken 147 photos during their investigation, 57 of them would not be protected by any statutory exemption.