'John Wick' Spin-off 'Ballerina' Follows Woman Assassin Trained by Same People as Wick
Like The Fast and Furious and The Conjuring series before it, John Wick is set to become a cinematic universe. On Tuesday, Deadline reported Len Wiseman will direct a John Wick spin-off called Ballerina.
In Ballerina, written by Shay Hatten (John Wick: Chapter 3 - Parabellum), a young woman assassin avenges the murder of her family. Ballerina takes as its jumping-off point a Ruska Roma (Russian Romani people) crime family introduced as a new faction in John Wick: Chapter 3.
Lead by the Director (Anjelica Huston), the Ruska Roma operate out of a sprawling theater where they not only run a crime syndicate under the John Wick universe's "High Table," but also craft elaborate ballet performances. In Chapter 3, the Ruska Roma help Wick find safe passage to Casablanca after he is deemed excommunicado.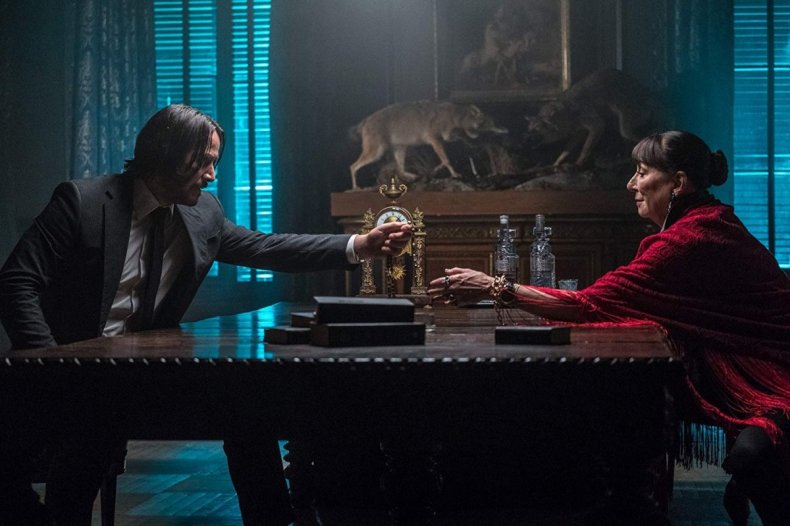 In the John Wick series, organized crime is an entire underground society, complete with its own currency, rituals and laws. The various factions in New York and around the world all answer to the High Table, which metes out deadly punishment to anyone out of line. By the end of Parabellum, Wick is determined to go after the High Table itself, potentially toppling the entire criminal world in John Wick 4, expected in theaters in 2021.
Few details have yet been released about Ballerina, so it's unknown whether John Wick or the Director will appear in the movie, or how much the movie will intertwine with the main John Wick series continuity. However, it's revealed in Parabellum that Wick was born Jardani Jovonovich, a Ruska Roma Belarusian orphan who was brought to the United States and trained by the Director. This means that the titular ballerina is likely to be nearly as deadly as Wick himself, having undergone the same training.
According to Deadline, the character herself appears in Parabellum, though its unknown which of the ballerinas seen performing or practicing in the movie is meant to be the star assassin in the spin-off. Actor Unity Phelan is listed as Ballerina in the John Wick: Chapter 3 credits on IMDb, alongside more than a half-dozen "dress rehearsal ballerinas" and "ballet instructors."
Wiseman previously directed Underworld and its sequel Underworld: Evolution, Live Free or Die Hard and the Total Recall remake. His directorial features have a Rotten Tomatoes average of 40 percent.
John Wick series producers Erica Lee and Basil Iwanyk will produce Ballerina, joined bydirector Chad Stahelski and star Keanu Reeves in producer roles on the movie.
Ballerina doesn't yet have an announced release date.