Johnny Cage in 'Mortal Kombat 11' Teased by Ed Boon
There may not have been a console Kombat Kast for Mortal Kombat 11 with a character reveal, but Ed Boon, creative director at NetherRealm Studios, is teasing Johnny Cage's inclusion over on Twitter.
Boon posted a screenshot of a character's hand putting up the middle finger with the caption, "who hired this guy...WTF?" This has led many fans to speculate that the former Hollywood actor is returning to Mortal Kombat this April.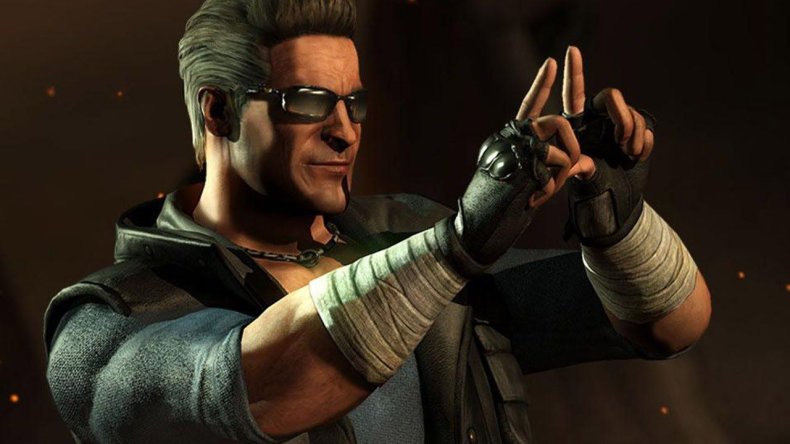 The NetherRealm team on the Mortal Kombat Mobile Kombat Kast revealed that the next console stream will be on the last week of February, so if Johnny Cage is in MK11 he may be the next character announced.
Cage is mentioned in Mortal Kombat 11 already. After some hands-on time during The Reveal event, Newsweek noticed the pre-fight dialogue between Sonya Blade and Gerus refers to Johnny Cage.
Gerus tells Sonya "I will kill Johnny Cage." Sonya replies, "Do it, he's a pain the ass."
Fans have also claimed to have seen Johnny Cage alongside Sub-Zero in some of the behind-the-scenes videos NetherRealm has released. Of course, these mentions of the character don't confirm their inclusion on the roster but if Ed Boon's tweet is of Cage there is a good chance the veteran fighter will be added.
The current confirmed Mortal Kombat 11 roster includes: Scorpion, Baraka, Raiden, Gerus, Skarlet, Kano, Sonya Blade, Jade, Kabal, D'Vorah, and Sub-Zero.
A recent roster leak over on Mortal Kombat 11 's Steam page has hints to a few other characters - including the confirmed Jade - on its site. Interestingly, Johnny Cage is not a part of that reported leaked list, but his daughter Cassie is.
Mortal Kombat 11 is set to release April 23 for PS4, Xbox One, PC and Nintendo Switch.
Are you guys convinced Johnny Cage is coming to Mortal Kombat 11 ? Who do you still want to see make the roster? Let us know in the comments section below.