The Johnny Cash America Didn't Know
He was born J.R. Cash on February 26, 1932, and would go on to change his name twice. First because the Air Force wouldn't permit him to use his initials as a first name, so J.R. Cash named himself John R. Cash. He changed his name a second time when he signed with Sun Records, creating the stage name the world would come to know him by: Johnny Cash.
The man with three names had two loves. We all know one of them thanks to the 2005 biopic Walk the Line. Her name was June—June Carter.
But he had another love. A higher love. One never mentioned by name in the entire movie. One with similar initials: Jesus Christ.
There are some hints and intimations about Cash's second love. In an early scene in the film, a young Cash, played by Joaquin Phoenix, auditions for the man he hopes will make him the next Elvis Presley: Sam Phillips, the Sun Records impresario. Cash plays a gospel song, but Phillips isn't moved. "No one listens to gospel anymore," Phillips tells him. "Go home and sin, and then come back with a song I can sell."
It turns out Cash never stopped playing gospel music. Almost a quarter of the songs he wrote were about his faith or the Bible, and many others were influenced by his Christian worldview. It wasn't just gospel music that moved Cash: It was the Gospel itself—the Bible Later in his life, Cash would record the entire King James version of the New Testament. He also performed at many Billy Graham revivals, and he made a movie about the life of Jesus.
In his spare time, Cash studied the Bible more than most Ph.D.s in divinity do. Somehow, none of that made it to the screen during the 136-minute running time of Walk the Line.
Stripping Jesus Christ from Johnny Cash's life story is like leaving hamburgers out of Ray Kroc's, cars out of Henry Ford's, makeup out of Mary Kay Ash's or Islam out of Muhammad Ali's or Malcolm X's.
Cash would also go on to write about sin—and from a decidedly Christian perspective. "Cash's strength as a Christian writer was his compassion born from experience," wrote Steve Turner in his book A Man Called Cash. "He wrote of sin not as it affected other people but as something with which he'd become intimately acquainted."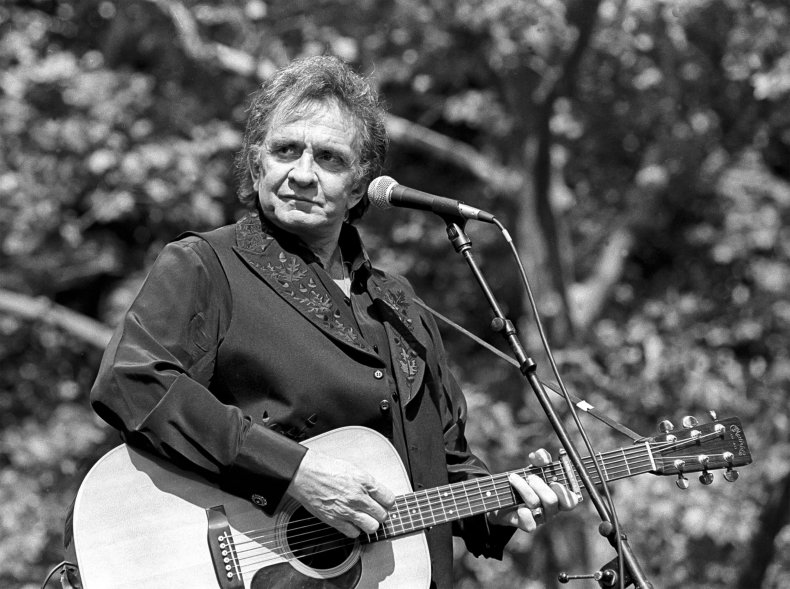 Unlike his peers during the early era of rock 'n' roll, most of whom were selling sin and licentiousness, Cash's best music wrestled with both. Indeed, the struggle between the flesh and spirit, between things of this earth and of heaven, animated almost all of his music. It's what drew audiences to him generation after generation, these struggles of the human heart. Sin and redemption, good and evil, selfishness and love, and the struggles of living by a standard set not by man but by God—all were driving forces in Cash's life and work.
While the rock 'n' roll crowd was busy extolling the virtues of sexual freedom and rebellion, Cash was exploring more eternal themes. Even his secular songs mined unusually deep territory. Here are the opening lyrics to his first No. 1 Billboard hit, the song his biopic was named after, "Walk the Line":
I keep a close watch on this heart of mine
I keep my eyes wide open all the time
I keep the ends out for the tie that binds
Because you're mine, I walk the line.
Those lyrics were a touch more serious than hit songs like "Whole Lotta Shakin' Goin' On" and "Shake, Rattle and Roll." That's because Cash wasn't walking just any line. He was trying his best to walk a godly line. A Christian line.
He sometimes succeeded and often failed in that walk.
What made Cash special was his openness about his failings. He spoke about his womanizing, his bouts with drug addiction, how he lost contact with God during those periods and the toll those episodes took on his loved ones and himself. "You don't think about anyone else," Cash said later in life. "You think about yourself and where your next stash is coming from. Or your next drink. I wasted a lot of time and energy. I mean, we're not talking days but years."
Believers and nonbelievers alike know such struggles. That's what attracted so many people to Cash's music: his humility and his empathy. He had no tolerance for the false piety of many Christians, and he respected people of all faiths. And people of no faith at all.
There were many great stories about Cash's faith that should have made it to the screen but didn't. The most harrowing one happened during a low point in his life in the 1990s, 30 miles west of Chattanooga in the Nickajack Cave, an underground warren that's home to over 100,000 bats. Cash spent time there earlier in his life hunting for Indian arrowheads and other treasures left by Confederate soldiers. But on this occasion, he had different plans.
Cash told the story to writer Nick Tosches in 1995:
"I just felt like I was at the end of the line. I was down there by myself and I got to feelin' that I took so many pills that I'd done it, that I was gonna blow up or something. I hadn't eaten in days, I hadn't slept in days, and my mind wasn't workin' too good anyway. I couldn't stand myself anymore. I wanted to get away from me. And if that meant dyin', then okay."
He had entered that cave to end his own life. And then the story got really interesting. Cash continued:
"I took a flashlight with me, and I said, 'I'm goin' to walk and crawl and climb into this cave until the light goes out, and then I'm gonna lie down.' So I crawled in there with that flashlight until it burned out and I lay down to die. I was a mile in that cave. At least a mile. But I felt this great comfortin' presence sayin', 'No, you're not dyin'. I got things for you to do.' So I got up, found my way out. Cliffs, ledges, drop-offs. I don't know how I got out, 'cept God got me out."
That would have been quite a scene in the film.
Here's another story left out of the movie. In August 1969, hundreds of thousands of young people gathered at Woodstock to watch Crosby, Stills, Nash and Young, Janis Joplin, Sly and the Family Stone, Jimi Hendrix and others perform. It was a wild affair as the counterculture asserted itself in America. Two weeks later, Cash closed out his TV music variety show with a gospel song. It was a stripped-down version of "Were You There (When They Crucified My Lord)?"
Always, to the end, Cash was a countercultural figure, even to the counterculture itself. Always, Cash was a rebel.
Some of the best recordings he did were made in prisons, especially his two shows at Folsom Prison. Cash seemed at home there. He was one of the guys and understood the prisoners in ways that were visceral. It didn't hurt that he'd written some of his best songs from the point of view of condemned and convicted men. The inmates, and America, loved him for that.
"He doesn't sing for the damned," Bono once said about Cash. "He sings with the damned." That was the true mark of Cash's Christian walk—the empathy he had for people often overlooked in our society: prisoners, the field workers in rural America, the down and out, the downtrodden and those of us struggling with personal demons. Those demons that rob us of the very best parts of ourselves.
Cash knew those struggles. Born in a poor part of Arkansas, he moved at age 3 to Dyess, Arkansas, where he worked the cotton fields. He lived through the Great Depression and saw his father struggle to make ends meet.
Turner described Johnny Cash's early life: "By the time he was six years old, Cash, when not in school, was helping out in the cotton field. He started as a water boy, but when he got older he carried his own six-foot-long canvas sack to fill with cotton. The work was tiring and tedious. The increasing weight of the sack hurt his back, and the sharp spikes on the cotton heads cut his hands. Yet, when he looked back on his cotton picking days, he didn't remember the pain, but only the love he learned for the land and the respect for diligence."
It seemed almost every phase of Cash's life included some form of struggle. When he got serious about his faith and left the women and drugs behind, some of his old friends weren't happy with him. "They'd rather I be in prison than church," he said.
Waylon Jennings was especially tough on Cash, accusing him of selling out to religion. "He'd be attacked by agnostics and atheists if he appeared too pious," explained Turner, "and he would be denounced by the religious community if he appeared too worldly." It was a tough line, the line Cash was trying to walk—the line we're all trying to walk between our worldly and spiritual lives, our flesh and our spirit.
Cash was once asked how he was able to reach so many people with his message without ever hiding his faith, and he gave a simple and perfect answer: "I am not a Christian artist. I am an artist who is Christian."
And he was revered by artists of every genre, from hip-hop to rock. Bruce Springsteen, Bono and Snoop Dogg all admired this openly evangelical Southern man. And all because Cash transcended stereotypes and musical categories. He even transcended time, something that can be said of very few stars in any medium.
His 2002 acoustic take of Trent Reznor's "Hurt" was about as courageous a recording as any ever made by a popular artist. Cash took that song, originally written about the pain of heroin addiction, and turned it into a reflection on his own mortality.
"The truth of fading beauty, forgotten earthly achievements, and broken human bonds, powerfully and yet wordlessly seep from the screen," Turner said when describing the music video, which peaks emotionally when Cash sings these words:
What have I become, my sweetest friend?
Everyone I know goes away in the end.
As he delivers those lines, the video cuts to a picture of June, standing at the foot of a staircase watching her husband. "Her lips quiver," wrote Turner, "as though she knows that she is watching the man she loves singing his final testament."
What no one knew as the video crew shot that scene was that, on the day before, June had been diagnosed with a leaking heart valve.
Cash, who was 70 when he recorded the song, discovered an entire new generation of fans when the video was released. And they discovered him.
What people most remember Cash for, though, was his heart for people, especially at low points in their lives. Where others might have kept their distance, he was there to provide support.
"When Larry Gatlin found himself in a drug rehabilitation center in California in 1984," wrote Turner, "Cash was one of his first visitors. He didn't come to reprimand or chastise him. He came to show him that he cared."
Turner wasn't finished: "He never did preach to people. He shared his faith and his shortcomings with the whole world. John's and June's lives were an open book. They were open for everyone to see. They weren't perfect, but they were forgiven, and that was the message they shared."
Empathy, compassion, love and forgiveness were the words shared over and over in Turner's book, which ends as beautifully as it began. This is the final paragraph:
"The realm that Johnny Cash lived in was clouded by pain and colored by grace. He had the ability to transform the rough and commonplace into objects fit for heaven, just as he had been transformed. Rick Rubin remembers him taking Ewan McColl's song 'The First Time Ever I Saw Your Face' and turning it from a love song into a devotional song. 'He loved that,' said Rubin. 'It came really natural to him. It seemed like his devotion for life came from his devotion for God.'"