Why Bono Was at the State of the Union Address
Rock star Bono was one of the big names in the gallery when President Joe Biden gave his State of the Union address.
The U2 frontman was one of 26 people on first lady Jill Biden's personal guest list for his work combating poverty and HIV/AIDS, and sat in her box at a joint session of the U.S. Congress on Tuesday, February 7.
The White House released a statement last week crediting the rocker as a "ground-breaking activist in the fight against HIV/AIDS and extreme poverty."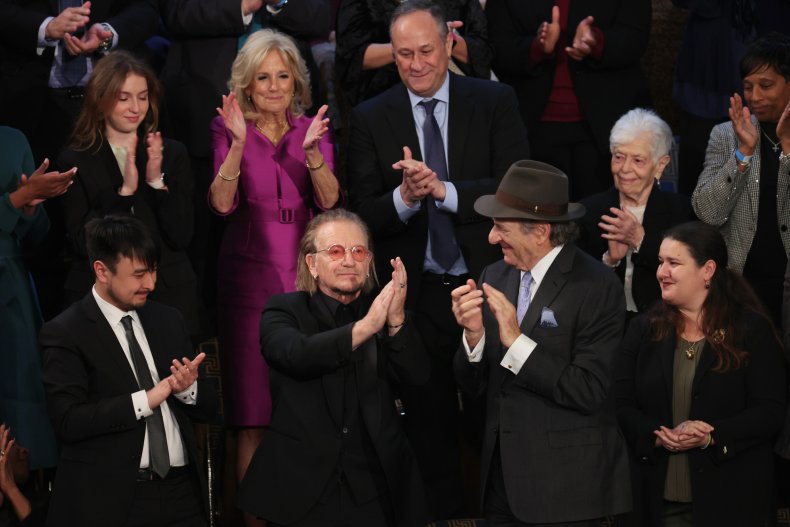 Bono helped get support for PEPFAR (President's Emergency Plan for AIDS Relief), which was founded by then-President George W. Bush in 2003 and heavily supported by Biden who was a Democratic senator at the time. The Irish musician has also helped to raise more than $700 million to fight HIV/AIDS in Africa through his (RED) brand partnerships.
The president did not name check the Irishman in his speech but spoke about the efforts to combat HIV and AIDS in Africa.
Bono sat alongside Ukrainian ambassador to the U.S. Oksana Markarova and Paul Pelosi, the husband of Democratic former Speaker of the House Nancy Pelosi.
Pelosi underwent emergency surgery after he suffered a fractured skull and other injuries when he was attacked with a hammer during a politically motivated break-in at the Pelosi home in San Francisco.
Other notable attendees included RowVaughn and Rodney Wells, the mother and stepfather of Tyre Nichols, who was recently killed, allegedly at the hands of Memphis police on January 7.
The 29-year-old Black man was severely beaten by police officers during a traffic stop and was hospitalized in critical condition before dying three days later. The five officers involved were arrested and his death has renewed calls for police reforms.
Brandon Tsay, 26, sat beside Bono after gaining an invitation for disarming a gunman during a mass shooting in Monterey Park, California, where 11 people were killed.
Shooting suspect Huu Can Tran, 72, was found dead from a self-inflicted gunshot wound after he opened fire at a Lunar New Year celebration in January.
During his second State of the Union address, President Biden promised to cap the cost of insulin, expand Medicare benefits and pass a minimum tax for the wealthy.
He also spoke about the CHIPS and Science Act, and also the Bipartisan Infrastructure Law, which invest in manufacturing jobs in the U.S.
"That's always been my vision of our country, and I know it's many of yours," Biden said. "To restore the soul of this nation, to rebuild the backbone of America, America's middle class, and unite the country. We've been sent here to finish the job."
Update 2/8/2023, 4:57 a.m. ET: This article was updated to include additional information.