Tyre Nichols' Death Sparks Police Brutality Concerns Among Republicans
The death of Tyre Nichols could be a watershed moment on police brutality for Republicans, according to a new poll released Wednesday.
A survey conducted by Morning Consult and Politico found that 56 percent of GOP voters see police violence against the public as a problem—a figure higher than the 52 percent who said the same in the wake of George Floyd's death in 2020.
Republicans remain the one segment of voters in which the majority believes that police violence against Black people is rare. However, the percentage of Republicans who say that police violence against Black people is common or widespread has jumped 9 percent since June 2020.
Two and half years ago, only 29 percent of GOP voters agreed that it was common. But Wednesday's poll, conducted after Nichols' death, showed that 38 percent of Republicans now agree with the statement.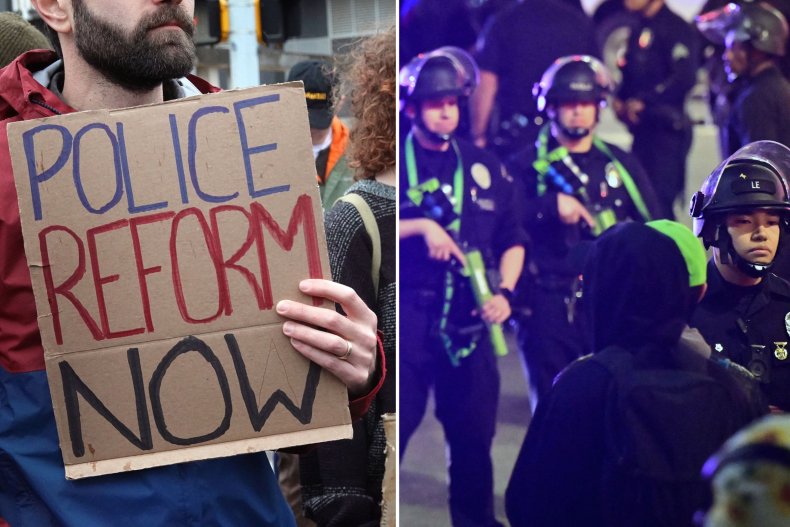 On January 7, Nichols, a 29-year-old Black man, was severely beaten by police officers during a traffic stop in Memphis, Tennessee. He was hospitalized in critical condition and died three days later. The killing sparked nationwide protests and led to the arrest of the five officers involved, all of whom are Black.
Nichols' death—one of the thousands of police-related deaths that have occurred since Floyd's killing, according to the website Mapping Police Violence—has renewed calls for police reforms.
Floyd's death, which was captured on video and viewed millions of times around the world, prompted worldwide demonstrations and brought the Black Lives Matter movement to the forefront of American politics as the nation was forced to reckon with police brutality and race relations.
But promises of reform seem to have done little to prevent the over 2,000 people killed by police since Floyd's death, according to Mapping Police Violence. The organization says that Black people are 2.9 times more likely to be killed than white people in the U.S.
Nichols' death has appeared to move Republican Senator Lindsey Graham, who has been a prominent holdout over the issue of qualified immunity—a key aspect to negotiations on police reform.
Rogers Smith, a political scientist at the University of Pennsylvania, told Newsweek that the Nichols' death has the potential to strengthen Republican support for police reform that Floyd's death did not.
"Rather than saying the problem is racist white cops, which Republicans don't want to do, they can now say, rightly, that the problems appear systemic, and may have policy solutions," Smith said.
Floyd died after ex-Minneapolis Police Officer Derek Chauvin, who is white, held a knee to his neck for more than nine minutes.
Smith said that while it remains unknown whether GOP lawmakers will rally around specific police reforms, Republican Senator Tim Scott, who has been tapped to lead negotiations, could now play a "key role" in helping Democrats and Republicans find common ground on criminal justice.
On Wednesday, Nichols was laid to rest in Memphis. The funeral was attended by Vice President Kamala Harris, activist Reverend Al Sharpton and members of the Floyd family, among others.
"This violent act was not in pursuit of public safety," Harris said in her speech urging Congress to pass the George Floyd Justice in Policing Act. "Was [Nichols] not also entitled to the right to be safe?"
Roughly 3 in 5 Americans say police violence against Black people is widespread and common, with 84 percent of Democrats and 62 percent of independents saying brutality is a regular occurrence for Black people, according to Wednesday's poll.