Insatiable Thirst for Johnny Depp, Amber Heard Trial Broke Viewing Records
The story of two Hollywood stars squaring off in a real-life courtroom drama certainly captured the attention of the U.S. and the world over the past weeks.
Millions of people all over the world tuned into the Johnny Depp v. Amber Heard defamation trial from Fairfax, Virginia as the proceedings were televised daily, producing hundreds of viral moments and endless social media discourse.
Now the Law & Crime network has revealed that their broadcasting of the trial broke viewership figures in an unprecedented manner.
The network's YouTube viewership broke a record with more than 3.5 million live concurrent viewers during its coverage of the verdict in the highly publicized defamation trial.
Across all of its platforms, the network saw daily viewership 50 times higher than before the trial began, a spokesperson told Newsweek.
After dominating news cycles and social media for the past six weeks, the trial ended with a jury finding that Heard had defamed Depp with actual malice. She was ordered to pay him $10 million in compensatory damages and $5 million in punitive damages.
Since the trial began, Law & Crime's YouTube page has seen nearly a billion views on content related to the case and welcomed 2.3 million new subscribers.
"We want to thank the millions of viewers who tuned in and trusted us as their source for the most thorough and smart coverage of this high-profile trial," said Rachel Stockman, president of Law & Crime Network, said in a statement. "We look forward to introducing this new audience to our additional live trials, VOD offerings and podcasts."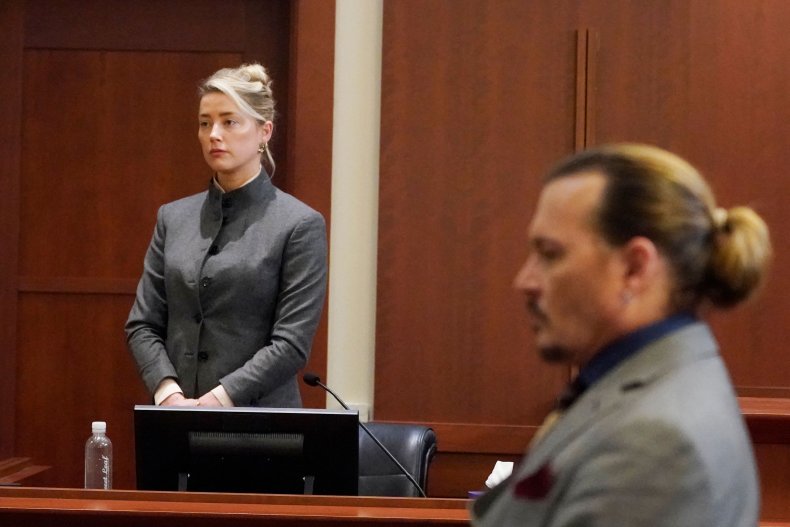 Statistics from Streams Charts found that the trial broadcast has amassed a total of 83.9 million hours watched with a 3.5 million peak viewers during the verdict announcement.
After the trial, Amber Heard's lawyer, Elaine Bredehoft, spoke out about the role social media may have played in the trial.
She told CBS Mornings earlier this week: "I think there were a lot of influences here that were beyond our control. And I think the social media—it was like a Roman Colosseum, is the best way to describe the atmosphere here. And I have to believe that the jury, even though they're told not to go and look at anything, they had weekends, they have families, they have social media. And the 10-day period we had, how could they not [look at it]?"
A spokesperson for Heard said this week that the result was a setback for women's rights and hit out at Depp's lawyers. "It is as unseemly as it is unprofessional that Johnny Depp's legal team has chosen to do a victory lap for setting back decades of how women can be treated in the courtroom," the spokesperson said. "What's next? A movie deal and merchandising?"
Meanwhile, Depp said he was humbled and looking to the future after winning his defamation suit and released a statement thanking fans for their support.
"I am, and have been, overwhelmed by the outpouring of love and the colossal support and kindness from around the world. I hope that my quest to have the truth be told will have helped others, men or women, who have found themselves in my situation, and that those supporting them never give up," he said. "I also hope that the position will now return to innocent until proven guilty, both within the courts and in the media."