Amber Heard v. Johnny Depp Tip Jars Spark Fierce Debate: 'They Did Not'
Starbucks customers are seemingly seeing a new trend in tip jars at the coffee giant's drive-thrus—but not everyone is thrilled with it.
According to videos shared by customers in their cars, staff at Starbucks drive-thrus have been placing Johnny Depp and Amber Heard marked tip jars at the windows in a cash voting system, in a bid to drill up tips.
Various videos posted online show two boxes with the celebrity names written on them, as the former couple's defamation trial continues. The court battle between Depp and Heard is one that's being watched by the world.
TikTok accounts broadcast the daily live-streams of the court while videos and information regularly go viral, raking in decisive opinions from the outside.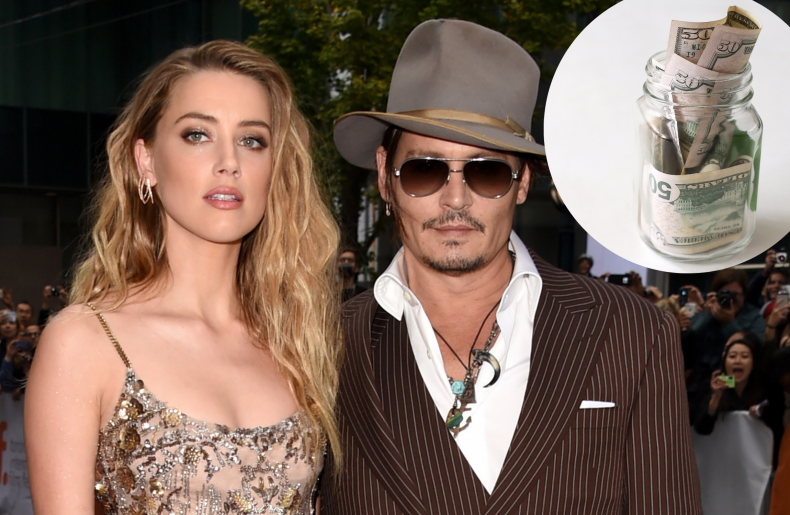 Staff at drive-thrus have seemingly used those strong opinions as a means to garner tips, giving customers the option to literally vote with their dollar.
Videos show many boxes plastered with "Johnny Depp," paired with hearts and smiley faces, while Heard's boxes often feature drawings of frowning faces and poop drawings. Most tip boxes appear to favor Depp, with full boxes of cash.
TikTok user and Starbucks customer @summervictoria_ gained over 300,000 likes after spotting the tipping boxes at her drive-thru. "Supporting our local baristas and our man," she captioned the clip.
"One for Johnny," she said, placing a note into his box. Depp's name was drawn on in green marker, while Heard's consisted of red ink.
Summer told Newsweek that the tip jars were at a Downtown Los Angeles location and that "the tip jars were hilarious and we only had a dollar in cash with us so we of course tipped Johnny."
User @n3idy's local tip boxes read "Team Johnny Depp" and "Team Amber Heard" with the user claiming that Heard's box had no tips in.
As per The Daily Dot, one TikTok user visited their Starbucks drive-thru and found Depp and Heard tip boxes, but found they had been changed just a few days later.
A video posted just days after the original by the same user, reportedly showed that while Depp's name stayed, the other box read "Chris Rock (Marty)" instead.
In a statement to Newsweek, a Starbucks spokesperson condemned the tipping jars, citing them as not in line with Starbucks' policies: "We value the creativity our partners (employees) bring in and building connections with our customers day in and day out, but these labels are inconsistent with our policy. We do not condone the use of tip jars in this manner, and have removed the labels where reported."
Some online expressed joy at the use of the tip jars in the videos, especially praising the support shown for actor Depp.
"Omg they did not. This is so awesome," wrote one user. Another added that they felt the idea was "the best thing i've seen all day."
The use of Depp and Heard on the tip boxes at drive-thrus however hasn't been met with unquestioning open arms however, with some suggesting that it's inappropriate, given the sensitivity and nuances of the topic.
"Why is this even a thing is my question," reads one comment.
"Why are we profiting off of abuse and then making a video about it," added another.
"Imagine using someone's abuse case to get tips, this is beyond f**ked," wrote a TikTok user.
Updated at 10:48 AM, 4/27/22, with comment from Starbucks.