Camille Vasquez Reveals Key to Johnny Depp's Court Victory
Johnny Depp's lawyers Camille Vasquez and Benjamin Chew reflected on their court victory and what tactics they employed, while speaking on Good Morning America on Wednesday.
Last week, the civil trial jury awarded Depp $15 million—$10 million in compensatory damages and $5 million in punitive damages. The jury also awarded Amber Heard $2 million in compensatory damages, finding that Depp's former attorney Adam Waldman had made defamatory comments about the Aquaman actress.
While speaking to host George Stephanopoulos on Wednesday morning, the two lawyers discussed how they were able to secure the victory for Depp.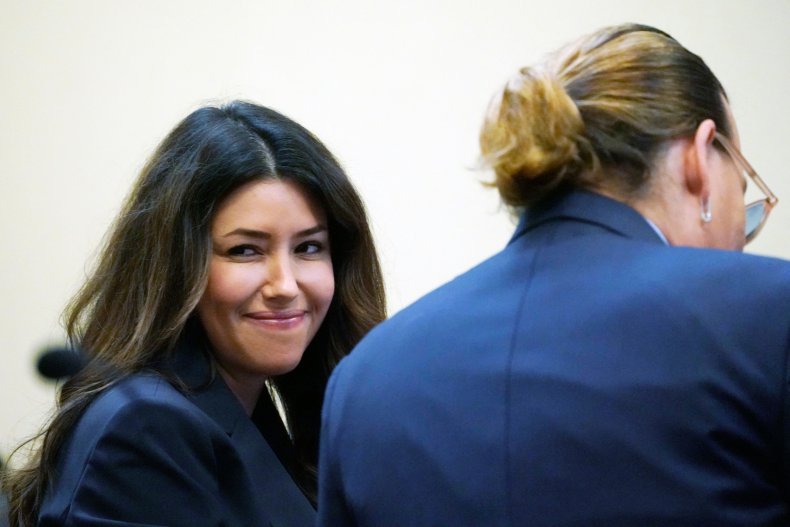 Vasquez spoke about how Heard was perceived by the jury and how that impacted the overall conclusion. Chew highlighted the differences between Depp and Heard the jury may have noticed.
"I think that her impression on the jury was what it was. Something that I focused on and something we focused on in that cross-examination was using her words against her," Vasquez said.
"It was very important for us, that every question that was asked was tied to something that she had said previously. And I think the jury got to see and the world got to see and hear from Ms. Heard, in that relationship, on every single topic."
Chew said that Depp had taken accountability for some of his actions during the trial and this would have made a difference overall.
"I think there was a real contrast, Johnny took ownership of a lot of things," Chew said.
"It seemed at times, and perhaps it came through to the jury, that [Heard] had an answer for everything, she wasn't taking accountability for anything. I think that made a difference."
Chew and Vasquez also both addressed the comments made by Heard following the verdict last week.
"The disappointment I feel today is beyond words. I'm heartbroken that the mountain of evidence still was not enough to stand up to the disproportionate power, influence, and sway of my ex-husband," Heard said in her statement.
"I'm even more disappointed with what this verdict means for other women. It is a setback. It sets back the clock to a time when a woman who spoke up and spoke out could be publicly shamed and humiliated. It sets back the idea that violence against women is to be taken seriously."
This week, a spokesperson for Heard condemned the two lawyers for speaking on the trial victory.
"It is as unseemly as it is unprofessional that Johnny Depp's legal team has chosen to do a victory lap for setting back decades of how women can be treated in the courtroom. What's next? A movie deal and merchandising?" the spokesperson said.
Vasquez said these comments were "disappointing" and said that the pair were only talking about what happened in the trial.
"The facts, in this case, were overwhelmingly positive for Johnny and the verdict speaks for itself," Vasquez said.
Commenting on criticism from elsewhere, Vasquez said that they both encourage victims of domestic abuse to come forward and reiterated that domestic abuse does not have a gender.
Newsweek has contacted Amber Heard's legal team for comment.
Update 06/08/22, 10:41 a.m. ET: This article was updated to include a new picture.