Johnny Depp Fans Urged Not to Joke About Amber Heard Abuse Allegations
Amber Heard has faced a wave of unending scrutiny as she and her ex-husband, Johnny Depp, battle it out in court in the multimillion-dollar defamation trial that has dominated social media discourse for the past month, and some users are now saying enough is enough.
Depp, 58, sued Heard, 36, for $50 million over her 2018 op-ed published by The Washington Post, in which she said that she suffered domestic abuse in her marriage. While Heard, who is countersuing for $100 million for damages, didn't name Depp in the article, his legal team has argued that it was obvious that she was referring to him.
A barrage of widespread vitriol was leveled at Heard before, during and after her testimony as rumors about her quoting movies and doing drugs while on the stand spread on social media. Some even speculated that Botox injections caused her bruising. On TikTok, creators re-enacted her testimony in a number of mocking viral videos.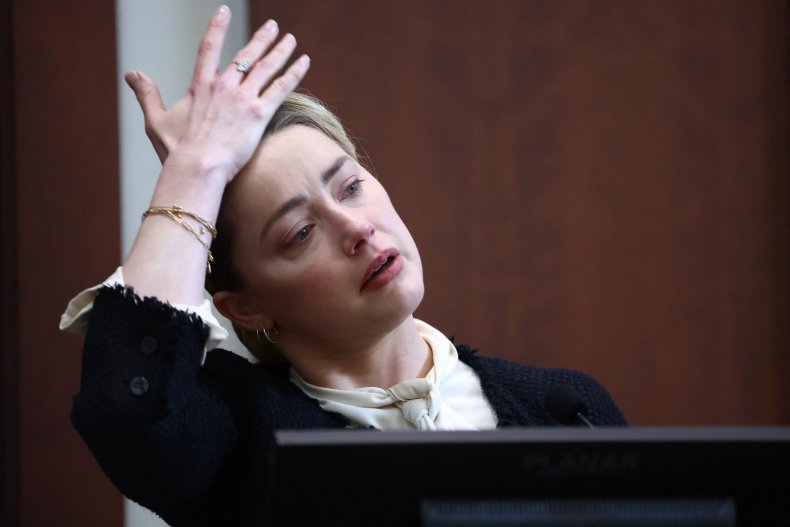 Now, some people are taking to social media to say the mockery needs to end. Regardless of whether an individual believes Heard's testimony, some social media users are saying it is wrong to mock her and damaging to abuse survivors.
"Johnny Depp won't see your posts turning Amber Heard's graphic rape allegations into a humiliating meme, but your friends who have survived sexual violence will. #DeppVsHeard," tweeted writer Lucia Osborne-Crowley.
Journalist Kate Lindsey tweeted: "Making memes about domestic violence allegations doesn't make you 'neutral.' It makes you an 'asshole.'"
"Every time you share a meme of Amber Heard or laugh at her crying during her evidence or share a post supporting Johnny Depp (a found abuser by the High Court), just remember victims of domestic abuse will see what you really think of them," tweeted author and barrister Dr. Charlotte Proudman. "They could be your friends or family."
She added in a follow-up tweet: "Just because you don't relate to Amber Heard, as a survivor of domestic abuse, it doesn't mean she's not telling the truth. Survivors are not a homogenous group."
The memeification of Heard's testimony has also ​​sparked comparisons to the public mockery Britney Spears was once subjected to during her own tribulations.
"I saw people using sound clips from [Heard's] testimony where she describes rape and sexual assault to create comic videos, many of these people were women and it was shocking to watch," actor and writer Tova Leigh told Newsweek. "I couldn't believe they were making fun of sexual violence or any violence for that matter.
"The fact they didn't believe her didn't matter in my opinion," Leigh said. "Sexual violence is not a joke, imagine all the victims of sexual assault watching people making rape jokes, it is so wrong."
The Depp vs. Heard trial will resume at 9 a.m. EDT on May 16.