TikTokers Reenact Amber Heard Fight Testimony in Viral Trend
Emotional testimony from Amber Heard alleging she was hit by Johnny Depp has been turned into a viral TikTok trend.
An audio snippet from the current trial involving Depp and Heard has been repurposed on Twitter with over 18,000 people creating their own videos. The trend involves a slap being reenacted before someone "turns" away from their attacker and mouths along to "Johnny, you hit me. You just hit me."
While the audio is being parodied on TikTok, some Twitter users have criticised those making light of domestic abuse. "Anyone actively mocking testimony about abuse is contributing" to silencing survivors, according to Heard's friend Eve Barlow.
The current trial, which is taking a pause until Monday May 16, is taking place because Depp is suing Heard for $50 million, alleging defamation after she wrote a 2018 op-ed saying she was a victim of domestic abuse. Heard is countersuing for $100 million.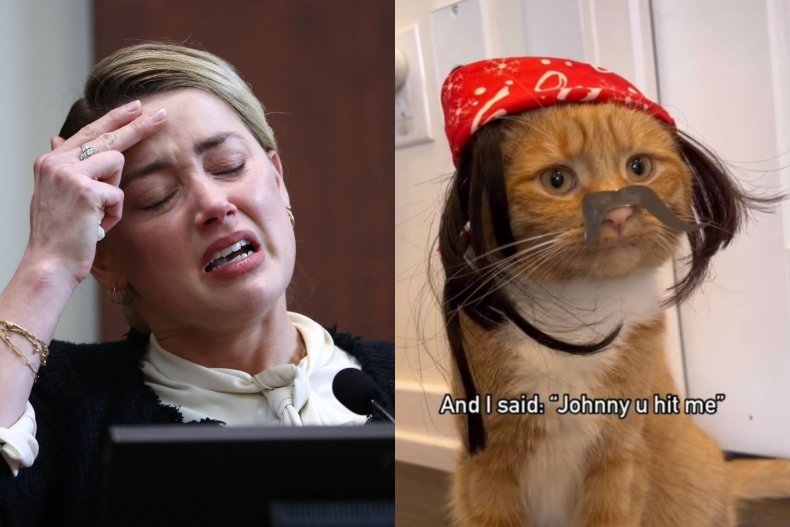 Videos with the audio dubbed over the top have been viewed and liked millions of times on TikTok already with the trend seemingly still on the rise.
The original audio was shared by Depp fan account @busteddddd__ who wrote, "Don't you have to be looking at someone in the face to be able to slap them across it, or?" This video, with its original audio has been viewed 11 million times.
TikTok users who picked up on that point took one phrase from the testimony very literally. The majority of video creators using the audio started turned away from their own "attacker" when Heard says "I turned to look at him."
For days TikTok users have been creating their own versions, with verified accounts even weighing in. The trend has gone international with many videos giving translations of the testimony onscreen while users repeat the actions of the trend.
Blue-ticked users @onwardwanna gained 3.2 million views for involving a Spider-Man costume in their version, Haylohaley got 2.8 million views, and Scott D Henry got 2 million views for a solo reenactment. The other verified accounts following the trend includes Salice Rose, Theckafamily and Gabikuczynska.
Other popular videos include @heyitsgingerandpepper who got 2.5 million likes for dressing her cats up like Heard and Depp, and @carlieartist who dressed her girlfriend up like Depp for her version.
While many have been spoofing Heard's testimony, some users adapted the audio and posted videos with logical reasoning behind Heard's choice of words.
User @gabriellaminekis gave a clear explanation of events by motioning Heard's words. "like ur head is not gonna stay facing forward if someone slaps u its gonna turn and then u turn back to look at them," she wrote. @Casperdoe agreed, stating that while she doesn't support Amber, it's clear what Heard meant with her recollection.
While the audio clip was widely shared and the trend repeated on TikTok, other social media users attempted to point out how wrong that behavior is.
Eve Barlow, Heard's friend who was recently banned from the Fairfax courtroom in the ongoing trial, expressed her frustration on Twitter. "Listen, anyone protecting the TikTok abuse of Amber Heard is acting in bad faith. You can't argue that it doesn't have a chilling effect on survivors from coming forward. Anyone actively mocking testimony about abuse is contributing to that silencing. Period."
She continued, "You're giving yourselves away at this point. Only one side in this finds any humor or entertainment in the trial, and certainly only one side is profiting off that circus."
Another Twitter user @MARVELOLOGY agreed with Barlow's sentiment, asking those that "reenact the examples of abuse" if they realise "how weird" they are being.
Others agreed, with @JesusChrysler1 calling it a "gross TikTok trend," while @louisguitarpick felt the trend was "genuinely sick and disgusting".
Newsweek will continue to cover the major revelations from the Depp vs. Heard trial when the court reconvenes on Monday May 16 at 9 a.m. ET in Virginia.
Newsweek has contacted Heard's representatives for comment on the current trend.