Clips of Amber Heard Describing First Time Johnny Depp Hit Her Go Viral
Video clips from Amber Heard's testimony describing how Johnny Depp hit her have gone viral as the sensational defamation trial continues.
The case has been widely discussed online with several notable moments catching the attention of the internet. On Wednesday it was finally the turn of Heard, who took the stand and was asked to describe the moment when her ex-husband Depp hit her for the first time.
Across social media, people have been reacting to Heard's testimony where she described being "slapped across the face" by Depp for laughing at his tattoo.
The footage from the Virginia courtroom has been widely shared online and viewed millions of times with viewers drawing their own conclusions, both for and against Heard.
Pirates of the Caribbean star Depp, 58, is suing his ex-wife for $50 million over an op-ed she wrote in 2018 about domestic violence, alleging it damaged his career. Meanwhile Heard, 36, is countersuing for $100 million for nuisance.
Taking the stand for the first time on Wednesday, Heard was asked if she remembered the first time that Depp "physically hit" her, to which she quickly replied "yes." She described how Depp had been drinking and that there was a "jar" of cocaine in front of them on the couch while they talked.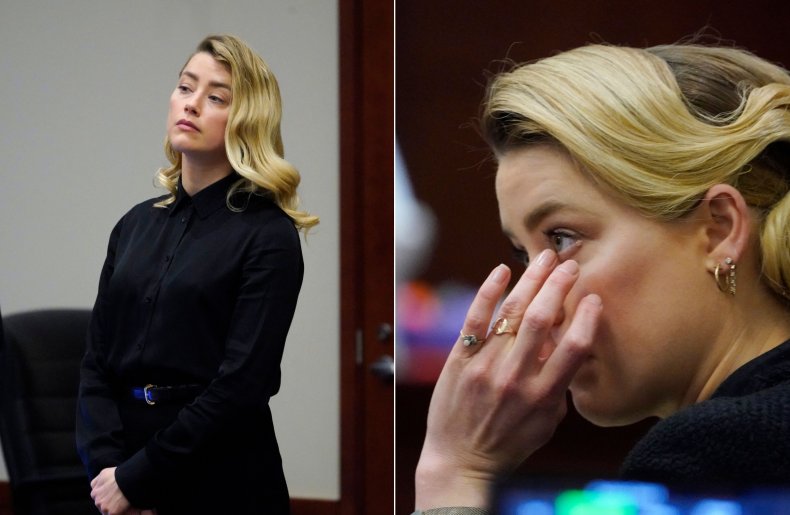 She recalls how Depp told her the tattoo said "Wino" to which she started laughing. The tattoo famously said "Winona" which he got during his relationship with Winona Ryder but he changed it after their breakup. Heard said she started laughing after finding out what it meant, then Depp slapped her in the face. She continued to laugh because she thought the slap was a joke, but he reportedly hit her again.
"You think it's so funny? You think it's funny, b****?" Heard said that Depp told her. Heard recalled she then stopped laughing but then didn't know what to do as she'd never "as a woman" been hit before.
Heard's fans have come out to defend the actress since she's taken the stand, but the support online seems weighted towards Depp. The highest-rated comments below a video of Heard's testimony all criticize her account.
TikTok user @alexis.heaton wrote, "did she forget her line? probably" while @katied_4 said "Her performance really giving Kristen Stewart bella vibes."
"This is so rehearsed," said @lamottgabi while risa19780 commented on the length of the story (around 2'20 minutes in total) and said, "She's stalling to make up a story." The comments go on and on with Depp's fans questioning her account of events.
Over on Twitter, Heard's supporters are more vocal. Users of the social platform like @iaranox_ and @bethanyusher shared their own accounts of abusive relationships and related to Heard's testimony. The former called it "truly heartbreaking and hard to watch" while the latter said, "so much of what Amber Heard is saying feels painfully familiar."
"You've heard his side. Now listen to her speak," @IvanaE told the internet. "Listen to [Amber] and listen to women and believe women," Ivnayh said.
While Heard's fans picked up on the hashtag #IStandWithAmberHeard, many of Depp's supporters started to use the term too to note how many of Heard's supporters have their replies function turned off.
Ruth Glenn, CEO and president of the National Coalition Against Domestic Violence, gave her take on the sensationalization of the trial. She told The Hill, "There seems to be this entertainment angle that is minimizing what happened in that relationship.
"When we begin to put on a show like we have with this it becomes more of entertainment. And by having it brought this way to the general public we're allowing for assumptions and conclusions and things that don't allow for us to really dig into the dynamics of domestic violence."
Across Twitter, Depp's fans continue to point out details from the courtroom. Within the footage of Heard testifying, Depp seemingly doesn't make eye contact with her. Depp's fans applauded him for this and many implied it was a further sign of his innocence.
Newsweek has reached out to representatives for Heard and Depp for comment.
The accounts described in this article happened on day 14 of the trial. The Depp vs. Heard defamation case continues on Thursday.