When Is Kate Moss Testifying? What She, Johnny Depp Have Said About Romance
After Amber Heard mentioned Kate Moss in her testimony during the ongoing celebrity legal battle between Johnny Depp and Amber Heard, the supermodel's relationship with Depp could change the course of the multi-million dollar trial.
Supermodel Kate Moss is expected to testify on behalf of Depp on Wednesday, May 25, the Law & Crime Network reported late Monday morning.
A source close to Depp also told Newsweek that Moss is expected to testify as a rebuttal witness on Wednesday.
Moss, Depp's ex-girlfriend, is scheduled to address the court by video.
Depp and Moss were one of the leading showbiz couples of the 1990s, dating between 1994 and 1997.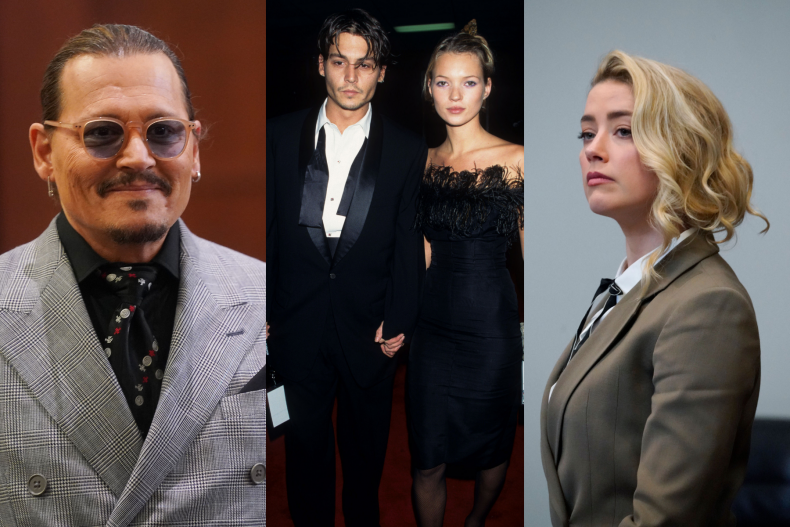 Heard, 36, is being sued for $50 million by her ex-husband Depp, 58, for defamation over an op-ed published by The Washington Post in 2018, in which she said she was a victim of domestic abuse.
While Heard didn't name Depp in the article, his legal team has argued it was obvious she was referring to him. Heard, meanwhile, has countersued for $100 million for damages with her attorneys, arguing that the op-ed was a matter of public interest.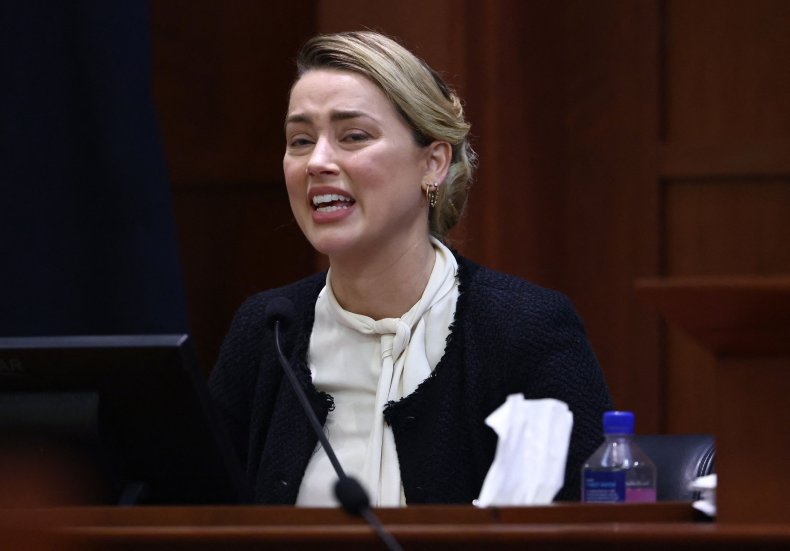 Earlier this month, on May 5, Heard took to the stand to detail instances of alleged abuse between her and her ex-husband Depp. She cited his earlier relationship with Moss and an unverified rumor that Depp once pushed Moss down a flight of stairs.
"I don't hesitate and wait—I instantly think of Kate Moss and stairs," Heard said, in a move that prompted celebrations from Depp's lawyers.
This mention prompted Depp's attorney Benjamin Chew turned to other members of his team with a celebratory fist pump.
Experts believe this is because Heard may have unintentionally "opened a door" for more recent evidence to contradict the stair-pushing rumor.
Moss has not accused Depp of being violent when they were together. Here's a look at their relationship.
Johnny Depp and Kate Moss' Relationship
Cafe Tabac
Moss and Depp are reported to have met at New York's Cafe Tabac in 1994 after being introduced by celebrity columnist George Wayne.
Depp was 31 at the time while Moss was 20. The actor had just split with Winona Ryder, who he was with from 1989 to 1993.
The writer wrote on Instagram in 2019: "Johnny was in the back having dinner and Kate walked in with Naomi [Campbell] and The GW grabbed her and made the introduction!"
"I had no idea that they would then become the IT couple for seasons to come, destroying hotel rooms across the globe during their still unforgettable union!" Wayne continued.
In 1994, a friend of the Depp gave an insight into their relationship, telling people People: "They can't keep their hands, lips, mouths, legs off of each other."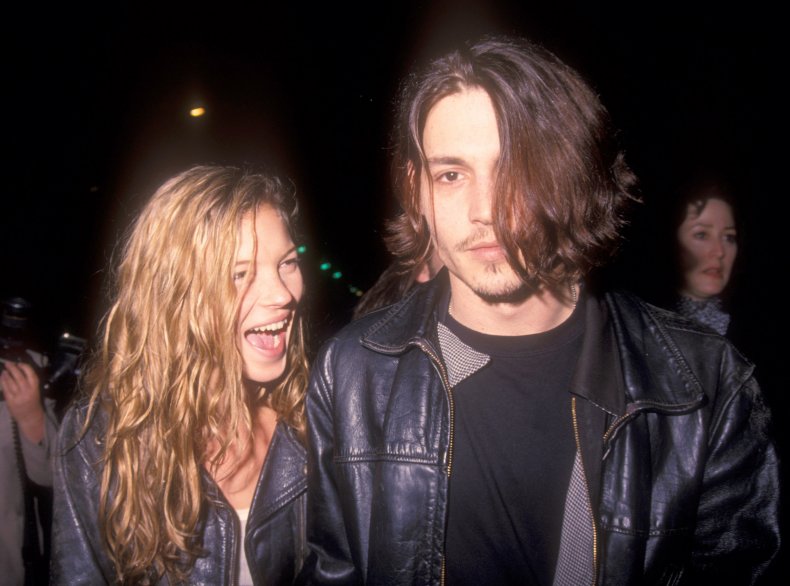 Trashed Hotel Room
Rumors about a volatile argument between the couple came about in 1994 amid reports of a trashed room at New York's Mark Hotel.
Depp was later arrested over this incident for criminal mischief but a criminal-court judge dismissed the charge on the condition that he stay out of trouble for 6 months.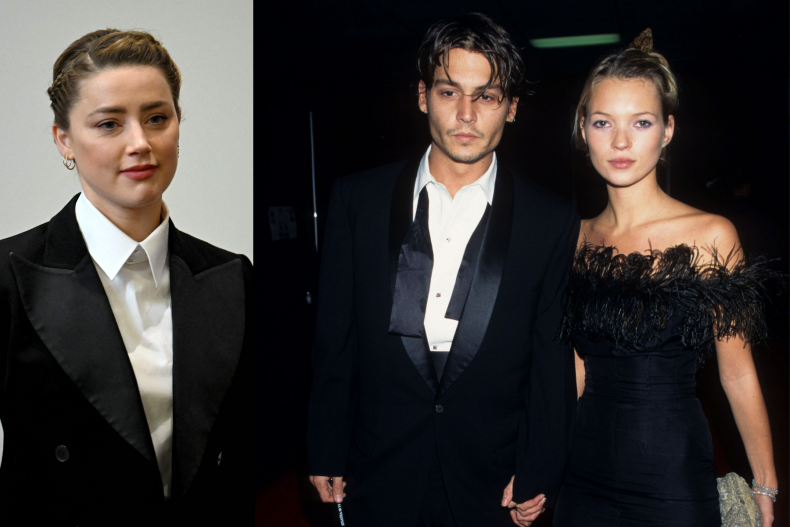 "I was difficult to get on with"
Moss and Depp split up in 1997 with the actor taking responsibility for their parting ways.
"I have never got that emotional over a woman before," Depp said in a candid interview with Hello magazine in 1998. "I have been so stupid because we had so much going for our relationship. I'm the one who has to take responsibility for what happened—I was difficult to get on with, I let my work get in the way and I didn't give her the attention I should have done.
"The whole thing was crazy because I should never have got so worked up over what people had to say about my work," he said. "Sure I should care about my movies, but when I get home I should try to leave that stuff behind. I couldn't do that and I was horrific to live with. Trust me, I'm a total moron at times."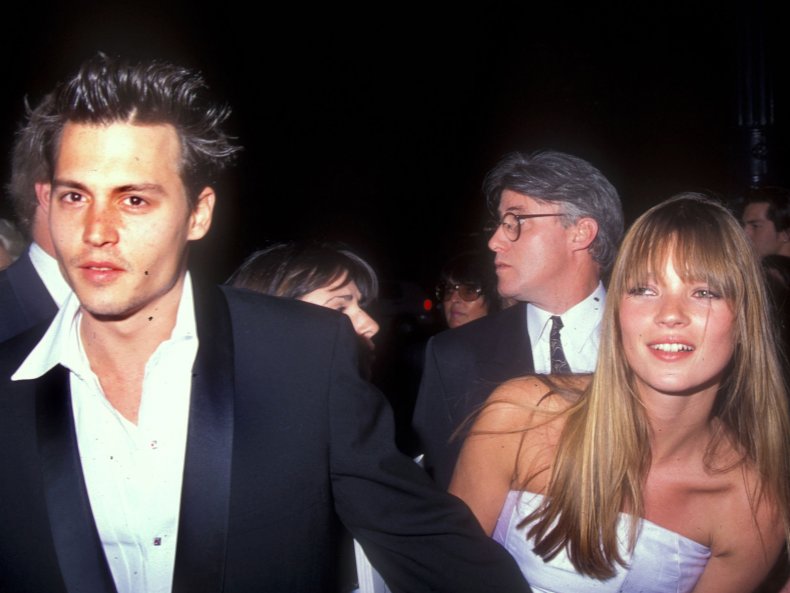 "Years and years of crying"
In 2012, Moss described their breakup as a "nightmare," telling Vanity Fair: "There's nobody that's ever really been able to take care of me. Johnny did for a bit. I believed what he said. Like if I said, 'What do I do?' he'd tell me.
"And that's what I missed when I left. I really lost that gauge of somebody I could trust. Nightmare. Years and years of crying. Oh, the tears!"
The Depp vs. Heard trial will resume 9 a.m. ET on May 24.